Good returns from whisky maturation have been achieved over many years, but historically only distillers and blenders could benefit.
Launched in 2015, WhiskyInvestDirect changed that, by allowing private investors to buy quality whiskies at wholesale prices. Already some 5,000 users own enough to fill over 75,000 casks, that's the equivalent of 36 million bottles of maturing Scotch. Accounts range in size from £700 to £3,500,000.
Economies of scale mean your whisky will be stored — still in the barrel — at exceptionally low cost, in the original distiller's bonded warehouse. Its safe storage there is evidenced every month by our published audit.
You will own the whisky as it matures, and when you decide to sell, via our trading exchange, you'll receive a transparently competitive price from other users and industry bidders. To date, mature whisky bought back by the trade has realised an average annualised return of over 10% for private investors — after all costs*.
Together we profit through tackling this industry's greatest problem — the large working capital requirement of financing maturing stock.
Which whiskies can I buy on WhiskyInvestDirect?
* Past performance is no guarantee of future performance. Capital is at risk.
Buy
Deposit money into your account. Buy whisky with your money.
Wait
Your whisky matures in the cask, improving with age.
Sell
Sell your whisky 24/7. Withdraw your cash.
Our credentials
WhiskyInvestDirect is supplied by many of the top Scotch distilling companies including Diageo, Pernod Ricard, Distell, Beam Suntory and Whyte & Mackay.
Historical performance
Although there are no guarantees, you should expect to profit by selling maturing whisky into normal blending demand, though prices can be volatile.
The cash price for 8-year old Scotch whisky bought new, and sold each year of the decade 2011-2020 shows average historical returns of 15.4% per annum. This number is net of our trading commission. However you would have paid storage fees of 17.5p per Litre of Pure Alcohol (LPA) per year, bringing the return down to 11.6% p.a. This compares very favourably to deposit rates, but it does involve some risk.
Adjusting for inflation your 'real' historical return would have been 7.9% p.a.
Each of these figures was for an equal holding of typical malt and grain whiskies. Mixed together before bottling they make blended Scotch.
Industry broking data from the Scotch Whisky Industry Review. The data shown are net of trading commission, storage costs and evaporation. The cost of wood is not included.
Of course, we cannot guarantee you will make money.
Naturally there are risks. But there are many sensible reasons for investing in whisky maturation.
Why hasn't it been possible before?
Previously there have been two big problems which prevent private investors from participating in whisky maturation: complexity and scale. These combine to make prices of barrel whisky very much higher for smaller deals.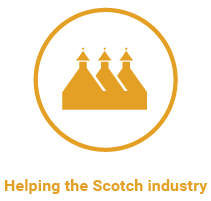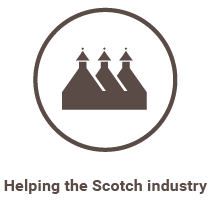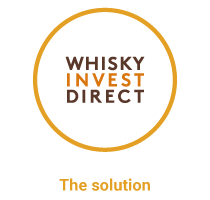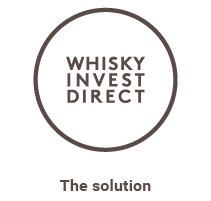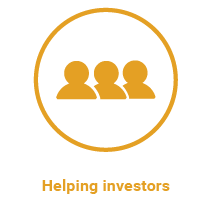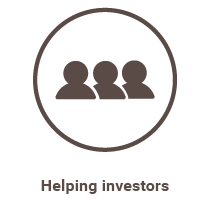 Easy access to our online exchange
WhiskyInvestDirect aggregates the whisky stockholding demand of a crowd of private investors to become a major stockholding operator in the whisky market.
We deploy substantial funds to buy young whisky on our own account direct from the distillers, and we arrange for its storage in bonded warehouses. See the whiskies you can buy on WhiskyInvestDirect.
You open and fund your WhiskyInvestDirect account.
You log in to the system and buy your whisky from us, or from other users if they offer it cheaper. Either way you will be paying exceptional prices.
Why choose WhiskyInvestDirect?
Whisky stays safely in the bonded warehouse
When you buy or sell only ownership of the whisky changes. It does not move. There is no shipment, and there are no delivery costs.
No minimum holding period
There's no tie-in. Sell, and withdraw your money, at the time which suits you.
Competitive prices
New stock lines which we bought wholesale within the previous two months are offered within 2% of the wholesale purchase price.
Notification of trade bids
We'll keep you informed when a blender is bidding for any stock line you own.
Trade 24/7
Deal with other private investors, distillers, blenders or us - whoever offers you the best price - via our 24/7 live order board.
Get paid straight away
When you sell, your funds settle instantaneously to your WhiskyInvestDirect account, ready to buy more whisky or to withdraw.
Next-day withdrawals
Your money is returned by bank transfer the next business day.
"Investors can now gain exposure to an entirely new asset class: whisky in the barrel… [a] market never before widened out to include private investors."

The Telegraph
"There is no minimum investment and no minimum length of time that investors have to hold the whisky…"

The Financial Times' FT Money Section
"Turning wholesale whisky into an asset investable for individuals is a very unique idea… Whisky's nature — that its value increases as it ages — is completely different from other commodities."

Bloomberg
"WhiskyInvestDirect has turned whisky into a new asset class… Investors get into the market when the spirit is at its cheapest."

Kogan Page 2017
"To invest in the liquid gold of Scotch whisky you need an experienced guide, and with over twenty years in the trade, much of it in the key emerging markets, Rupert Patrick [CEO, WhiskyInvestDirect] certainly knows his stuff."

Tom Bruce-Gardyne
"[The] whiskies are stored in the original distiller's bonded warehouse, independently audited each month… you can sell at any time."

The Times
"The merit of investing in whisky is risk dispersion."

Bloomberg
Who is responsible?
WhiskyInvestDirect combines in-depth knowledge of the whisky trade with the online trading expertise grained during its incubation and development by the same company that owns BullionVault.
BullionVault is the world's largest online investment gold service, taking care of $3.8 billion worth of gold, silver, platinum and money for more than 90,000 users. More about BullionVault.
Meet the WhiskyInvestDirect Board
What does it cost?
Our fee structure is simple and transparent.
Commission to buy or sell: 1.75% by value.
Storage (including insurance): £0.192 per Litre of Pure Alcohol per year (£3 per month minimum).
Fees are billed to your account.
(For USD accounts, current rate: £1 = $)
FAQs
The following information is presented as guidance for UK investors.
In the UK most people have an annual CGT exemption. In 2023/24 it is applied on the first £6,000 of gains across all their investments, down from £12,300 in the previous tax year. This will be further reduced to £3,000 for tax year 2024/25 and subsequent tax years. If profits on WhiskyInvestDirect are deemed capital gains, then ordinarily the amount of the annual exemption would apply, and profits above the annual exemption are ordinarily taxed at 20%.
There is a possibility that the tax treatment of investing in whisky in bond will attract less tax. There are arguments concerning wasting chattels.
A wasting chattel is an asset with a predictable life of less than 50 years. This applies to the vast majority of whisky casks, but since some casks can usefully mature whisky beyond 50 years it is not a certainty that whisky in bond can be treated as a wasting chattel. We are still awaiting firm clarification from HMRC.
No. Maturing whisky stored 'in bond' is exceptionally rare in being a physical product in which you can invest without paying VAT.
Personal tax issues vary, and WhiskyInvestDirect accepts no responsibility or liability in respect of the information presented in answer to any matters of tax. You should make further investigations yourself, and consult appropriately qualified people if necessary.
Open an account
Try out buying and selling with a free sample.
Transfer funds
Make a bank transfer to your account.
Buy whisky
Choose which distilleries on our live order board.
Validate your account
Upload photo ID and bank statement.
Contact us
Email
Phone
UK and International: +44 (0)20 8600 0135

Opening hours
9am to 5:30pm (UK), Monday to Friday
Address
WhiskyInvestDirect Ltd
3 Shortlands
Hammersmith
London W6 8DA
United Kingdom
Registered in England and Wales: 09068458