Bulk trade bid
Bulk trade bid notification
WhiskyInvestDirect is pleased to announce that a whisky industry buyer has made a bulk trade bid for the following stock line:
Kirkcowan, First fill bourbon 2018 Q3
Initial bid: £4.38 per LPA
Current bid: £4.38 per LPA – equivalent to a 15.9% return on investment (net of all costs) versus buying this whisky when it first launched on the platform
This bulk trade bid was made public on Tuesday 19th October at 12.00pm (UTC).
The buyer is pitching to buy 25,000 LPA (out of a total of 46,293 LPA). However, this offer is conditional on reaching acceptances to sell for a minimum of 5,000 LPA by 12.00pm (UTC) Monday 1st November 2021.
This bid has reached the maximum acceptance.
Trading in this stock line is suspended for the period of the bulk trade bid.
If you hold any of this stock line, you will have received an email to the email address registered on your WhiskyInvestDirect account advising you how to proceed. If you are not aware of this email, please contact us at support@whiskyinvestdirect.com from the email address registered on your WhiskyInvestDirect account.
Below is a screengrab of the Kirkcowan, First fill bourbon 2018 Q3 price chart taken on Tuesday 19 October 2021 at 9:00am (UTC).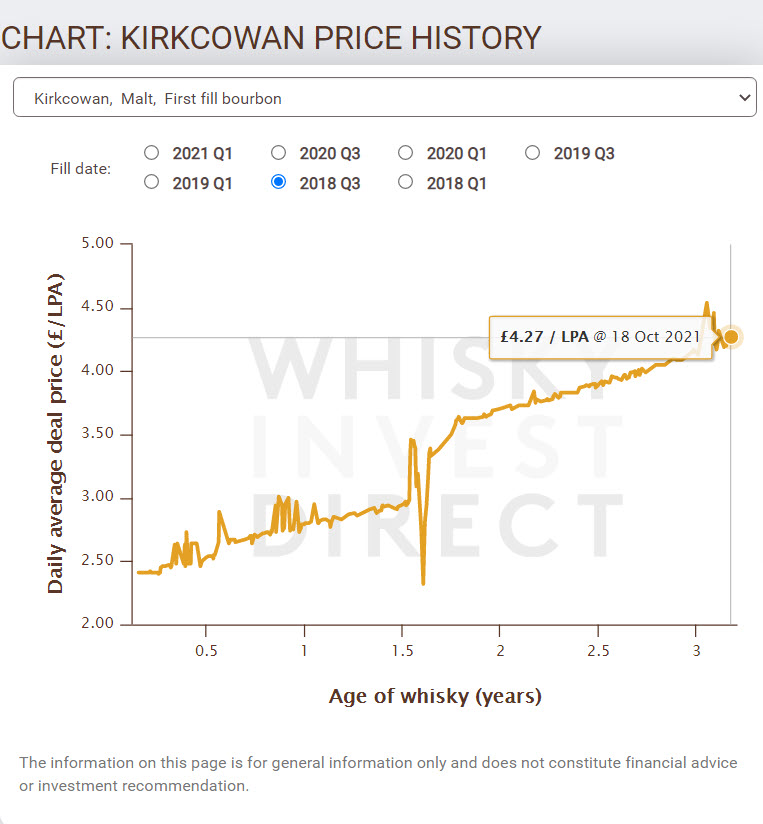 What is a bulk trade bid?
A bulk trade bid is the ordinary way for stock to exit the platform and for stock owners to realise their investment. It is the easiest way for an industry buyer to pick up a significant quantity of the whisky that they require for blending or bottling.
Stock owners are not obligated to accept this bid but by not doing so risk retaining ownership in a low liquidity stock line with reduced attractiveness to potential future industry bidders.
You can find a full list of bulk trade bids and trade purchase & withdrawals including returns on the bulk trade bids page.
How to buy maturing Scotch whisky
Open an account - try out buying and selling with a free sample.
Transfer funds - make a bank transfer to your account.
Buy whisky - choose which distilleries on our live order board.
Validate your account - upload photo ID and bank statement.
Review whisky investor account examples and learn more.