Friday 24/4/2020 11:48 Ian Wisniewski
Scotch Whisky's Other Blend: Vatted Malt's Secret Bull Market
Out-sold by blends, out-priced by singles, the blended malt category has enjoyed a decade of solid growth and strong pricing, writes Ian Wisniewski for WhiskyInvestDirect. Is there more to come?
"WHAT is a single malt, and is there a double malt?" is a question I'm often asked.
A double malt certainly sounds evocative, particularly if this referred to the pleasure of drinking it. But there is no such malt. The terms used are either single malt, meaning the whisky was produced using a copper pot still at one distillery, or blended malt, indicating a blend of malt whiskies from more than one distillery. (Learn about the different types of Scotch whisky here.)
Blended malt has a long history in Scotland, but this term was only recently introduced and ratified in the Scotch Whisky Regulations of 2009. Previously there was a legal definition of malt whisky, but not specifically for blended malt, and other terms were in circulation. The most frequently repeated was 'vatted malt,' stemming from the vat (large vessel) in which malt whiskies are vatted (blended). 'Pure Malt' was another term denoting a blended malt, but then again, this could also refer to a single malt.
While the terminology was only clarified a little over a decade ago, the opportunities that single and blended malt provide for master blenders have always been clear. A single malt inevitably embodies the 'house style' of the distillery that produced it. Blending different styles of malt whisky from more than one distillery enables a master blender to create various flavour profiles.
"The primary notes in Spice King are spice notes," says William Wemyss, Founder, Wemyss Malts. "We gained vanilla spice from Bourbon barrels, and to introduce additional complexity we blended in a small amount of Islay malts to give peatyness, and provide a counter-balance to the spice."
Similarly, Scottish regions such as Speyside, the Highlands and Islay are associated with particular characteristics, and the Johnnie Walker Black Label Origins Series uses malts exclusively from each specified region. Consequently, Speyside Origin offers elegant fruit, compared to the richer fruit of Highland Origin, while Islay Origin delivers smoke and maritime characteristics.
A blended malt inevitably prompts questions among whisky lovers: how many malts in the recipe, and from which distilleries?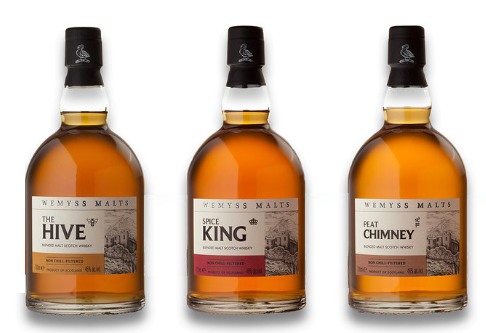 First, the numbers. It may be a few or many more. Monkey Shoulder comprises three Speyside malts. Chivas Century of Malts, released in 1995, combined malts from 100 distilleries. But the total number, and the distillery names, are only the beginning. It's what each malt brings to the party that really matters.
"Inver House owns five malt whisky distilleries all of which are unpeated and combine very well together," says Stuart Harvey, Master Blender, Inver House Distillers. "Each brings something different to the final character of a blended malt. Ancnoc gives a lovely floral, fruit fragrance, the richer character of Speyburn and Balmenach add a richer backbone, Pulteney adds really nice fruit and spice."
Exactly what each malt contributes to the resulting blend is determined by the interaction between them, which is a fascinating aspect of the blending process.
"Even with two component malt whiskies the resulting blend is not an aggregation of one or the other, nor is it a case of meeting in the middle, it's something new," says James Saxon, Assistant Whisky Maker, Compass Box. This is because interaction entails a profound 'realignment' that creates a new equilibrium, in which some flavours are promoted to the foreground, while others are relegated to the background.
'New' flavours can also appear. Whether this is the result of interaction creating new flavours that don't exist within the component whiskies, or a case of interaction revealing flavours which are present but not actually discernible within the component whiskies, is uncertain. One certainty is that the result of interaction is determined by the proportions as well as the character of the component whiskies.
"For example," says Saxon at Compass Box, "if you compare a 50/50 recipe of two malts to the same malts blended 49/51, it is sometimes possible to pick out the differences, which can be subtle or radically different."
Consequently, even the smallest change to 'proportional representation' can revise the result.
"My norm for a blended malt," says Harvey at Inver House, "is five malts, and by changing the proportions of each malt you can play tunes with a recipe and create numerous variations."
That's great. But at the same time there aren't any rules. And there can be surprises.
"A blend of 3, 4 or 5 strongly flavoured malts can create a lighter whisky, though still harmonious. But some malts just don't work well together and it's a mystery why that is," says Saxon.
It's no mystery why blended malt remains a niche player, having suffered (historically) from a certain attitude. "There was some snobbery with single malts traditionally considered superior to blended malts. But there's now a growing awareness and greater acceptance of blended malts, and there's been a dramatic increase in the choice of blended malts at various prices in the past 10 years," says William Wemys.
Perhaps the term 'blended' has had an influence on perception, even though single malts (apart from the limited number of single cask bottlings) are also a blend of different casks.
Says James Saxon at Compass Box:
"Blending is not the issue, what matters is whether you have the ingredients to make a compelling whisky. Single malts are perceived as being the pinnacle of whisky, but if a whisky is delicious it shouldn't matter whether it's a single malt or a blended malt."
The creative opportunities and commercial potential of blended malts are significant. But with most distilleries producing at full capacity, and typically focused on bottling single malt, the future of blended malts depends on having access to stock on a consistent basis.
Owning more than one distillery certainly helps, though there are other ways of safeguarding supplies of 'external' stock. "Sourcing stock is down to relationships that we've built up over the past 16 years, when we first launched Wemyss in 2005," says William Wemyss.
"We're able to select malts of various ages, matured in various cask types at different distilleries. Since 2010 we have also been filling casks with new make spirit which are aged on-site at the distillery of origin, which gives us continuity of supply and guaranteed provenance. This allows us to create various flavour profiles and ensure that we have a continuous supply of the component malts."
The range of styles and flavours that can be created by blending malts is certainly a huge asset. And as the appeal of whisky is more than the flavour, the provenance of component malts in a recipe, and the art of blending, are fascinating subjects for whisky lovers to study.
If these aspects are the focus, rather than whether a malt is 'single' or 'blended,' then blended malts could attract a vast, passionate following.
Ian Wisniewski is a freelance writer and leading authority on spirits, with a focus on Scotch whisky. Over the course of his two decades covering the industry he has published seven books, including the Classic Whisky Handbook, and has contributed to publications such as Whisky Magazine, The Times, The Malt Whisky Yearbook and Scotchwhisky.com.
You can read more comment and analysis on the Scotch whisky industry by clicking on Whisky News.