Wednesday 29/4/2020 09:58 Ian Wisniewski
Isle of [Your Name Here]: Buying by the Barrel at Scotch Distillers
Ever-more Scotch whisky producers are inviting their fans to buy entire casks of maturing spirit, reports Ian Wisniewski for WhiskyInvestDirect. What's the appeal, the economics and the costs of distillers' own cask offers...?
CORONAVIRUS restrictions may have silenced some Scotch distilleries, but one expanding process continues: on-line cask sales.
Valentine's Day saw the Isle of Harris Distillery announce a new allocation of freshly-filled casks ready to buy and leave to mature, as did Isle of Raasay Distillery on April 16. Their stock joins the growing number of casks offered by Scotch distillers to drinkers who want to buy whisky in wood, whether from recently established distilleries or grandees such as Macallan, Springbank, Dalmore and Highland Park.
Prices for these distillery programmes start around £2,500 for a cask, and ascend to hundreds of thousands or even £1 million. Does that sound like a bargain, about right or way too much?
"We didn't want cask offers to be about investment," says Isle of Harris Distillers' MD Simon Erlanger, echoing the view of Isle of Arran Distillers whose sales copy for its own programme talks of casks being "a splendid way to secure a personal supply" and "a fine gift to mark a special occasion for an individual, family, business or organisation."
What's certain is casks have wide and growing appeal to Scotch whisky fans. Limited production runs for these programmes ensure rarity, and even comparing malt aged in the same cask type shows individual influences. As oak is the product of nature not production lines, casks cannot provide 'identikit' conditions. This includes evaporation, which reduces volume and alcoholic strength as whisky matures. Annual evaporation rates average 2% of a cask's contents, though numerous casks aren't average. Consequently, casks contain differing amounts of mature whisky at varying alcoholic strengths, which also means individual flavour profiles. And prices.
Casks filled with new make spirit are the most affordable, and provide various advantages for distilleries. "It's a great way of bringing in revenue at an early stage, but another fundamental benefit is that every cask owner is an advocate of what we're doing," says Simon Erlanger.
Operational since 2015, Isle of Harris pre-sold casks annually from 2015-18, priced at £2,750 for a first fill Bourbon barrel. While typically its whiskies are medium-peated using peat from the mainland, the current offer is limited to 50 casks of heavily-peated malt using peat from the island, and come with a list price of £3,250 each.
At £4,000 for a Bourbon barrel, Isle of Raasay's latest offer is a choice of peated or unpeated new make spirit. Also looking at the brand-advocate appeal, it invites purchasers to come and fill their own cask as part of a visit to meet the distillery team, staying overnight at the distillery's hotel.
"For people who want more of an experience this is a powerful concept," says Alasdair Day, the distillery's co-founder and MD. "There's been a good uptake already, and the interest it creates enables us to talk about what else is happening and upcoming releases."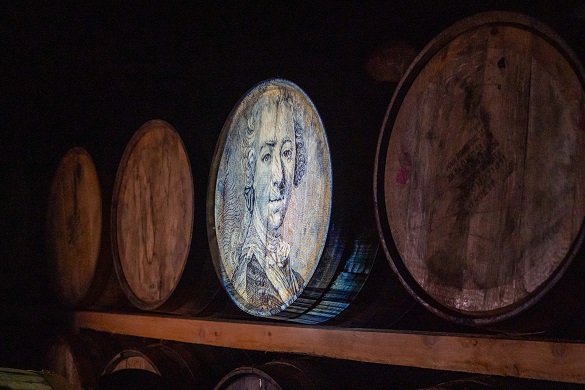 Meanwhile, an 'a la carte' menu is on offer at Holyrood Distillery, operational from 2019. "Clients can have a 'flavour consultation' and from this we design a unique recipe," says Holyrood's co-founder, David Robertson – "various malted barleys, different yeast strains, fermentation times, distillation cut points and, of course, cask size and type for maturation.
"Our feeling is that this has been well received as clients get something just for them rather than buying 1 of the same as 300 other people".
Rather than waiting for malt whisky to mature, there are plenty of 'ready-to-drink' options. Glenmorangie began offering casks in 2019, with the initial catalogue comprising 20 casks of Glenmorangie and 10 of Ardbeg, which were 20-25 years old. The story of each cask, tasting notes, alcoholic strength and anticipated number of bottles per cask are also provided. Prices start at €103,000, which includes a bespoke process: dinner and tasting of cask samples with Dr Bill Lumsden, Glenmorangie's director of distilling, whisky creation & whisky stocks, who selected the casks.
"It's a personal experience as well as a commercial transaction," says Lumsden. "Interest is snowballing and I'm preparing the second catalogue."
This raises another question: what a purchase price includes, and what conditions of sale exclude. Isle of Raasay casks can't be traded but the resulting bottles can, while Isle of Harris has an additional restriction to stall speculation. "We don't allow casks or the contents to be traded," says Simon Erlanger. "The whisky can only be drunk or given as a gift.
"We also make people very aware the purchase price of the cask is about one third of the eventual cost. If a cask yields 300 bottles this means a total price of about £30 a bottle for a 10-year old malt."
That final price comes because, over and above the initial cask price you pay, you'll then need to pay for bottling, plus excise duty, with VAT on top.
It's a serious commitment for any whisky fan, with research needed and extra costs involved. But that's the price asked by the industry for the experience of being involved and showing your support for a particular brand. These programmes – for buying a special cask directly from a favourite distillery, and holding it there until you pay for bottling and tax – aren't about saving money, let alone making it.
Looking instead to invest in maturing Scotch at trade, not retail prices? Compare cask ownership schemes with WhiskyInvestDirect and learn how to get cost-effective access to the slow, steady upside which comes from time in the barrel – no bottling, duty or VAT costs needed.
Ian Wisniewski is a freelance writer and leading authority on spirits, with a focus on Scotch whisky. Over the course of his two decades covering the industry he has published seven books, including the Classic Whisky Handbook, and has contributed to publications such as Whisky Magazine, The Times, The Malt Whisky Yearbook and Scotchwhisky.com.
You can read more comment and analysis on the Scotch whisky industry by clicking on Whisky News.