Friday 20/3/2020 12:40 Tom Bruce-Gardyne
Fancy a Wee Dram of Weedlip? Legal Dope Sizes Up Scotch
As the great green wave sweeps across North America, Tom Bruce-Gardyne reports on Canada's launch of legal cannabis drinks. Should 'Big Alcohol' be quaking in its boots?
"HI, we're TWEED, Canada's leading source for all things cannabis," says the brand's breathless, eager-to-please website.
Tweed is owned by Canopy Growth (TSE: WEED), the country's largest legalised dope dealer. Stock-market investors valued Canopy at a staggering C$17 billion in early 2019, just after Canada became the second country after Uruguay to legalise the sale of cannabis products for recreational use.
"With Tweed you can smoke it, vape it, drink it or eat it," Tweed's website continues, with pictures of canned drinks named Penelope & Tonic and Bakerstreet & Ginger. Instead of alcohol they are spiked with THC, the psychoactive ingredient in weed.
Could this be the future of intoxication? Do more traditional ethanol drinks like whisky, gin and vodka face a big challenge?
The American beer giant Constellation Brands (NYSE: STZ) clearly thought so. In 2018 it sank US$4 billion into Canopy Growth for a 38% share. Other brewers including Molson Coors (NYSE: TAP) and AB In-Bev (EBR: ABI) pitched in with similar tie-ups, preparing to pounce when the sale of cannabis drinks became legal last November.
But instead of finding queues of punters keen to guzzle drinks like Tweed, freeing the weed has proved, to coin a phrase, a bit of a damp spliff for these new beverage makers so far.
The biggest downer by far is that fridges remained bare in Canada's newly legal dispensaries as brands and suppliers failed to come through. Spiros Malandrakis, senior analyst at Euromonitor, sees clear parallels with the DotCom bubble and bust of 1998-2003.
"Waterfalls of money were given without necessary due diligence," he says of the billions bet of this latest gold rush. "The roll-out of dispensaries in Canada was much slower and the taxation was much more problematic. People got over-excited, put in too much money far too quickly and expected immediate returns.
"It's the classic bubble."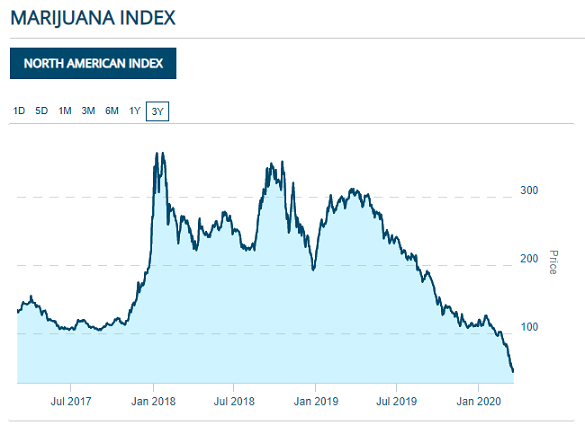 For all that, "My medium to long-term prediction about cannabis being an existential threat to the alcohol industry hasn't changed," says Spiros.
"In terms of discretionary incomes, especially with a younger demographic and occasions available for recreation, we'll see a certain degree of cannibalisation."
Governments are currently doing their best to frustrate matters, however. Canada insists on plain packaging and no on-trade sales. So no Amsterdam-style coffee shops just yet. South of the border, eleven US states have meanwhile legalised recreational dope, and over thirty have approved medicinal use, but federal approval is still denied.
If that changes it may revolutionize the US dope industry, but there's an election to get through first. Joe Biden is not particularly liberal on the issue, while Trump is anyone's guess.
What about the traditional drinks industry? Investment bank Cohen & Co. specialises in the cannabis sector, and when I asked its senior analyst Vivien Azer how drink barons should respond, she said: "They should embrace it and recognise that alcohol and cannabis are substitute social lubricants." But there's the issue, unless you want to encourage smoking. Because if you ingest weed in food or drink, you won't feel high for some time. Or so I'm told.
That makes cannabis cocktails at a party pretty crap social lubricants if you only relax and lose your inhibitions in the taxi going home. The Spectator magazine once suggested a suppository could be the solution. Sounds unlikely to me, but scientists now believe they've almost cracked it, because water-soluble THC can apparently match the 'onset time' of beer – the drinks category analysts think most at risk from cannabis products.
So you can see why Constellation and AB-Inbev embraced the newly legal drug so enthusiastically, having missed the craft beer boat and with overall beer sales already declining in North America. According to Forbes magazine last May, even global drinks giant and No.1 Scotch whisky producer Diageo (LON: DGE) has been talking to Canadian cannabis companies.
Maybe DGE's investment in Seedlip has ulterior motives. Swap the S for a W and it could take on Tweed for corny names to give you the giggles. But is the world's premier drinks category as a whole at any risk?
Spiros at Euromonitor accepts that whisky is less exposed than beer, but "I don't think anyone's beyond reach," he adds.
"Single malt drinkers tend to be over fifty – the fastest-growing demographic in cannabis, though from a much smaller base. Many fifty year olds who want a night in with a dram watching TV will have the option of a very high-quality strain of cannabis."
Perhaps. But two things stand out.
First, it's startling the way this nascent industry happily talks of its effect on consumers – whether they wish to be chilled, aroused, inspired or put to sleep – while alcohol brand owners never ever mention intoxication. And most whisky-drinkers, of course, seek much more than the alcoholic effect alone.
Second, whose success do you think weed-makers want to emulate? In December Tweed's co-founder, Chuck Rifici (who has since left the company) spoke to the Canadian business magazine Pivot and said:
"What I'm excited about is being able to wake up knowing we've created a lasting brand. It would be nice to see one of them become the Johnnie Walker of cannabis."
Well maybe, but only if they come up with some better brand names. Because as Johnnie Walker strides into his 200th year, I think he has little to fear from a drink called Penelope & Tonic.
Meantime in beer, at least Constellation's top Mexican brand is doing okay. Corona is nothing if not front of mind as people stock up for the big lockdown.
Award-winning drinks columnist and author Tom Bruce-Gardyne began his career in the wine trade, managing exports for a major Sicilian producer. Now freelance for 20 years, Tom has been a weekly columnist for The Herald and his books include The Scotch Whisky Book and most recently Scotch Whisky Treasures.
You can read more comment and analysis on the Scotch whisky industry by clicking on Whisky News.