Friday 3/4/2020 12:13 Tom Bruce-Gardyne
Scotch Whisky Goes Viral with Lowlands Grain Hand Gel and Sichuan Malt
As 'Big Alcohol' steps up to sanitise the nation, the Scotch industry's pot stills have stuck to whisky production at home and increasingly abroad reports Tom Bruce-Gardyne...
SPLASH on that hand gel, ward off the virus, and sniff deeply.
Is that a whiff of Johnnie Walker, Jim Beam or maybe Malibu?
The owners of these brands, like others in the drinks industry, have flipped their production from booze to sanitiser with impressive speed.
If it helps to keep us bug-free who would begrudge them a little free PR, or branding in the case of BrewDog. The self-styled 'bad boys of British brewing' whipped out BrewGel punk sanitiser and delivered the first free cases to Aberdeen Royal Infirmary on March 22nd.
A day later Diageo announced it was donating enough alcohol to produce over 8 million bottles of sanitiser globally. Of the 500,000 litres that will be produced in the UK and Ireland, every drop one imagines will come from Cameronbridge in Fife.
Home to Haig Club whisky (as well as Smirnoff vodka for the UK market), it supplies grain whisky (to go with the malts) for smoothing the flavour of top-brand blends like Johnnie Walker.
Not that anyone need fear (or bet on) a gaping hole in Diageo's inventory in years to come. This vast grain distillery can pump out half a million litres in just 36 hours.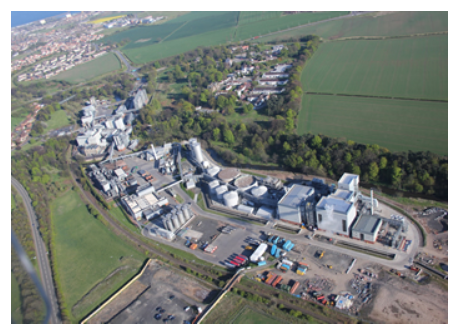 Technically we are talking grain neutral spirit at 96% alcohol by volume (abv) produced in a column still. The pot stills used to make malt whisky, in contrast, can reach around 76% abv on their second attempt, and while triple or quadruple distillation would up the strength, it would be woefully inefficient compared to a column still.
Looking at those copper stills, it seems that most Scotch malt distilleries are still operating at the time of writing, though there is pressure to close them as 'non-essential' in our present lockdown. However, given that they each employ so few workers these days, complying with 'social distancing' is no big deal.
Meanwhile in China's Sichuan province, some 800 miles west of the Wuhan – birthplace of the current pandemic – Pernod Ricard is building Emeishan, a new US$150 million malt whisky distillery in the shadow of Mount Emei. Completion was due next year, though clearly that may be delayed now.
To the uninitiated this may feel like an old story of Western corporations exporting production to the East in pursuit of cheap Chinese labour and fewer regulations. There has certainly been a distillery building-boom in Asia as Richard Forsyth Sr., chairman of the famous coppersmiths in Rothes, knows better than most.
Starting with a pair of distilleries in South Korea in the 1980s, Forsyth's has sent pot stills, condensers and other distilling equipment all over the region. It supplied Kavalan in Taiwan, which opened in 2006 and has grown to become the biggest malt whisky distillery in Asia. Its annual capacity of 8.5 million litres of pure alcohol would place it among the top 10 in Scotland.
"We've also built 14 turnkey distilleries in Japan and now have four contracts in China," says Forsyth, whose firm will be supplying Pernod's Emeishan distillery in Sichuan. Even Inner Mongolia has jumped in on the act, with a malt distillery joint-venture announced last November between the Mengtai Group and Scottish-based Valentine International.
You may wonder where it will end. Will Sichuan province become the new Speyside while whisky-making in Scotland slowly goes the way of shipbuilding and heavy industry?
The short answer is 'no', because while all these distilleries can make malt whisky, they cannot make Scotch.
Malt and Scotch ceased being wholly synonymous when Masataka Taketsuru took the whisky-making skills he had learned in Scotland back to Japan in 1920. Japanese and Scotch whiskies have coexisted happily ever since.
Indeed, there are strong grounds for believing that ventures like the new Emeishan distillery will only benefit Scotch, because it will help educate Chinese consumers about malt whisky as a cereal-based spirit that is aged in oak.
The newly-minted rules in China stipulate a minimum maturation of two years. That may be a year less than Scotch, but it is way closer to the real McCoy than much of the 'whisky' drunk in Asia. Contrast the millions of bottles of molasses-based Indian-made foreign liquor. They contain what is essentially badly-made rum, but the label shouts 'whisky' while the imagery points to Scotland in brands like Bagpiper and McDowell's.
Yes, you can find well-made Indian malt whisky, but there is no distillery building boom there (not as yet), and so far the Indians have not placed any orders with Forsyth's. For now China is keeping the firm busy.
"Our danger is always, as in any manufacturing industry, that at some point the Chinese will try and copy us," Richard Forsyth told me, but I think such worries would miss the point. His new Eastern customers come to Forsyth's for its beautifully-made stills hammered out by hand on Speyside, precisely because they are Scottish.
This reinforces the sense that Scotland is still the mother ship when it comes to malt whisky, though of course that is no excuse for complacency. Back in Scotland, let's hope the industry's diversification into hand gel will allow it to keep making its world-beating whisky.
Award-winning drinks columnist and author Tom Bruce-Gardyne began his career in the wine trade, managing exports for a major Sicilian producer. Now freelance for 20 years, Tom has been a weekly columnist for The Herald and his books include The Scotch Whisky Book and most recently Scotch Whisky Treasures.
You can read more comment and analysis on the Scotch whisky industry by clicking on Whisky News.