Wednesday 18/11/2015 17:50 Tom Bruce-Gardyne
Johnnie Walker's New Ode to Joy
Lion tamer or Kilmarnock grocer? Meet the world's #1 Scotch whisky brand...
WITH HYPE to match the new James Bond movie, Diageo's Johnnie Walker – the world's biggest-selling Scotch whisky brand – recently unleashed its biggest-ever advertising campaign, writes Tom Bruce-Gardyne for WhiskyInvestDirect.
'Joy will take you further' was released simultaneously in over 50 markets in mid-September with the aim of reaching 270 million consumers worldwide. The firm's chief marketing officer, Syl Saller, was bubbling with excitement.
"It is rooted in deep consumer insight," Saller told marketing journalists, "and tells true stories of people who have truly walked with joy."
"This is a great example of an incredibly strong idea that is brought to life with outstanding creative."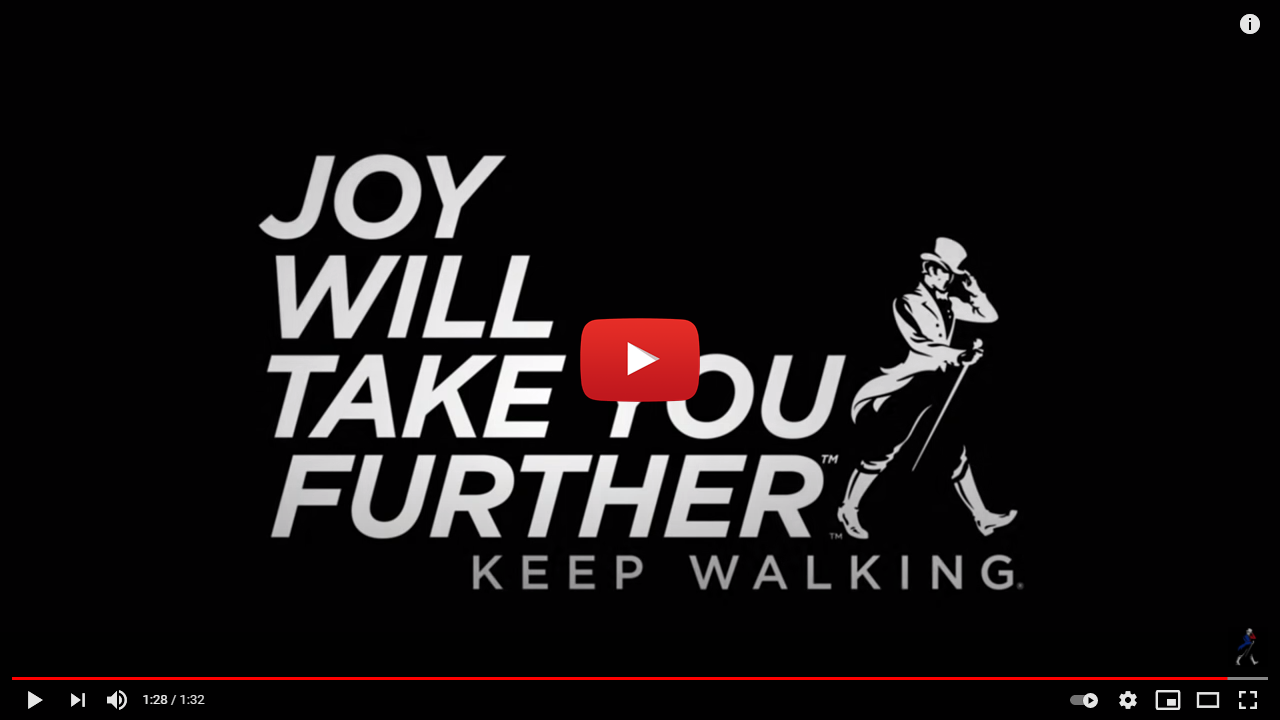 The brand is no stranger to strong marketing, if not quite since a 15 year-old Johnnie Walker opened his grocery store in 1820.
The original 'Walker's Old Highland' blend was actually created by his son after Johnnie's death in 1857. It evolved into Red and Black Label, both trademarked in 1909.
By then, Johnnie Walker was already packaged in its distinctive square bottle with sloping label and its Striding Man logo – more lion tamer than Kilmarnock grocer.
That early branding worked. Johnnie Walker was already in 120 overseas markets by 1920, before Coca-Cola had even crossed the Atlantic. By the 1960s it was the world's top-selling Scotch.
The colour-coded approach has remained pure genius too, allowing Scotch whisky drinkers to stay loyal to the brand as they traded up from Red to Black and then – eventually – to Blue (launched 1987), Gold (1995), Double Black and Platinum (both 2012).
While the entry-level Red Label has spent most of its life without an age-statement, Black Label has been a 12 year-old for all but a few decades after WWII. Given today's current pressure on aged whisky stocks, one suspects Diageo would dearly love to remove the '12' if it only could.
Back to the marketing however, and having reached 10.6 million cases in 1996 (some 7.1m for Red and 3.5m for Black), sales slipped the following year for the first time in over a decade.
The blended Scotch was Diageo's flagship brand, contributing almost 25% of gross profits. But it needed reinvigorating with one global message to replace a fragmented regional approach. It was time to bring everything under one roof and find a universal theme.
The clue was in the name and that bustling figure in his top hat and tails. First, Diageo turned the Striding Man round so he points forwards (he'd previously been strutting from right to left), then it launched the £100m 'Keep Walking' campaign in 1999.
With lavish ads, featuring Harvey Keitel overcoming stage-fright among other stars, it was about progression in life, and propelled Black Label past its arch-rival Chivas Regal by 2001. 'Keep Walking' seemed to resonate especially in countries like Brazil, which overtook America to become the brand's biggest market in 2011. Two years later Johnnie Walker smashed through the 20-million case barrier to become the world's biggest premium spirit.
Diageo's headline-grabbing news in 2012 that it would invest a billion pounds in Scotch production over five years had a great deal to do with this one brand. And the fact its sales then slipped by over a million cases in 2014 does much to explain why those expansion plans are now on hold.
The brand director, Guy Escolme, admitted the old 'Keep Walking' message "doesn't resonate in the way it used to." Hence the new idea that joy is the key to making progress.
Will it work to "drive...the next decade of growth" as Diageo hopes? For its owners and their shareholders, the stakes couldn't be much higher. As the master blender, Richard Patterson, once put it:
"It's the life blood of Diageo – if Johnnie Walker was to stumble badly, the whole company would start to crack."
The whole Scotch industry might fear the same. It should take heart that Diageo is turning even more of its £1.6 billion marketing firepower on promoting the world's No.1 whisky brand.
Award-winning drinks columnist and author Tom Bruce-Gardyne began his career in the wine trade, managing exports for a major Sicilian producer. Now freelance for 20 years, Tom has been a weekly columnist for The Herald and his books include The Scotch Whisky Book and most recently Scotch Whisky Treasures.
You can read more comment and analysis on the Scotch whisky industry by clicking on Whisky News.