Friday 16/10/2020 10:52 Tom Bruce-Gardyne
Affordable Malts: Single Malt Whisky Without the Cost or Confusion
While fancy bars and their luxury brands struggle, Mr.Tesco and his mainstream malts are doing just fine reports Tom Bruce-Gardyne for WhiskyInvestDirect...
"IF YOU'RE a single malt drinker it's an amazing category to be part of it," says James O'Connor at William Grant & Sons.
"It's aspirational and there's loads to explore and learn about once you're in.
"But if you're not a single malt drinker, 'aspirational' could just mean expensive, and 'loads to explore' could just be confusing."
O'Connor is global marketing manager for Aerstone, a new single malt from pot stills within Grant's Girvan grain distillery in Ayrshire that is aimed squarely at the second band of drinkers.
Launched in 2018 as a 10 year-old, it comes in two styles – 'smooth and easy' Sea Cask and 'rich and smoky' Land Cask. It was initially an exclusive with Tesco and claims to have added a million pounds to the supermarket's malt sales in year one from where it has grown to 40,000 cases worldwide having been rolled out to France, Australia, the US and other markets. It seems Wm Grant's is onto to something.
So too is Whyte & Mackay, whose Tamnavulin jumped 66% in value last year while volumes effectively doubled to 75,000 cases. The Speyside distillery dates from 1966, but only seriously began selling a single malt in 2016.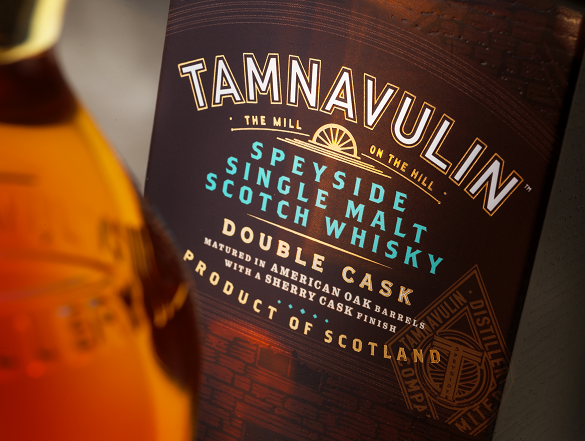 Today, with a range of three styles – Double Cask, Sherry Cask and Red Wine Cask, all at the same price, Tamnavulin plays in the sub-£30 space known as 'affordable malts'. Here you'll find Aerstone, Glen Moray, Auchentoshan and others, alongside own-label malts and brands from fantasy glens like Aldi's Glen Marnoch.
"If you look back at the last decade, all the range extensions in single malts were in the super-premium and above category," says O'Connor at William Grant. "The entry-level segment had been pretty static, but it's still really big." Quoting IWSR data, he puts 'affordable malts' at about 2.5 million cases globally, with a value of around £800m.
While most single malts endeavour to trade people up a ladder of evermore expensive expressions, Tamnavulin is having none of it. With its range of three sold at the same price, Kirsteen Beeston, Whyte & Mackay's head of international malts, says: "It's a little bit like democratizing whisky, but don't be fooled into thinking that means you get a sub-standard malt."
"We know from research that consumers who don't know very much about whisky don't necessarily deem themselves worthy of being able to appreciate something that's maybe got a more intricate finish," she continues. "They just don't feel they've got the knowledge or the palate to enjoy it."
"What affordable malts have done is make the category a lot more accessible," adds Ruairi Perry, Whyte & Mackay's marketing controller, UK brands. "There is still a perception, though not as great as it was, around this being an exclusive club for some people."
The language around the subject can also be problematic as can the industry's current obsession with oak. Stare at a well-stocked bar or retail shelf packed with different cask finishes, and it can be hard to see the wood for the trees, or the whisky for the wood.
Blends have been pushed up in price for UK drinkers by the tax man, and by minimum unit pricing in Scotland and Wales, with Northern Ireland likely to follow. Scotland sets the base at £14 for any 70cl bottle of Scotch, so when Tamnavulin or Aerstone dip down to around £20 on promotion, it is not such a stretch for Famous Grouse drinkers with a spare fiver in their pocket. "Years ago, there would have been a massive gap between blends and malts," says Perry.
Shoppers cruising the single malts in the supermarket with an itchy mask and possibly steamed-up glasses don't hang around, and Tamnavulin is hoping its orange Christmas giftbox will catch their eye before they shuffle off to the till. Aerstone is on a similar mission to simplify the experience.
"It was about how do we break down all those complicated choices in single malts without dumbing down the category," says O'Connor. "We felt that knowing the difference between peated and unpeated – smooth or smoky, and knowing which you like, would be the best place to start."
Like Kirsteen Beeston at Tamnavulin, he is wary of expanding the range and says: "I think the more we innovate, the more complicated it gets." By contrast Glen Moray, which does big volumes at the £20-22 mark, has a wide portfolio of older, more expensive malts.
The brand's international marketing manager, Laure Habhouse, believes these premium whiskies help Glen Moray [which, like spirit produced at Girvan and Tombae produced at Tamnavulin Distillery, is available to trade on WhiskyInvestDirect] be "perceived as a legitimate player." That said, she agrees malts can be "pretty intimidating" to the uninitiated, "so we need to build a bridge to blended whisky."
And as some stretch up from blends, others will be trading down to affordable malts whose simple message of good quality for a fair price seems to resonate in these uncertain times – rather better than those luxury brands that talk of aspiration and nothing but.
Award-winning drinks columnist and author Tom Bruce-Gardyne began his career in the wine trade, managing exports for a major Sicilian producer. Now freelance for 20 years, Tom has been a weekly columnist for The Herald and his books include The Scotch Whisky Book and most recently Scotch Whisky Treasures.
You can read more comment and analysis on the Scotch whisky industry by clicking on Whisky News.