Friday 12/6/2020 12:05 Tom Bruce-Gardyne
Blended Malt, Branded Scotch: Meet 'the Jack Daniel's of Scotland'
Scotch whisky takes itself too seriously sometimes, or at least that's the perception. Which is why Tom Bruce-Gardyne, writing for WhiskyInvestDirect, applauds Monkey Shoulder for injecting a bit of fun...
GIVEN the state of the construction industry, it would be no surprise to find a small fleet of cement-mixer trucks parked up and lying empty.
But this particular fleet of pimped-up mixers, when back at work, won't be carrying cement however.
Instead, their bellies will hold 11,000 litres of a pre-mixed whisky cocktail, ready to supply music festivals and the like in the UK, the US, Australia and Taiwan. Welcome to the mixed-up world of Monkey Shoulder.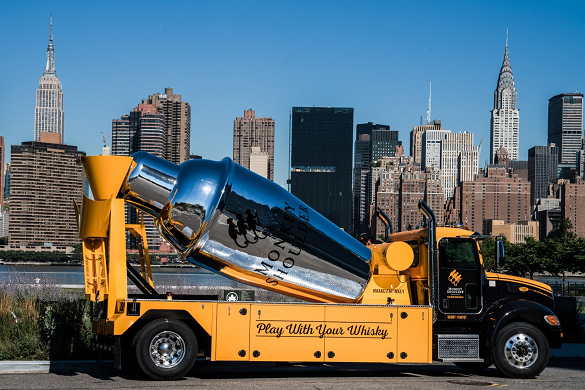 After years in the planning, and initially blending three Speyside malts together – breaking with the industry tradition of adding less complex grain whisky to smooth out the flavour – the brand was launched by William Grant & Sons in 2005, in the UK and France, followed by the States.
In its distinctive, dumpy bottle with three little monkeys on the shoulder, the brand name comes from the days when distilleries malted their own barley. The grain was spread on a stone floor to begin germination, and to prevent the rootlets matting together it was turned regularly by malt men who would flip it over their shoulder with wooden spades. Some developed a repetitive strain injury causing one arm to hang low like a monkey.
Monkey Shoulder was no overnight sensation and you wonder if rival distillers would have had the patience to see it through. Sales only passed 200,000 cases in 2014, but have since soared to 481,000 last year, causing the competition to hit back with Copper Dog blended malt in 2016 (supplied and then bought by Diageo in 2018), followed by Whyte & Mackay's Shackleton a year later. Not that Ester Broome, the brand's marketing manager, is the least bit worried.
Anyone attempting a copycat brand by producing a similar whisky is missing the point. Monkey Shoulder is not about the process, it's about having a playful attitude. Its life mission is to be the "cheeky reinvention of the dull and conventional," says Ester. "From a marketing perspective, it's about us not starting from Scotch, or the restrictions of being a spirit. If you do that you just end up in the same place as everyone else."
She claims the whisky created by Grant's master blender, Brian Kinsman, could have been a blended Scotch like Johnnie Walker, and says: "It just happened to be a blended malt, as we didn't look at the category definition." But being a malt justifies its £25 (US$30) price tag, and is highlighted on the brand's jazzy new website which asks: 'What is Monkey Shoulder? 100% malt whisky made for mixing.'
The category was born out of the Cardhu affair of 2003 when Diageo sought to boost the supply of its top-selling single malt in Spain by rechristening it a 'pure malt' which meant other malts could be blended in, or so it claimed. The competition cried 'foul!' and Diageo was forced to climb down. Cardhu reverted to what it had been and terms like 'pure malt' were banned. Henceforth such whiskies were to be called blended malts.
According to HMRC figures collated by WhiskyInvestDirect, global shipments of blended malts were around 1.5 million cases last year, down from 2.3 million in 2010. This suggests Monkey Shoulder is a one-off, but again it's a mistake to see it through the lens of its category. As Jonny Cornthwaite, now Grant's global marketing manager, told me in 2017, "I'm not sure if anyone has ever walked into a bar and asked for a blended malt."
The bar – especially the cocktail bar – is where Monkey Shoulder was built, and is where most of the marketing budget still goes, even though 75% of sales are now off-trade. By investing in leading bartenders way above what their sales would justify, the brand has reaped the rewards further down the food chain from mainstream bars through to the supermarket shelf.
Right now, like every other Scotch whisky and indeed all drinks brands worldwide, it is totally reliant on retail sales, but consumers are being encouraged to get creative at home through the Monkey Kitchen Cocktail series, where bartenders are posting serving suggestions on-line.
If Scotch whisky struggles to be seen as mixable spirit, Ester feels there is still "quite an old-school contingent" within the industry. I doubt anyone working in whisky has raised an eye-brow, frowned or tut-tutted about the use of mixers for fifty years, so perhaps any lingering misconception about drinking it neat comes from outside.
Strangely enough Scotch & soda was once the standard serve like gin & tonic and quite trendy if you call it by its other name – a highball. Either way Monkey Shoulder has done well banging out its 'made for mixing' message, even persuading conservative Taiwan to embrace the Ginger Monkey with ginger ale.
The brand's mixability was in Brian Kinsman's mind from day one, and that has helped it compete against Japanese whiskies, bourbons and gins better than most Scotch brands out there.
"My personal ambition is for Monkey Shoulder to be the Jack Daniel's of Scotland," says Ester Broome, who sees it becoming a million-case brand before long. Others in the Scotch industry would do well to study its success.
Award-winning drinks columnist and author Tom Bruce-Gardyne began his career in the wine trade, managing exports for a major Sicilian producer. Now freelance for 20 years, Tom has been a weekly columnist for The Herald and his books include The Scotch Whisky Book and most recently Scotch Whisky Treasures.
You can read more comment and analysis on the Scotch whisky industry by clicking on Whisky News.