Friday 1/5/2020 10:13 Tom Bruce-Gardyne
Premium Scotch: Luxury Comfort or Killed by Covid?
Consumers have so far this century reached for ever-more aspirational brands of Scotch. Will that trend survive today's Virus Crisis and the global economy's post-lockdown slump, asks Tom Bruce-Gardyne for WhiskyInvestDirect...
MAYFAIR's neighbourhood offie in central London, Hedonism Wines opened in 2012 as "a vinous paradise, so stunningly seductive that it verges on the pornographic," drooled the Financial Times at the time.
Its founder, Evgeny Chichvarkin, had been Russia's Mr.Carphone Warehouse, with 5,000 stores and a neat line in jewel-encrusted mobiles. He fled Moscow for London in 2008, just as the global financial crisis struck, and began dreaming of his new venture.
"Weren't you worried about the recession?" I asked when I met him in his shop. Chichvarkin looked puzzled at this strange word.
"Re...Recess...??"
It was a stupid question then and doubtless will be after the lockdown. Hedonism Wines and its well-heeled clientele appear immune from the impending economic depression in whatever shape it comes. Premium-priced whisky will be sold there just as much as before.
But what of the wider market outside that bubble? Will the pandemic kill high-end Scotch?
Premiumisation, a word beloved by brand-owners, has driven Scotch whisky in its mature markets for decades. "Scotch has benefited from drinkers' desire to 'trade up' from 'Premium' to 'High-End' and 'Super-Premium' products," says the Distilled Spirits Council of the United States, who track the sales of these three categories together with 'Value' every year.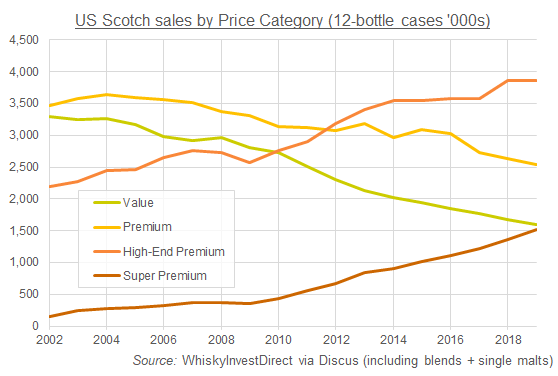 'Value' includes brands like Teachers and Cutty Sark, and has been in stately decline since 2008. 'Premium' (Dewar's White Label, Johnnie Walker Red etc.) has shrunk by 30% since its peak in 2004, while the upper two categories, covering deluxe blends like Chivas Regal and single malts, have grown every year since 2009.
Yet extrapolating the past to predict the future is dangerous, particularly in the current climate.
"It's been 9 or 10 years since the last crisis and we're well overdue the next one," Eurominitor's senior analyst Spiros Malandrakis told me back in November. Maybe he's psychic, but I don't think he was predicting the present plague. What stands out from the 2008 crash was just how fast those upper two tiers bounced back in markets like the US. Whereas "the current situation is so fluid and the parameters are unique," says American economist and wine writer, Mike Veseth.
Wary of forecasting anything right now, "I've never been through anything remotely like this given the combination of consumer lockdowns and sudden mass unemployment," he says. Veseth also points however to the recent re-surge in luxury fashion sales in China – first hit and first to start exiting coronavirus lockdown – as reported by luxury-goods conglomerate LVMH.
"Many predict China will return to fast growth quickly," he says, "while the US and Europe are likely to recover more slowly."
Worldwide meantime, there's a deeper underlying trend – driven by a generational shift and increased awareness of health – which could get a big boost from this social and economic shock, says John Stirling, co-founder of the Scottish farm distillery Arbikie.
"The trend towards paying more and drinking less even applies in Scotland," he says, predicting that as a result of the Virus Crisis, margins in mass-market spirits will now "fall off a cliff" given the squeeze in disposable incomes and spike in unemployment, even if volumes are partially propped up by heavy discounting.
"My view is that premium and super-premium will be strongest," Stirling says, "because you've got higher margins to allow everyone [in the supply chain] to make a reasonable amount."
Expanding that point, "There are examples in tough economic circumstances where affordable luxuries actually do quite well," says Simon Erlanger, Isle of Harris distillers MD and Glenmorangie's former marketing director, calling them "a little comfort in time of adversity."
Erlanger is unclear whether consumers will revert to 'tried & trusted brands', something recently predicted by industry data and analysis consultants the IWSR. Big producers will certainly try to encourage it, thinks John Stirling at Arbikie, as they "splash the cash" on listing fees in bars, pubs and restaurants to lock out competition in the on-trade, at least for a few years.
While Isle of Harris drinkers "tend to be on the affluent side," adds Erlanger, and so "will likely be better cushioned than some to ride out the storm, what is fairly sure is that values will change" more widely post-Covid.
"People will have re-discovered the importance of community and caring and [so] will increasingly want to buy from brands with a genuine ethical stance," he says. And with Isle of Harris founded as a 'social distillery' to bring sustainable employment to the island in 2015, "I'd like to think that our original purpose will stand us in good stead here," he adds.
Many luxury brand-owners will be praying that Stirling is wrong when he says: "People don't want wasteful packaging, they want it stripped back and recyclable." Euromonitor's Spiros Malandrakis also sees the rise of 'ethical luxury' forcing brands to work harder to justify their premium status.
For some time, "the fallacy of infinite premiumisation" has been too reliant on the post-war 'Baby Boomer' generation, Malandrakis says. He believes that because millennials don't enjoy the same security of employment and property, they therefore have different values.
With young people bearing the worst social and economic impact as the world attempts to save older lives, that difference certainly has a ring of truth right now. Though maybe not in Mayfair.
Award-winning drinks columnist and author Tom Bruce-Gardyne began his career in the wine trade, managing exports for a major Sicilian producer. Now freelance for 20 years, Tom has been a weekly columnist for The Herald and his books include The Scotch Whisky Book and most recently Scotch Whisky Treasures.
You can read more comment and analysis on the Scotch whisky industry by clicking on Whisky News.