Friday 3/11/2023 09:00 Ian Fraser
Naked and Unadorned
As bottles of Bruichladdich appear without their tins in pursuit of the distillery's green agenda, Ian Fraser wonders whether others will follow and what it will mean for the role of gifting and luxury in Scotch whisky...
In the summer, just as the suspension of Huw Edwards and de-banking of Nigel Farage were dominating the headlines, Bruichladdich Distillery embarked on a quiet revolution in the world of single malt Scotch whisky.
In mid-July the company, owned by Rémy Cointreau since 2012, removed all the outer tins from its "Classic Laddie" single Islay malt range, effectively letting the brand's redesigned but distinctive turquoise stumpy bottles do the talking – or going "naked" in the industry parlance – as part of a wider attempt to cut its carbon footprint.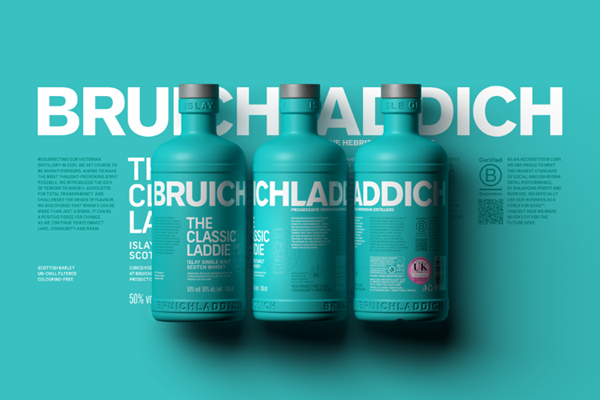 Together with the use of lighter-weight, majority-recycled glass bottles, Bruichladdich believes the initiative will enable it to slash CO2 emissions from its packaging by 65%.
"Where most other spirits travel around the world in just the bottle, the majority of single malts have an elaborate or heavy secondary, outer pack. And it made us ask ourselves, why?" says Bruichladdich CEO Douglas Taylor. "Secondary packaging is not always necessary, and it's certainly not sustainable."
The removal of tins was not a total leap in the dark for Bruichladdich after its "One Tin Lighter" initiative launched in 2021 to offer its consumers the chance to do without the tin – an opportunity roughly half took up – as well as the scrapping of the tins from the Port Charlotte range in 2022.
Nor is Bruichladdich alone. Under its "Society 2030: Spirit of Progress", Diageo started phasing out secondary packaging from blends like Johnnie Walker, Buchanan's and Bell's two years ago. Diageo trialled the programme in selected markets in order to gauge how consumers would respond from 2022, before rolling it out internationally from July 2023. Every bottle of Johnnie Walker, except for Blue Label, Gold Label and Triple Cask ranges, now comes without secondary packaging.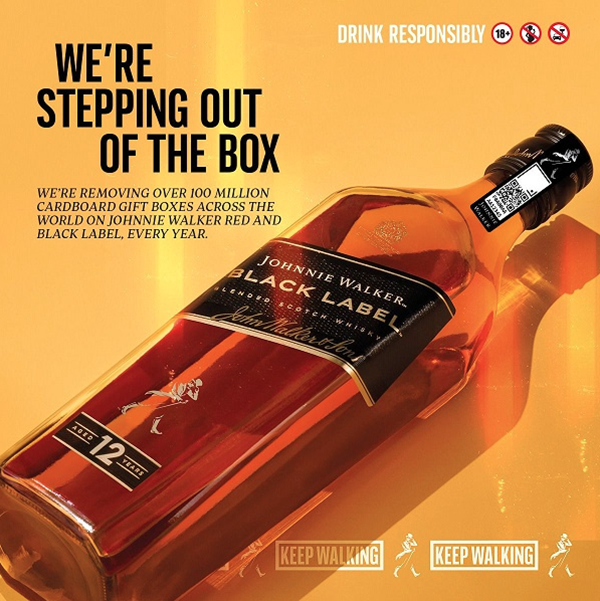 Johnnie Walker global marketing manager Claire Li says the removal of outer boxes is "setting a new benchmark for the industry and shifting consumer mindset around excess packaging in the context of Scotch. After all, the gift is in the bottle, not the box."
By June 2023, Diageo said it had eliminated 141 million boxes and slashed carbon emissions by 5,520 tonnes. Ultimately, the initiative should mean Diageo eliminates 183m outer boxes a year.
David Hume, director of Drinksmith Consulting, and a former senior executive at William Grant and Sons: "All credit to Diageo for doing that. It's a brave move considering Johnnie Walker is the biggest-selling whisky brand in the world. It's an impressive statement of intent."
In August, Laphroaig, owned by Beam Suntory, took a more tentative step, replacing the secondary-packaging tube with conjoined metal base and metal lid (a design singled out as a recycling nightmare by the UK Recycling Association in 2017) with a recyclable carton. The firm said the changes will result in a reduction for 1,184.74 tonnes of greenhouse gases every year.
Hume, however, warns there could well be a disconnect between retailers – which are increasingly demanding the removal of secondary packaging as they embark on their own journeys to net zero – and consumers "who, for the most part, still want secondary packaging".
Asked why consumers demand outer packaging, given that other high-end spirits such as gin are not presented in this way, Hume says: "For as long as most consumers have been aware, single malt Scotch has come in secondary packaging. It's partly expectation but it is partly about gifting as well."
He believes, for single malts, outer packaging was first introduced by William Grant's Glenfiddich single malt in the late 1960s or early 1970s, when embossed collectible tins were all the rage, adding, "Giftability is a key part of the DNA of single malt Scotch whisky, and having a secondary pack is a key part of that."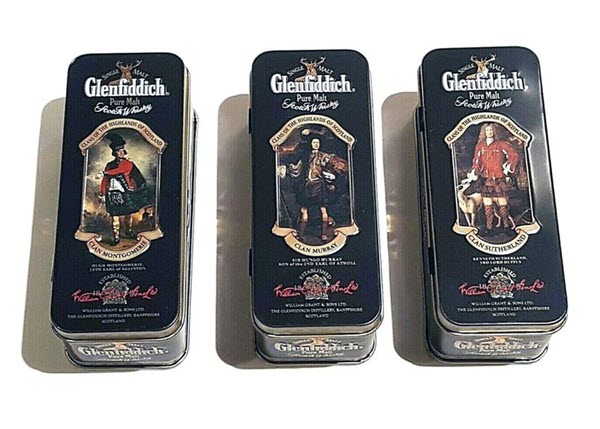 Hume also said the scrapping of outer containers needs to be put in the context of wider efforts by the industry to reduce carbon emissions. He believes what Glengoyne, owned by Ian Macleod Distillers, is doing with its liquid waste, filtering it naturally through wetland at the distillery, together with its use of 100% renewable energy, has a much bigger impact on Glengoyne's overall carbon footprint than eliminating secondary packaging.
"Secondary packaging is an important thing for companies to look at, and I think it's the right way to go," says Hume. "However, I think it will take time for some consumers to accept it. There are a lot of other things that the industry is doing in the meantime to reduce their carbon impact and their energy use. It needs to be seen as part of an overall sustainability strategy."
The push to eliminate secondary packaging may also be coming at a bad time for the industry, As the In SWA'a 2020 Environmental Strategy Progress Report makes clear premiumisation is, in most parts of the world, still in full flow and consumers are trading up to higher-end blends and single malts. As a consequence, many simply expect fancier and more opulent packaging, as they're spending so much more.
John Stirling, director of Arbikie Distillery, says: "I congratulate Bruichladdich. They've probably done their homework and everything but – hats off to them. We intend to follow their lead if it works." However, he warns it may not be plain sailing: "Consumers paying for a premium product still expect some sort of secondary packaging, whether that is a gift box, tin or something else. As a commercial organisation, you can't ignore that.
"Going forward, I think outer packaging will increasingly be optional – it will be up to retailers, wholesalers, distributors etc, whether they think their customer base wants it. Some of the big buyers, such as SAQ (Société des alcools du Québec) and, I think, Vinmonopolet in Norway, are already saying they don't want outer packaging anymore."
One downside, of course, is jobs in the packaging industry. Mike Ridgway, director of the Consumer Packaging Manufacturers Alliance last year told Printweek that Diageo's move represents a "sea change" with potential knock-on effects for a number of other industry sectors. "In a similar way to plain packaging for tobacco, it is not only the print operations affected, but suppliers of inks, varnishes, hot foil stamping materials, and of course folding cartonboard."
Front Page Image: