Wednesday 4/10/2017 11:56 Rupert Patrick
Reviving Trade Mark "X", Part 2: The Missing Whiskies
Top-selling brands and silent stills put this revival at risk...
JAMES EADIE's whisky ledgers show a remarkably consistent buying pattern between 1870 and 1890, writes Rupert Patrick, CEO of both WhiskyInvestDirect and James Eadie.
It's clear that my great-great grandfather had built up long-term relationships with the leading whisky companies and was buying the same malts and grains year in year out.
Blenders were required, then as now, to provide quality and consistency for their brands, so that consumers stayed loyal and reputations intact. And that wasn't easy given the variably quality between distillers in those early days of Scotch production.
The malts Mr. Eadie was blending were some of the best in those days, and are certainly amongst the best today. A Scotsman with a sound knowledge of the trade, he was not averse to paying for quality. The ledgers show the likes of Glendronach, Dailuaine, Craigellachie and Aberlour, which have always been highly rated by blenders as have the more peaty island whiskies he was buying: Caol Ila, Talisker and Lagavulin.
So, as I set out to revive or re-master my ancestor's blend, I was immediately faced with the challenge of buying stock that no-one wanted to sell.
The key problem is that many of the malts used in Eadie's Trade Mark "X" have since become highly sought-after in their own right as single malt brands, growing sales at 6% or more over the last decade. As a result, the distillers have had to use less of them for blending to keep enough stock back to bottle as single malt. And this trend looks likely to continue.
What chance was there for us to acquire stocks of these gems in a very tight market?
To make matters worse, a few of the distilleries on Mr.Eadie's buying list had shut down early into the 20th century. Adelphi (1907) Kirkliston (1920) and Glenochil (1929) were long since gone. I had to face up to not having those in the blend. But another two distilleries, Cambus (grain) and Littlemilll (malt), had been permanently closed in the early 1990s when the industry was cutting back production. Given their age, and their importance to my great-great grandfather's blend, I had to track down stocks of both.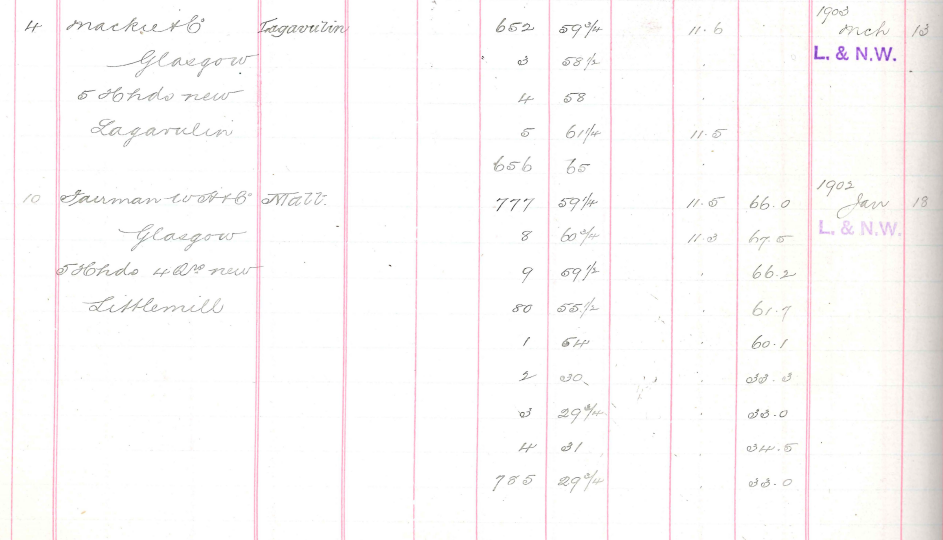 So while finding the Eadie whisky ledgers had been a fantastic moment of discovery, it was also turning out to risk causing us some major disappointment. By looking at the handwritten details on those 140-year-old pages I could almost taste the quality of the blend, with its silky Speysides and powerfully phenolic Island malts. How frustrating it was to feel its revival now slipping away from me at the first hurdle.
But we had tracked down the ledgers for a reason, and the names of the distilleries and their illustrious histories kept swirling around in my head, day in day out. I couldn't let this go so easily.
My first call to Diageo didn't go well. The tone was almost apologetic but definitely easy to understand. Nearly half of the whiskies I wanted from them were out of the question. My second call, this time to Beam, was equally demoralising. Further calls to other distillers confirmed what I feared: most of what I needed was completely 'off limits' at any age, never mind at eight years old or more.
But then a meeting with Norman, our Master Blender, perked me up a little. His four decades in the trade had taught him that relationships built up over many years count for a lot and that favours can be worth asking for.
While the Eadie name had all but died out, I had myself had now spent 25 years in the Scotch business, most of them living and working in Scotland, where the important networking is done. Knowing that I had a good story to tell – about James Eadie, about his ancient Trade Mark "X" brand, and about my dream of reviving the blend for today's whisky fans to savour – I decided to put on my salesman's hat and try a different angle with those who held the keys to the locked warehouses.
Rather than just ask to buy some of the most sought after whiskies from distillers with stock shortages, I had to engage them with the story first...
Read part one of 'Reviving James Eadie's Trade Mark "X"' here.
Rupert Patrick is co-founder and chief executive of WhiskyInvestDirect, the online market enabling private investors to buy and sell Scotch whisky as it matures in barrel.
You can read more comment and analysis on the Scotch whisky industry by clicking on Whisky News.