Thursday 9/4/2020 15:38 Richard Woodard
Boom to Bust: What 222 Did to Scotch Whisky in South Korea
Ten years ago, South Korea was one of Scotch whisky's darling markets, with an apparently unslakable thirst for high-end blends. Then it slowly fell apart. What went wrong? And what can the industry do to turn the tide? Richard Woodard reports...
In 2011 South Korea was a good news story for Scotch whisky.
A new free trade agreement (FTA) with the European Union meant the elimination of the 20% import tariff on Scotch in a country that had already imported more than £150m-worth of blends and single malts the year before.
That made South Korea Scotch's sixth most lucrative export market by value. By volume, it ranked ninth. Expensive blends like Ballantine's 17 Year-Old were the toast of Seoul's hostess bars – venues where businessmen are plied with drinks and flirtatious chat by attractive women – and noraebang or karaoke lounges, as workers unwound from the pressures of the day, making full use of their generous expense accounts and corporate entertainment budgets.
The other big whisky brands in Korea were also blends, but with names less familiar to Western drinks cabinets, such as Windsor (owned by Diageo), Imperial (part of Pernod Ricard-owned Chivas Brothers), and Scotch Blue (part of local company Lotte).
These were local heroes, exclusive to the Korean market, and hugely successful there. That new FTA looked like it might add even more gloss to one of Scotch's most shining destinations – but it proved not to be the case.
In 2010, South Korea imported the equivalent of 35 million bottles of Scotch, worth a total of £153.1m; by 2019, those figures had dwindled to 9m bottles and £76.8m respectively.
What happened, and what lessons can the Scotch whisky industry learn?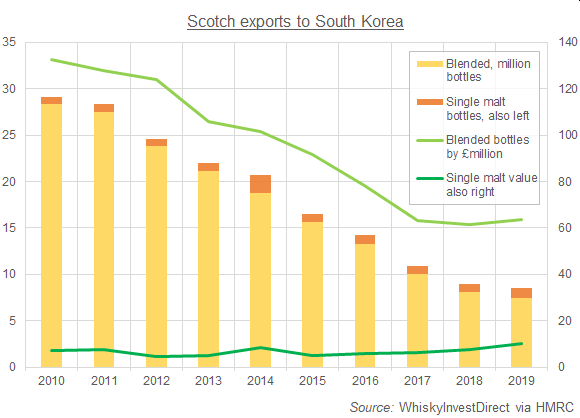 Most obviously, there was a deep and rapid decline in the TOT or traditional on-trade – the hostess bars and KTV lounges where Scotch ruled supreme.
"This is due to a slowdown in economic growth, leading to lower corporate profits and, by extension, entertainment budgets, a government crackdown on corruption and changing attitudes among the public," explains Tommy Keeling, research director for Asia Pacific at IWSR Drinks Market Analysis.
A new generation of Koreans was also turning its back on the TOT parlours favoured by older colleagues, and therefore turning away from the blended Scotch that it dismissed as too expensive, too strong and too uncool.
Beer, wine and vodka were seen as cheaper and sexier. Healthier too – a new mood of qualified temperance was encapsulated by government efforts to curb drinking with a succession of initiatives:
the 119 campaign (one type of drink, one venue, until 9pm);
the 829 campaign (ending hoesik or social drinking sessions between 8-9pm in only one venue); and
the 222 campaign (not mixing two kinds of alcohol, not pressuring others to do more than two shots, and not going to a second venue).
The response from Scotch was to chase the trend.
Local player Golden Blue was first out of the traps, launching a 36.5% abv product based on Scotch but – because of being bottled below 40% alcohol by volume – not entitled to use the name.
Diageo and, belatedly, Chivas responded once it was clear that Golden Blue was a huge hit. Diageo launched W Rare in November 2015, following up with W Signature – a glitzy launch at former Korean President Yun Posun's house in Seoul – a year later.
W Signature is 35% abv and has to be labelled as a 'spirit drink', but everything else about it says Scotch: the 17-year-old age statement, the signatures of three master blenders on the bottle – even the level of local tax paid. It is, Diageo says, 99.9% blended Scotch, with the balance made up of 'aroma and flavours' plus water.
Ironic that the products setting out to save the Scotch category aren't even part of that category themselves. In any case, this venture below the 40% threshold appears to be simply delaying the inevitable, rather than permanently reversing the slump.
"The TOT will likely continue to decline," predicts Keeling, "which will likely put a cap on the total size of the low-abv whisky segment, which has so far not managed to spread beyond that channel.
"The original Windsor and Imperial brands seem headed for extinction," he adds. Indeed, Chivas has now outsourced Imperial's distribution in Korea.
As one market dies however, another – very different in profile and scale – most often emerges. International blended brands including Johnnie Walker and Chivas Regal have held firm in South Korea, and most spectacularly, single malts have continued to grow.
Shipment volumes of single malt Scotch into South Korea rose by 31% between 2010 and 2019 to reach 1.1 million bottles; over the same timescale, shipments by value have increased at an even faster rate, up 42% to £10.2m.
Meanwhile, American, Irish and Japanese whiskies also continue to grow, albeit off a small base. Pernod is pushing Jameson hard, and Beam Suntory is doing the same with Jim Beam Bourbon.
Keeling at IWSR also expects so-called "standard" Scotch – the lower-priced blends previously shipped only as an afterthought to such a high-value market – to grow, cashing in on expanding demand in the modern on-trade and growing at-home consumer markets.
So despite the heavy fall in its Scotch demand, and while it is a very different beast to the Asian tiger that appeared so insatiable a decade ago, South Korea is far from being dead as a whisky market. The industry may never again scale the heights that it did back then, but the prospects for the likes of Chivas Regal, Johnnie Walker, Macallan and The Glenlivet could yet be very bright indeed.
Richard Woodard has been writing about spirits and wine for 20 years, editing and contributing to a number of magazines and websites, including Decanter, The Spirits Business, just-drinks.com and Club Oenologique. He was also one of the founding editors of Scotchwhisky.com.