Friday 13/3/2020 13:07 Richard Woodard
Big Value Blends: Scotch Whisky's Bedrock and Fall-Back
Johnnie Walker and Chivas Regal may hog the limelight among Scotch whisky brands, but a roster of less heralded blends are toiling away, recruiting consumers to the category worldwide and providing them with a trade-down at times of economic strife. All hail the unsung heroes of Scotch, says Richard Woodard...
WHEN I was a boy, we acquired a black-and-white dog. The dog needed a name, and my grandmother was quick to suggest one.
"Why don't you call it 'Whisky'?"
This was lost on me, but not on my parents, nor on anyone of their generation.
Blended whisky Black & White was a historical favourite in England, not least because of the two pooches – a black 'Scotty' and a white 'Westie' – that adorned its label and advertising. An entire generation of black-and-white dogs (though not ours, I regret to say) was called 'Whisky' as a result.
Created by James Buchanan more than a century ago, and now owned by Diageo, Black & White is one of Scotch whisky's recent success stories. Not in England however, but in Latin America, where the competitively-priced blend more than doubled its sales volumes from 2014-18 to nudge close to 3 million cases of 12 bottles each, thanks to stellar growth in Brazil, Mexico and Colombia.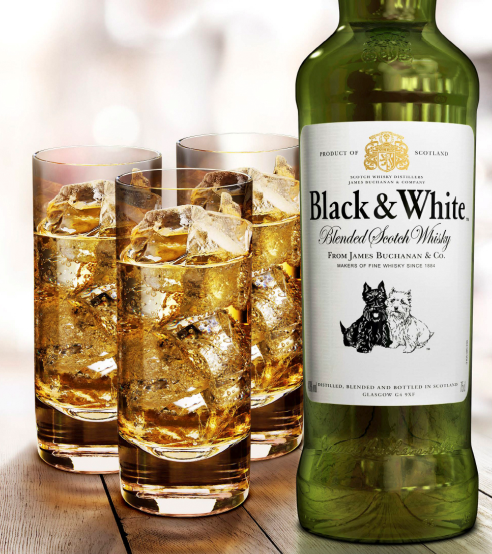 Black & White is one of a number of unheralded blends that strive in the shadows of brands like Diageo's Johnnie Walker and Pernod Ricard's Chivas Regal, building Scotch's presence in developing whisky markets across the Americas, Asia and, increasingly, sub-Saharan Africa.
Some of these unsung heroes were born during the international boom in blended Scotch of the 1960s, such as Pernod Ricard's 100 Pipers and its stablemate Passport, a hugely successful standard blend in Brazil and Mexico.
Diageo's value-priced Vat 69, on the other hand, has a much older heritage and today brings useful volumes and market presence in India and sub-Saharan Africa. But whatever their history, these big sellers' price-points are all much lower than those attached to Chivas and co, giving them a tactical value for the industry that far outweighs their margins.
Roughly half of the world's top 20 Scotch whisky brands fall into this category of lower-priced blends. Together they account for about 20m cases of sales a year in blended Scotch's volume heartlands of France, India and Latin America.
Importing 14m cases a year, France is still by some distance Scotch whisky's largest volume market. Here, you have the two 'Williams' – as in Bacardi's William Lawson's and Marie Brizard's William Peel – plus Label 5 and Sir Edward's from La Martiniquaise, as well as Clan Campbell, once Pernod Ricard's flagship Scotch before it acquired Chivas and Ballantine's.
This French 'famous five' is almost exclusively confined to Gallic hypermarchés, but there have been attempts to break out. Back in the early 2010s, La Martiniquaise planned to take Label 5 upmarket and international, aiming to become the world's fifth-largest blend within a decade.
That aspiration appears highly ambitious now, with Label 5 still hovering around the lower reaches of the global top 10 with sales sticking stubbornly to the 2.6m-case mark. Instead, another stalwart of the French market, William Lawson's, has hit the top five thanks to doubling its sales volumes in less than a decade. Bacardi's distribution clout has brought success in both Mexico and Russia.
As tactical brands, these bit-part players in Scotch's global drama have to be nimble. For instance, Pernod's 100 Pipers, haemorrhaging sales in the gloomy Thai market, has been rerouted to fast-expanding India, where it's become the leading blended Scotch brand.
Having a global distribution network facilitates such dramatic switches of emphasis. But sometimes these brands require additional thought and investment as markets evolve and consumer tastes change.
Old Parr, the Diageo-owned historic market leader in Colombia (recently overtaken by Black & White), was losing its reputation as a party spirit among younger Colombians – necessitating a revamp involving new packaging, fresh marketing, the launch of an 18-year-old expression and a tie-in with singer Sebastián Yatra.
Like the other big value blends, these brands are recruitment officers for Scotch whisky, providing curious consumers with that first tantalising sip of the product, and offering them a safe price haven when times are tough.
When Brazil's economy faltered in the mid-2010s for instance, consumers struggled to afford their bottle of Johnnie Walker, whose volumes dipped to 1.2m cases by 2017, a fall of over 60% in four years. But Black & White stepped into the breach, and saw its Brazilian sales more than treble to 750,000 cases as a result.
In short, nobody should underestimate the importance of these lower-priced blends, both to their corporate owners and to the industry as a whole, in helping maintain demand as well as growing it in new markets. The bedrock upon which the success of Walker, Chivas and every single malt is built, they offer a fall-back for consumers to continue enjoying Scotch whisky when the economic weather turns stormy.
Learn more about the Top 25 blended Scotch whisky brands here, including the malts and grain whiskies they use.
Richard Woodard has been writing about spirits and wine for 20 years, editing and contributing to a number of magazines and websites, including Decanter, The Spirits Business, just-drinks.com and Club Oenologique. He was also one of the founding editors of Scotchwhisky.com.