Friday 6/3/2020 12:46 Tom Bruce-Gardyne
What Scotch Whisky's New Record Exports Really Reveal
Scotch whisky just posted its best-ever export results, but shipments can only tell you so much, especially from a single year. Delving back through the past decade, Tom Bruce-Gardyne considers what the figures really tell us...
WHATEVER today's fast-spreading corona-panic means for world trade this Spring, Scotch whisky came into 2020 with its best-ever export results.
In February the Scotch Whisky Association (SWA) claimed that if you stacked all the bottles shipped last year end to end, you would be 90% of the way to the moon. Before long the industry could have its very own stairway to heaven for supplying passing astronauts with bottles of duty-free Scotch.
Joking aside, 2019 was a record-breaking year in volume and value. But what do the stats really reveal?
"These figures underscore the global reach of Scotch whisky," declared the SWA's CEO, Karen Betts. Whyte & Mackay's rare whisky director Gerry Tosh agrees, saying: "As an industry we have the most amazing footprint."
Today, 80% of shipments are evenly split by value between North America, the EU, and Asia & Oceania. Beyond those three regions lies a tail stretching all the way to Antarctica, which imported 48 cases of single malt but no blends last year.
No other international spirit comes close to this global reach, be it American whiskey, Cognac, gin, tequila or even vodka if you separate local brands from the likes of Smirnoff and Absolut. Having fingers in so many pies is a huge source of strength for Scotch, as big markets can suddenly vanish like Venezuela – the sixth biggest in 2008 and now 62nd.
Shipments and sales are not the same however, and distortions can arise. There was significant pre-shipping to the EU ahead of 2019's false dawns for a no-deal Brexit last Spring and Autumn, along with a surge in US shipments to beat the 18th October deadline for Trump's 25% tariffs on single malts.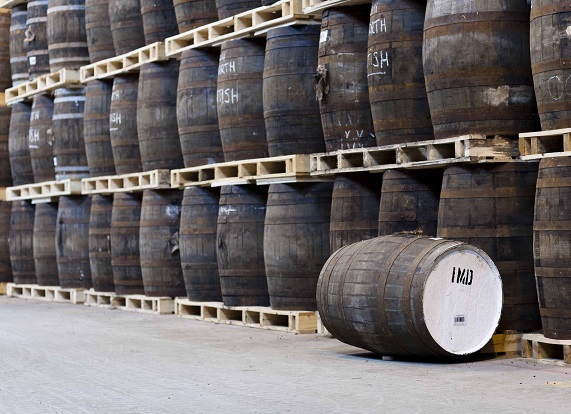 The big distillers' activity can also distort things. Only last month Diageo (LON: DGE) was fined US$5 million by the US Securities & Exchange Commission for 'materially misleading' investors by stuffing its North American supply chain with excess stock in fiscal 2014/15.
Diageo has promised to 'cease and desist', but the temptation remains what with quarterly results and targets to hit. As one industry insider put it: "The short-term nature of how the industry giants work does lead people to pump goods into a market just to get their Christmas bonus."
Another issue is that the country shipping the whisky may not be drinking it. Some 34 million bottles were imported by Latvia in 2019 compared to just 14,000 by Russia. But according to Aaron Martin, Brown Forman's general manager for Russia, that's because the Russians won't accept anything without a strip stamp, which the producers apply to their bottles in Latvia.
Plenty of whisky also flows into China via Singapore. Added to which are all the unofficial shipments, known as parallel imports, that bedevil certain markets much to the frustration of the brand owners.
However, the biggest distortion concerns whisky shipped in bulk, rather than in cases of 12 shelf-ready bottles. Bulk made up a quarter of all exports by volume in 2019. In India it accounts for 85% of Scotch whisky imports, most dribbled into Indian brands like Bagpiper and Royal Stag, with some bottled as Scotch, like Teacher's. In Japan, where bulk has a 60% share of Scotch imports, it is bottled as Japanese whisky and often re-exported at three times the price.
While that's all perfectly legal the practice may backfire. Leonard Russell, MD of Ian Macleod Distillers suspects it will "damage the reputation of Japanese whisky, because they don't have the strong regulations we do."
Strip out the bulk-commodity end of Scotch and you are essentially left with bottled blends and single malts. The former has been flat for a decade, and marginally down last year at 68 million cases thanks partly to a gentle, year-on-year decline in the USA.
Is that a concern for Scotch? "I would have to say yes," says Gerry Tosh. "Historically, blends have been the way the world has been introduced to whisky. It may be consumers are coming into the category in a completely different way."
Macleod's Leonard Russell accepts that blended Scotch – mixing single malts with grain whisky – may be losing out to Irish and American whiskey, and wonders if it's due to a lack of investment. "A lot more time, money and interest has gone into Monkey Shoulder and Copper Dog than any new blend," he says, referring to two well-known brands which blend together just malts, no grain.
But at £3 billion last year, traditional bottled blends are holding their value, especially among premium blends. This reflects the success of single malts, which have soared by just over 250% in a decade. Trump's tariffs won't help, but there are many promising untapped markets to compensate.
Meanwhile disposable incomes are rising worldwide. "The number of consumers who can afford a bottle of King Robert is increasing by 50 million a year," says Russell of his top-selling blend.
That underlying trend is a comforting thought as the Scotch industry contemplates this Spring's fallout from the coronavirus.
Award-winning drinks columnist and author Tom Bruce-Gardyne began his career in the wine trade, managing exports for a major Sicilian producer. Now freelance for 20 years, Tom has been a weekly columnist for The Herald and his books include The Scotch Whisky Book and most recently Scotch Whisky Treasures.
You can read more comment and analysis on the Scotch whisky industry by clicking on Whisky News.