Friday 30/7/2021 11:14 Richard Woodard
McPassing-Off in the Glen of Fake Scotch
For a major industry like Scotch whisky, imitation isn't the sincerest form of flattery – it's a threat to its integrity. But as the SWA pursues hundreds of lawsuits around the world, can legitimate protection turn into corporate bullying? Richard Woodard reports for WhiskyInvestDirect...
The BANNER capitals on the bottle are picked out in gold...
"MACALONEY'S CALEDONIAN" they read, followed by "GLENLOY ISLAND MALT WHISKY".
And then, in smaller but very clear letters...
"CANADIAN SINGLE MALT WHISKY".
That's not on, according to the Scotch Whisky Association (SWA). It has filed a lawsuit against the whisky's producer, Macaloney's Caledonian Distillery & Twa Dogs Brewery in Victoria, British Columbia.
The SWA takes issue with a number of features of the whisky's branding, including its use of 'Caledonian', 'Glenloy', 'Island' and 'Macaloney', arguing that they might fool an unwitting consumer into thinking that this is Scotch.
"Can't use Macaloney? Really?" the company's founder and whisky maker, Graeme Macaloney, tells Canadian website Maclean's.
"That's my bloody name!"
News of this 'David-vs-Goliath' battle prompted a predictable blogosphere backlash, including this from whisky writer Dominic Roskrow:
"The behaviour of the SWA is that of a bully terrorising folk who cannot defend themselves. There is no rhyme or reason to it. In fact, it's pathetic."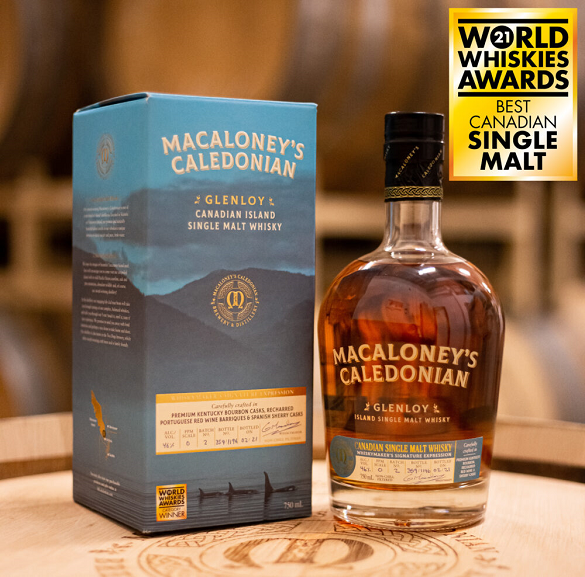 "It's something that comes up again and again," says Lindesay Low, deputy director of legal affairs at the SWA.
"In a lot of litigation we are ready for the media – or social media – response.
"People will contact us and say: 'Why are you such big bullies and why are you doing this?'
"But, as well as protecting Scotch whisky, there is the wider picture of consumers being deceived. We are looking at that wider picture."
That wider picture encompasses a team of SWA lawyers working, at any given moment, on hundreds of legal cases all over the world – about 180 'live matters' in India currently, says Low, and more than 100 in China.
These can take many forms, from locally produced spirits being 'passed off' as Scotch to, as in the case of Macaloney, the alleged use of names or devices associated with Scotland – bagpipers, kilts, tartan, even the Loch Ness monster.
Most of these cases, says Low, go nowhere near a courtroom. "There's a sort of growing scale, and we'll take a view early on," he says.
"Is it somebody misguided, who's new to the market? Quite often a cease and desist letter will deter them."
As cases escalate, the SWA might send a dossier to local enforcement authorities so that they can deal with it. Or, "for the really determined fraudsters," as Low puts it, they might try to obtain an injunction, damages and the destruction of the product.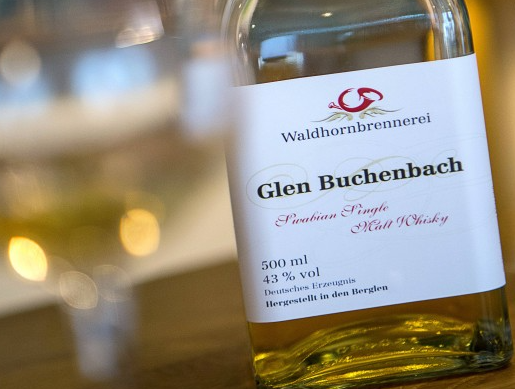 Sometimes, massive criminal operations are discovered. In the mid-2000s, a German businessman found a can of Grant's Regal Deluxe 'Scotch' in Iraq, prompting an investigation that unearthed a production network linking Austria to Turkey and the wider Middle East, involving millions of units.
But whatever the scale of the case, the SWA's motivation remains the same, insists Low.
"It's to protect the integrity of the Scotch whisky category. People pay a lot of money for Scotch whisky. One of the things we're very proud of is that it has never been made, legally and openly, in any other country."
All very well, the critics might respond, but does that really justify going after a small Canadian craft distiller for using his own name or words like 'Island' on his labels?
Low won't discuss individual cases, but he does argue that people might "leverage their name in a certain way" to make a product sound more Scottish.
"The question that people need to ask themselves is: could a consumer be confused, for instance when products are lined up on a supermarket shelf?" he continues.
"People will list the elements one by one: this isn't misleading, that isn't misleading. But when they're all together on a label, the whole is greater than the sum of its parts. We're looking at the overall impression."
The SWA doesn't always win – it famously lost a similar case against another Canadian whisky, Glen Breton, in 2009 – and final settlements will often concede individual points.
Even when the organisation is victorious, it may not make too many friends. But that's not Low's prime concern.
"If we don't enforce our rights, we will lose them," he warns. "We do not want to stop people doing their legitimate business, but we've been set up by the industry to take the heat, so that individual brands aren't in the firing line."
It has taken Scotch whisky centuries to acquire its hard-won status as a multi-billion-pound industry with global reach and instant recognition, and it's the job of Low and his colleagues to ensure that its reputation is never threatened or eroded.
And, if their work generates some negative headlines along the way, they see it as a price worth paying for the greater good.
Front Page Image: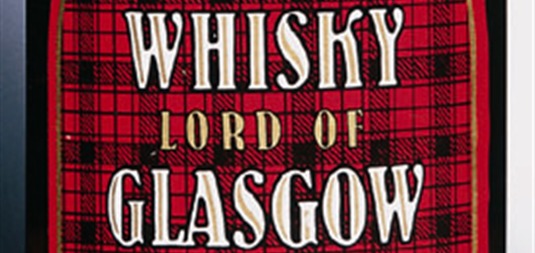 Richard Woodard has been writing about spirits and wine for 20 years, editing and contributing to a number of magazines and websites, including Decanter, The Spirits Business, just-drinks.com and Club Oenologique. He was also one of the founding editors of Scotchwhisky.com.