Friday 29/5/2020 09:01 Tom Bruce-Gardyne
Scotch Whisky in Spain: Tartan Cuba Libre, Anyone?
Still Scotch whisky's No.5 overseas consumer, Spain has retreated from its 1990s' boom, reports Tom Bruce-Gardyne for WhiskyInvestDirect, but the top end was looking especially good. Until the virus hit...
'WHISKY SALES double and toilet paper rebounds' says an arresting headline on Spain's AS.com website.
The connection is unclear, but the drink's 105% sales surge over the previous fortnight certainly looks impressive in these grim times.
However, these data come from Spanish supermarket app Gilt, whereas Spain's drinks market is still dominated by its bars and restaurants. Not a drop of Scotch was sold in those venues from mid-March until this Monday, when Spaniards were allowed to return – outdoor tables only, of course, and keeping the statutory two metres apart.
Two decades ago, 75% of Scotch drunk in Spain was sold in the on-trade, a staggering amount of it between midnight and sunrise. Today that has slipped to 64%, declining by up to 1% a year in favour of retail reckons Jean-Paul Bouyat, president of Martiniquaise-Bardinet Spain, which acquired blended Scotch favourite Cutty Sark in 2018.
Last year the brand sold 235,000 cases in Spain, compared to its peak of 600,000 in 2000. That drop is overshadowed by top-selling J&B, which in 2002 celebrated smashing the 3 million case barrier before tumbling to just 667,000 cases in 2019 – still outselling arch-rival Ballantine's, followed by Dewars, Johnnie Walker and Cutty Sark.
Spain's rise and fall as a major whisky consumer dates from 1988, when the country joined the EEC. Dropping its punitive tariffs and quotas propelled Scotch into the mainstream on a wave up pent-up demand.
For big brands like J&B and Cutty Sark, Spain replenished decades of lost sales in America. By the Millennium it had all but overtaken France as Scotch whisky's biggest export market. Whereas today it ranks fifth in volume and sixth in value according to HMRC shipment figures collated by WhiskyInvestDirect.
So what happened?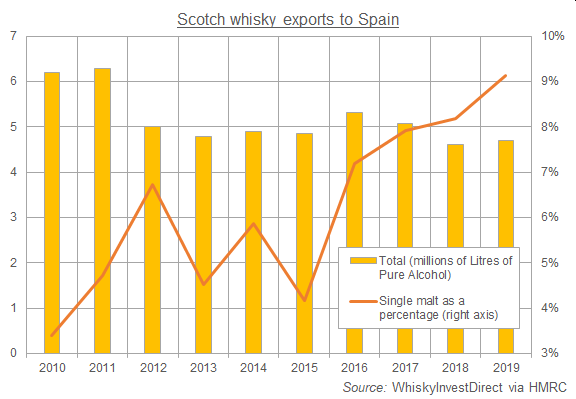 One factor may be that Scotch, in its go-go years, had become something of a generic mixable spirit. From the 1990s young Spaniards embraced whisky and Coke from the late-night bars to the disco until they finally crawled into bed. This tartan Cuba Libre was long and refreshing, showed solidarity with Castro, and its sweet, caramel flavours masked anything challenging in the whisky. You have to wonder how many really got a taste for Scotch.
Veronica Amago, who is based in Spain and works for Whyte & Mackay, agrees – up to point. She says that while Pernod-Ricard, Beam Suntory and Diageo have all invested in pushing ginger ale as an alternative, "a mainstream whisky drinker would probably still go for Coke." But more important in her view is the decline of late-night drinking and clubbing in favour of after-work drinks, coupled with a growing discernment and move towards more premium spirits.
"I think the idea of 'less is more', of spending on a good drink rather than drinking whatever is a really fundamental shift," she says. "It's one that's here to stay, and one that is extremely positive for the whisky industry."
Scotch is still the biggest spirit in Spain, despite a push by gin. "My prognosis is that it will continue to recede, as will spirits overall," says Amago, who sees big opportunities for single malts.
That's a view shared by Macallan, which claims to be the leader among luxury whiskies in Spain. Its marketing manager in Spain, Tiago Andrade, says: "Whisky was performing better than other categories before Covid-19 thanks to the positive performance of premium whiskies.
Moreover, "Single malts are not yet fully developed in the Spanish market," he adds, unlike blends.
In truth, Diageo's Cardhu outsells Macallan by a factor of three, but as Victoria Amago points out most Spaniards appear unaware it's a single malt, and not just 'a luxury whisky'. Cardhu was battered by the recent recession in Spain, and today the real excitement lies elsewhere, as Jean-Paul Bouyat at Martiniquaise-Bardinet explains:
"For single malts in Spain you have two markets. There's the traditional market from the era of quick and easy money where people were drinking Cardhu because they liked the shape of the bottle. The new, growing market for malts is for brands like Macallan and regional malts like Islay."
Back among blends, Bouyat also handles Sir Edward's, popular in France and therefore in the Spanish border shops. The French can nip over to Spain and benefit from much lower duty rates, saving themselves around €5 a litre on Sir Edward's, which now sells over 220,000 cases in Spain.
Overall, Bouyat feels the Scotch market in Spain had been stabilising over the past two years, before the plague struck. What it will look like by 2021, and how many of the country's myriad independent bars will still be trading, remains to be seen.
The same goes for those trends around premiumisation and discernment. Life after lockdown is far from gin clear.
Award-winning drinks columnist and author Tom Bruce-Gardyne began his career in the wine trade, managing exports for a major Sicilian producer. Now freelance for 20 years, Tom has been a weekly columnist for The Herald and his books include The Scotch Whisky Book and most recently Scotch Whisky Treasures.
You can read more comment and analysis on the Scotch whisky industry by clicking on Whisky News.