Friday 5/6/2020 11:43 Richard Woodard
Padlocked Again? What Covid-19 Means for Scotch Whisky's Tourism Boom
2020 was set to mark a record year for Scotch whisky tourism, reports Richard Woodard for WhiskyInvestDirect, with surging visitor numbers and the industry investing as never before. But then the virus struck...
BACK in the summer of 1989, a wine merchant on a golf trip to Scotland decided to visit his favourite distillery, Bruichladdich on Islay.
Confronted by padlocked gates and a "No Visitors" sign, he called to a workman to see if he could have a look around.
The reply was uncompromising: "F' off."
Eleven years later, that wine merchant – Mark Reynier – and a group of investors bought and resurrected Bruichladdich. It now promotes a range of visitor experiences, even a cocktail bar. Yet throughout most of their history, most whisky distilleries were as unwelcoming as that workman 3 decades ago, closed-off from the world outside, focused on production, and caring little for the curiosity of the casual day-tripper.
That changed as interest in single malt whisky mushroomed. There were more than 2 million visits to Scotch whisky distilleries in 2018, up 6.1% on the year before – and 56% higher than in 2010. Total tourist spend was up 12.2% in 2018 to £68.3m, and has soared by more than 150% since 2010.
Collectively, this makes Scotch whisky distilleries Scotland's third most popular tourist destination (behind Edinburgh Castle and the National Museum of Scotland) – and companies have been swift to cash in on this fast-growing source of revenue.
The industry has invested more than £500m in capital projects over the past five years, including new distilleries, visitor centres and technology. Leading Scotch whisky producer Diageo is spending £150m alone, including the construction of the seven-storey Johnnie Walker Experience in the former House of Fraser department store on Princes Street, Edinburgh.
The development, which will celebrate the 200-year history of the world's best-selling Scotch, is expected to match the popularity of the Guinness Storehouse in Dublin (also owned by Diageo, and welcoming 1.7m visitors last year), and to boost tourist spending in the Scottish capital by £135m a year.
The Johnnie Walker Experience is at the heart of a broader revamp of tourist facilities by Diageo, including redevelopments at Glenkinchie, Cardhu, Clynelish and Caol Ila – representing key regional flavours used in the creation of Johnnie Walker blends.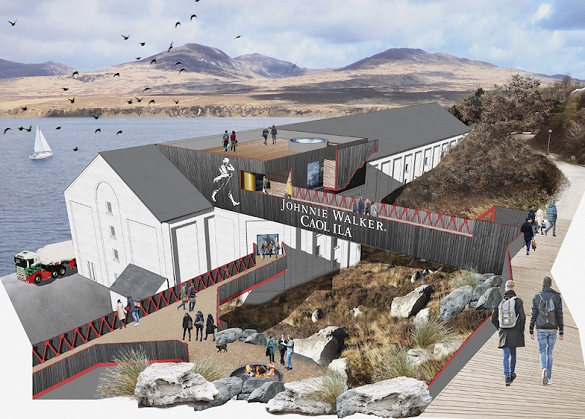 The investment essentially involves the retro-fitting of visitor facilities to industrial plants previously primarily focused on making whisky, but new distilleries are being constructed with a clear eye on the tourist pound. As start-up distillers wait for their whisky to mature, cash-rich visitors can be every bit as lucrative as making gin or vodka.
A key factor in the construction of Kingsbarns on the Fife coast by independent bottler Wemyss Malts was the proximity of the golfing mecca of St Andrews, with the distillery offering "19th Hole" early-evening tours to golfers left thirsty by a long day on the links. More than 15,000 people visited the distillery in 2018.
Tourism has also played a key role in the resurrection of urban distilling. Until recently, if you wanted to visit a whisky distillery in Edinburgh, you'd have been disappointed: grain plant North British is closed to the general public, while Glenkinchie is 15 miles away to the east. The Scotch Whisky Experience on the Royal Mile – which opened in 1988 thanks to a collective investment by 19 Scotch whisky companies – attracts some 400,000 visitors a year, 80% of them from abroad, but has no operational still.
Now the Scots capital is seeing a rash of new distillery openings, including Holyrood, located in the historic Engine Shed in St Leonard's Lane. Designed with the visitor experience at its heart, Holyrood had hoped to attract 45,000 visitors in year one (it opened last summer), building up to 200,000 by year five. The venture had expected to make more money from tourism than from whisky.
But suddenly the Covid-19 pandemic has changed everything.
At the time of writing, distillery visitor centres and shops remain closed, with companies working hard to develop their reopening strategies as lockdown restrictions are slowly eased. But if social distancing has to continue until a vaccine is available, Covid-19 is likely to transform the tourist experience at Scotland's distilleries, which often places the visitor at the heart of the production process in as hands-on a fashion as possible.
Chivas Brothers – the second-biggest producer of Scotch whisky behind Diageo – is examining a range of options that will comply with social distancing and hygiene regulations, including changing the flow of tours, booking solutions, relocating entrances, and increased sanitation measures.
For historic distilleries not originally designed to receive casual visitors, that's no easy task. However, the need to adapt to the "new normal" brought by the pandemic reflects the broader role whisky tourism has come to play in Scottish life.
"Scotch whisky distilleries and their visitor centres support many rural communities across Scotland, through employment and visitor traffic," points out a spokesperson for the Scotch Whisky Association.
"The recovery of Scotch whisky tourism will be crucial in helping to recover the economic damage caused by the coronavirus pandemic, particularly for these communities."
As the increasingly significant role of whisky tourism shows, the links between distilleries and the communities that surround them remain as strong as ever. Attracting and welcoming visitors from across the world will now be a key part of the Scotch industry's post-virus re-opening.
Richard Woodard has been writing about spirits and wine for 20 years, editing and contributing to a number of magazines and websites, including Decanter, The Spirits Business, just-drinks.com and Club Oenologique. He was also one of the founding editors of Scotchwhisky.com.