Friday 13/1/2023 09:00 Ian Fraser
Sustainable Scotch
Efforts to decarbonise production by 2040 are well underway and whisky distillers are now looking at their supply chains. With these responsible for 90% of the industry's CO² emissions, it seems the real work has barely begun, reports Ian Fraser for WhiskyInvestDirect…
The Scotch Whisky Association (SWA) is taking climate change increasingly seriously, describing it as "the most pressing emergency the world faces today".
It's an issue the whole industry has embraced for the past fourteen years, embarking on an almost bewildering series of initiatives aimed at achieving an environmentally-sustainable future.
Many see the use of green hydrogen as a 'silver bullet' that will enable the industry to achieve its self-imposed goal of net zero emissions from their own direct operations by 2040. In an interview last year, Ian Macleod Distillers MD Leonard Russell said: "Hydrogen is going to be the biggest technological leap forward that the industry will see."
The Scotch distilleries that are leading the way on hydrogen include Arbikie, Bruichladdich, and Glen Garioch. Collectively they received over half the UK government's £12.33 million green distilleries fund – intended to kickstart the development of decarbonisation technologies across the industry – in November 2021.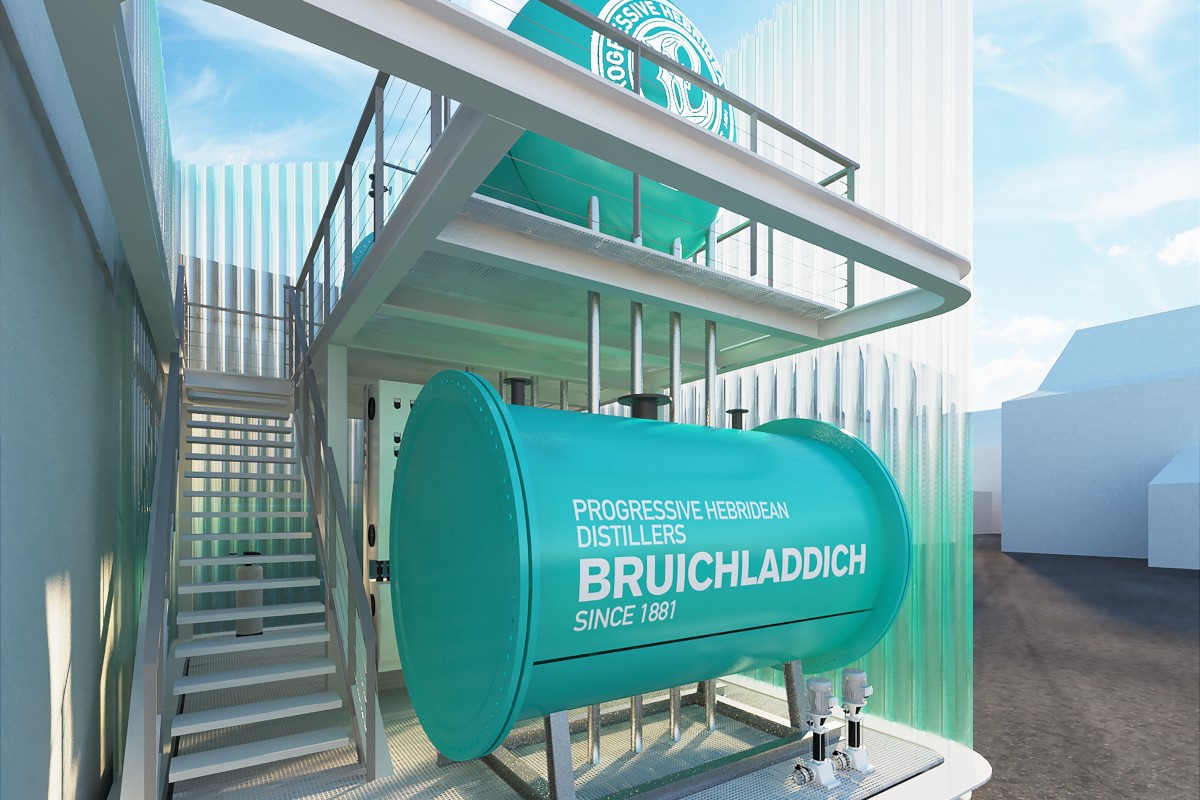 Bruichladdich, owned since 2012 by Rémy Cointreau, is using its £2.65m share to install a zero-emission green hydrogen boiler, which will eliminate the need for fossil fuels. Field-to-bottle distillery Arbikie, which is sharing its £3m pot with technology partners Locogen and Logan Energy, received a boost last August when it gained planning consent for a 1 megawatt wind turbine to power green hydrogen production on site. Arbikie co-owner Iain Stirling says: "Hopefully, we can act as a pilot for all the industry as this is important for all our futures."
Meanwhile Beam Suntory's Glen Garioch is using its £2.94m grant to finance what it claims will be "the world's first high-pressure, ultra-efficient, electrolyser to generate green hydrogen as a feedstock for the distilling process". A biofuel batch-gasification system in Livingston being developed by Colorado Construction and Engineering also secured "phase two" green distillery funding.
Separately, Scottish Power, working alongside the energy-tech firm Storegga, has embarked on an ambitious project to create green hydrogen hubs right across Scotland, largely to power Scotch distilleries. The first, on the Cromarty Firth, is co-funded by Pale Blue Dot Energy, Glenmorangie, Whyte & Mackay and Diageo, and is expected to be operational from next year.
Yet hydrogen is by no means the only solution for decarbonising distilleries.
Pernod Ricard's Chivas Brothers is rolling out high-efficiency mechanical vapour recompression (MVR) technology to all its viable sites over the next three years, which should ensure its Scottish production base is fully carbon neutral by 2026. MVR allows energy to be recovered from spirit vapour during distillation, which can then be used to heat the stills.
Over on Islay, Bunnahabhain is focusing on biomass, for which it won a leadership award at last month's Scottish Green Energy Awards. The distillery's biomass energy centre which runs partly on draff (spent grain left in the mash-tun), is expected to make Bunnahabhain the first of the island's nine distilleries to achieve net zero production.
While the industry managed to slash its own direct CO² emissions by 53% between 2008 and 2020, it acknowledges this is just the start. Two years ago the SWA unveiled its revised sustainability strategy which, aside from decarbonising distilleries by 2040, seeks to make all new packaging reusable, recyclable, and compostable, as well as ensuring the responsible use of water by 2025. It also commits to playing a proactive role in the conservation and restoration of Scotland's peatlands.
But Pete Ianetta, research leader at James Hutton Institute, believes the industry should do more and that its race to net zero has led many drinks firms to ignore or neglect the wider environmental impacts.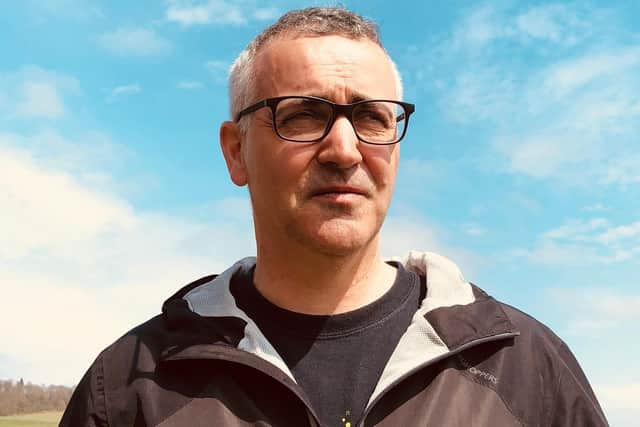 "What they're proposing with the revised 2021 strategy is realistic," Ianetta says. "However, with my ecologist's hat on, it doesn't go far enough. I can see that green hydrogen is a game-changer, but we're going to have to start shifting up the debate beyond carbon neutrality and towards ecosystem function."
Ianetta reckons some distillers tend to have a blind spot around the sustainability of supply chains be it the crops they use and how intensively they're farmed, or the energy consumed in making glass bottles and how their products are transported and shipped.
Last September, SWA chairman and Diageo CEO Ivan Menezes seemed to acknowledge this, in a Scotsmal op-ed, where he declared the SWA was extending its environmental strategy to embrace 'scope three emissions' – indirect emissions from companies' supply chains, not just in the UK but internationally. "We need to look beyond our own distillery gates and to take on the far greater challenge of decarbonising our supply chain, where 90% of our total carbon emissions are generated," he wrote.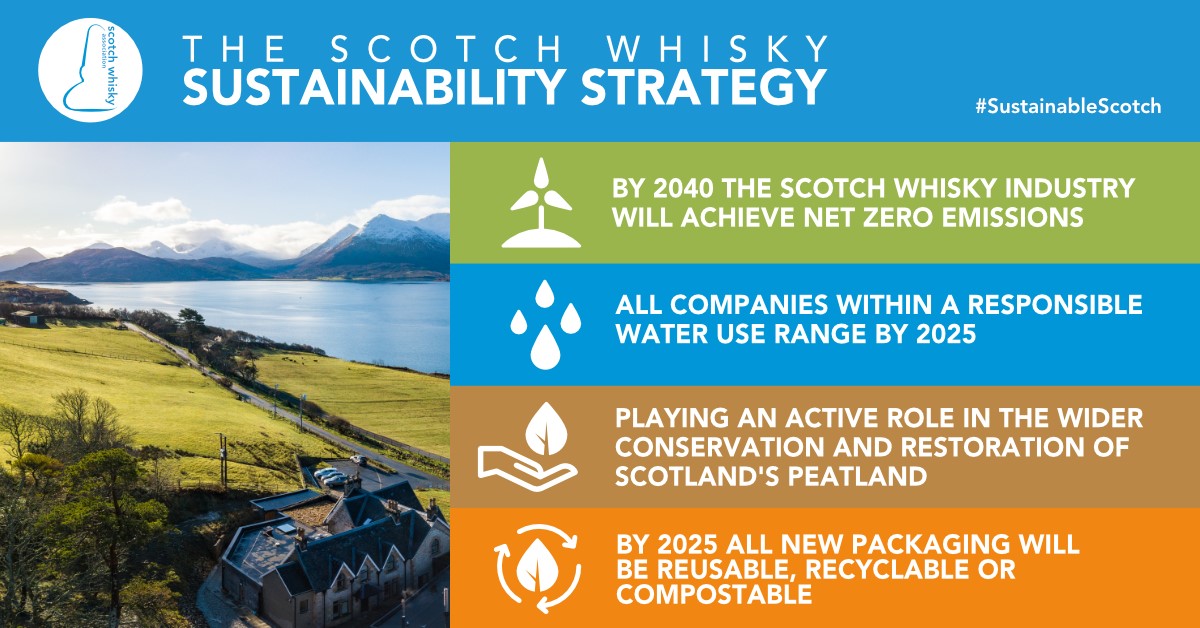 The SWA's industry sustainability director Ruth Piggin explains the thinking: "The 2021 strategy focused largely on decarbonising the production process, and the progress we've made on that has been critical. However, the biggest emissions for our sector, as with many others, are within our supply chain. We're committed to taking a science-based approach, tackling both our own and the emissions in our value chains, which means that the strategy can't stand still or exist in a silo."
With 'scope three' emissions, small steps can make a big difference. Bruichladdich, already ahead of the game on hydrogen, intends to fully eliminate the use of distinctive metal tins - each one of which is responsible for CO² emissions of 1.13kg - from its Scotch brands. Under its Society 2030: Spirit of Progress Plan, Diageo is pursuing an array of initiatives including phasing out the outer packaging from brands including Johnnie Walker, Buchanan's and Bell's - which will ultimately mean 183m fewer boxes. While Beam Suntory, recently unveiled an initiative aimed at cutting greenhouse gas emissions through the use of UK-grown barley grown under regenerative agriculture practices. "It's good that lots of different companies develop solutions in lots of different ways," says Ianetta.
That said, he believes that to show it genuinely cares about sustainability, the industry must ditch its cherished Scotch whisky regulations of 2009. These stipulate that Scotch can only be made, in Scotland, from just water, cereal and yeast. Ianetta, who worked with Arbikie on its pea-based, carbon positive gin Nadar, believes the rules are far too constraining. "These big distillers are determined to persist with their barley-only policies, but can they really afford to be stifling diversity on the scale they're currently doing?" he asks. "Acts of parliament can be changed too."
Front Page Image: