Friday 13/11/2020 13:20 Tom Bruce-Gardyne
Scotch Under the Hammer: Cask 263 and All That Jazz
In the space of a generation Scotch whisky has built a powerful secondary market at auction with prices to make the Sun King blush, reports Tom Bruce-Gardyne for WhiskyInvestDirect...
In AMERICA the Jazz Age was in full swing by 1926, even though the country had been officially dry for six years thanks to Prohibition.
Meanwhile in Britain there was the General Strike and a whiff of revolution in the air. But up at the sleepy Speyside distillery of Macallan, life continued undisturbed as cask no.263, an ex-sherry hogshead, was filled at some point that year.
Destined to disappear into bottles of blended Scotch – whose price was then capped at 12s/6d (62p) – it somehow escaped its fate, and became the cask that keeps giving.
When emptied in the 1980s, cask 263 yielded just forty bottles which were soon making waves in the nascent world of Scotch whisky auctions. A bottle was knocked down for £6,375 in Glasgow in 1991 – an astonishing sum at the time, but loose change by today's standards.
Last October someone bid £1.5 million for a bottle from the same cask at a Sotheby's auction in London. That's three times the current record for a bottle of fermented grape juice at auction, with US$558,000 (£424,00) paid for a 1945 Domaine de la Romanée-Conti from Burgundy sold by Sotheby's, New York in 2018.
"The whisky secondary market is now so big it could become a victim of its own success," says the whisky writer, consultant and former auctioneer, Angus MacRaild. "But at the moment it's doing very well, and the most expensive whiskies outstrip the most expensive wines, which we never thought would happen."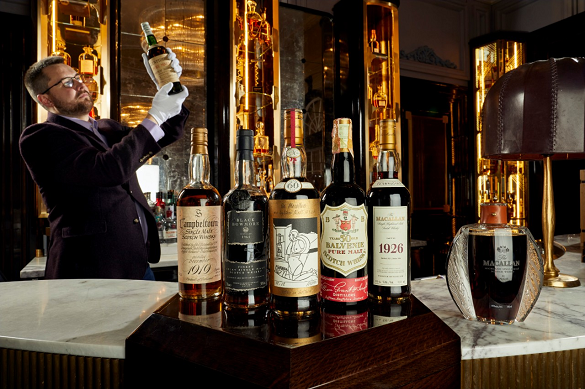 These extreme prices are fueled by extreme wealth which continues to grow even in the time of Covid according to a report by the Zurich-based private bank UBS in October.
Under the headline "Pandemic makes the world's billionaires even richer" the Financial Times reported that: "Some bankers believe the last time the super-rich had it this good was in 2009 after the great financial crunch."
Of course, most auctioned whisky is traded at a fraction of those dizzying prices to collectors, high-end drinkers and investors. The latter represent the highly volatile end of whisky speculation, which is a world apart from the steadier and more consistent (if less thrilling) investment returns offered by owning maturing Scotch as it ages inside the barrel on WhiskyInvestDirect.
According to Angus, many of those bidding for super high-end Scotch are a mix of wealthy drinkers and collectors who will occasionally merge into the third camp to cash in their 'investment' in order to acquire more whisky. Lower down the food chain are those who buy bottles simply to flip them at auction within days. These much-despised 'flippers' are the ticket touts of the whisky trade.
Producers have responded by raising the price of their special releases to dampen down this unwanted speculation. It means higher margins and more profit in the short-term, but more pain for those loyal fans of actual drinkers, so it is a double-edged sword for distillers. Some whiskies become almost too expensive to drink, but they can still rattle around from one auction to the next.
"As long as there's bidding, the auction houses themselves are winning by skimming off commission on several thousand bottles a month," says Angus.
"If you'd asked me four or five years ago, I'd have said the Scotch whisky industry almost looked down on the secondary market," says David Robertson of analyst and broker Rare Whisky 101, and co-founder of the Holyrood distillery.
"But now that you've got Sotheby's and Bonhams piling in along with a ton of on-line auctioneers, it is much more on the radar. In Scotch whisky boardrooms, if a warehouseman has unearthed a 50 year-old cask of Glen Twiddlydee, they will pour over auction results to benchmark or try and beat the price of competitors."
The dynamics are akin to those of footballers' pay, though as David says: "Not everyone can be a Lionel Messi or Cristiano Ronaldo." Or a Macallan or Dalmore, if we're talking whisky.
"These are two brands that really try to leverage older stocks and use them as showpiece event bottlings," says Angus. "The mad prices become a talking point in the media, and that can be leveraged to bring the range up or highlight awareness of the brand."
When Whyte & Mackay's Dalmore launched its Constellation collection – yours for £158,000 at Heathrow's Terminal 5 in 2012 – it had an amazing 'halo effect' on the core range by all accounts.
Steven Pearson, Whyte & Mackay's marketing director, says that when it comes to breaking auction records, "there are very few consumers who look at that sort of thing, so the PR benefit is pretty short-lived." However, he adds: "it's about how we use those headlines to ensure that consumers who would consider buying the Dalmore 12 year-old, have more confidence in doing so."
Auctions are also a way of knowing whether you have priced some rare bottling correctly When the luxury blend Royal Salute released 100 bottles of a 52 year-old last December it plumped for US$30,000. "Maybe US$50,000 is the right price," says marketing director, Mathieu Deslandes. "Maybe we'll see in the secondary market that people are selling it at double the price?"
If that seems a ridiculous amount to pay for any whisky let alone the Macallan from cask 263, it's worth returning to the year it was filled. In 1926 F.Scott Fitzgerald, the great chronicler of the Jazz Age, published his short story 'The Rich Boy' which opens with the immortal line: "Let me tell you about the very rich. They are different from you and me."
Award-winning drinks columnist and author Tom Bruce-Gardyne began his career in the wine trade, managing exports for a major Sicilian producer. Now freelance for 20 years, Tom has been a weekly columnist for The Herald and his books include The Scotch Whisky Book and most recently Scotch Whisky Treasures.
You can read more comment and analysis on the Scotch whisky industry by clicking on Whisky News.