Friday 14/8/2020 09:41 Ian Wisniewski
Poland's New-Found Thirst for Scotch Whisky
Europe's most dynamic market for Scotch whisky? Very possibly Poland, says Ian Wisniewski, reporting for WhiskyInvestDirect...
DISTILING VODKA and drinking significant quantities of it are long established Polish traditions.
Producing whisky is a recent development in Poland, though drinking whisky from other countries is an established and accelerating trend.
"Whisky now accounts for 10% of Poland's spirits market, with vodka at 70%," says Jaroslaw Buss, general manager of importer, distributor and specialist retailer Tudor House. "But each year whisky takes a bigger share of the market at the expense of vodka."
Irish, Japanese and American whiskies are on the up, but still way behind the favourite.
"Scotch whisky definitely leads the Polish market," says Arkadiusz Dobosz, brands director for Ballantine's, Jameson and many others at Wyborowa SA Pernod Ricard. He cites AC Nielsen data showing Scotch has an approximate 70% share of the category.
"Among other thing, this is an effect of a diverse and well-developed offer in different segments from 'economy' to 'premium' which helps to reach a wide group of consumers."
In the greater arc of Scotch whisky's long history, this has all happened very quickly. During the Communist-era ending just three decades ago, Scotch whisky was sold only in State-owned hard currency stores at prices inaccessible to most Poles, for whom Scotch whisky symbolised Western luxury. Economic reforms followed the 1989 democratic elections, allowing and helping create incomes that could afford aspirational, international brands.
By the early 2000s there were a small number of whisky aficionados, essentially professional urban men concentrated in Warsaw, and fledgling whisky clubs were forming. By 2010 Scotch shipments to Poland have almost trebled from 10.4 million bottles to 32.7m last year according to HMRC figures compiled by WhiskyInvestDirect.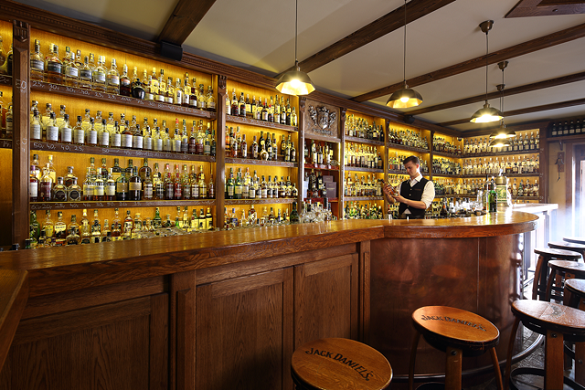 "Single malts are growing faster than blends, but for every 100 bottles of Scotch sold three bottles are single malt, the rest are blends," adds Jaroslaw Buss at Tudor House.
Attraction to whisky begins around the age of 25, mainly male but with a growing number of women drinkers, too. The whisky lifestyle includes tastings, hanging out at festivals, blogging and joining whisky clubs, while seeking new brands and experiences is a major motivation.
"People used to automatically buy leading brands," says Buss, "but the past couple of years have seen a move away from this blind faith as people seek out unknown brands. Even without knowing the price or flavour profile of a new whisky people register to buy it from us."
Festivals are a natural habitat for whisky fans, with annual highlights since 2014 being Jastrzebia Gora and Whisky Live Warsaw.
"In the past a majority of attendants came out of curiosity. Now there are more whisky lovers and enthusiasts who want not only to have a nice time, but to learn more and get to know new products," says Arkadiusz Dobosz at Wyborowa SA Pernod Ricard.
Festival-learning has already achieved significant results. "In the past couple of years independent bottlers have become better understood and appreciated," says Buss. "One reason for this is whisky festivals. We held the first Whisky Live in Warsaw in 2014, and one aim was to invite whiskies which were not currently available in Poland, and visitors to the show could talk to the people who produced the whisky."
But for all that, retail dominates in Poland's Scotch market, with over 90% of total whisky sales. Specialists include Tudor House in Warsaw, since 1995, with the first Dom Whisky bar opened in Jastrzebia Gora in 2009 and its online outlet, Dom Whisky Online, now offering over 4,000 whiskies.
"Specialist shops are a place where choice is supported by professional knowledge and advice. In a way, they are small educational centres for whisky consumers," says Dobosz.
Consumers can ogle numerous whiskies, but key price points determine purchasing. "Typical whisky drinkers spend up to 200 zloty (£40) on a bottle, with whisky geeks paying up to 600 zloty (£122) or more, though the number of people buying above this price point is small," says Buss.
Meanwhile, there's plenty of action at the volume end of the market. Typically, supermarkets offer more than 40 single malts and 50-60 blends, with discount supermarkets also offering their own-label Scotch whiskies at very attractive, inexpensive prices. Sales are dominated by standard brands of blended Scotch under 50 zloty (£10).
The range of own-label budget malts around 90-120 zloty (£18-25) has also grown significantly in the past 2-3 years. "Many companies have applied the approach they used for blends to malts, which is discounting and price promotions," explains Mateusz Zabiegaj, Bruichladdich's 'ambassador for Poland'.
"This means a 12 year-old single malt can retail for 89 zloty (£18). Price promotions have become a key aspect of marketing, and many consumers switch brands depending on the price. Above 150 zloty (£30) there is brand loyalty, but this is 3-4% of the market."
Scotch whisky sales in Poland have of course been hit by the global Coronavirus pandemic and the ensuing economic shutdowns. As elsewhere, lockdown in Poland closed the on-trade, but retailers stayed open and adapted, expanding home deliveries. And as retail sales dominate, lockdown proved a minor, temporary dip, with sales already approaching pre-lockdown levels, and likely to soon exceed them.
The extent to which a rebounding economy and rising salaries accelerate premiumisation remains to be seen. Scotch whisky seems certain to keep gaining sales from vodka, but growing interest in whisky (and whiskey) will also see a greater challenge from Japanese, Irish and American options, in this fascinating, dynamic young market.
Ian Wisniewski is a freelance writer and leading authority on spirits, with a focus on Scotch whisky. Over the course of his two decades covering the industry he has published seven books, including the Classic Whisky Handbook, and has contributed to publications such as Whisky Magazine, The Times, The Malt Whisky Yearbook and Scotchwhisky.com.
You can read more comment and analysis on the Scotch whisky industry by clicking on Whisky News.