Friday 1/4/2016 16:07 Tom Bruce-Gardyne
David Beckham's Fetching Bedside Table Lamp
A quick sip of the world's most (and only) heavily-marketed single grain Scotch...
IT CAME in a shimmering blue glass bottle with a gold stopper and had David Beckham's hands all over it, gushes Tom Bruce-Gardyne for WhiskyInvestDirect.
Was it the footballer's latest fragrance...a "provocative, cool, yet never aloof blend of grapefruit zest, bergamot and cardamom" like his Instinct eau de toilette...?
No, it was Haig Club – a grain whisky from Diageo, launched by Beckham and his business guru, Simon Fuller, in April 2014.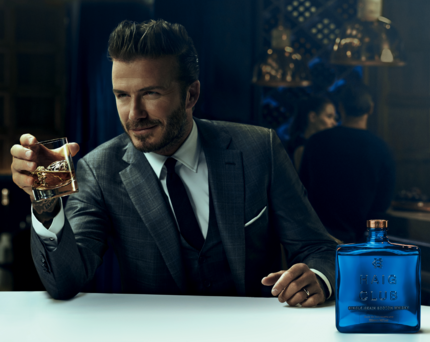 "After retiring almost two years ago, Diageo came to us with an idea," Becks explained at the time.
"As soon as they mentioned the Haig family and it being a single grain Scotch, I got really interested and excited."
Quite what Goldenballs knew about the Haigs is unclear. By the time Beckham was born in 1975, Haig Gold Label was already on the slide, having been the first spirits brand to break the million-case barrier in the UK at the start of the decade.
Richard Patterson, Whyte & Mackay's master blender, once told me: "I always think a whisky is like a pop star." In which case John Haig would have been the ultimate Seventies rock god fallen on hard times. From playing stadiums, he would have ended up as an occasional support act on the British pub circuit. Though its sister brand, Dimple Haig, has faired better in Asia, sales of the blend were down to 1,000 cases by 2002.
But Haig's history reveals a fearsome pride in the brand's longevity. In 1927 it celebrated its tercentenary with an ad campaign, now kept at Diageo's archive at Menstrie. The ads proclaimed Haig had been "The Clubman's whisky since 1627" – the date the founder of the dynasty, Robert Haig, became a tenant farmer near Stirling. Whether or not he launched a whisky brand in Year One, he was once accused of distilling on the Sabbath years later. Descendent John Haig then helped pioneer grain whisky from a continuous still, installed at Cameronbridge in around 1830.
Compared to malt whisky – made then as now in an old-fashioned pot still – grain is a much more industrial process. The recipe is different, and cheaper, typically using 90% wheat and 10% malted barley. But thereafter the process is the same, with both malt and grain spirit needing at least 3 years' ageing in oak barrels before they can be legally married as blended Scotch. Which is where grain whisky gets to wear the trousers, if not the front-man guitar hero's flares.
Blended Scotch accounts for 9 bottles in every 10 sold worldwide by the £4.4 billion Scottish whisky industry each year. To blunt the edges of the various malt whiskies mixed in, a typical blend will contain 65-75% of cheaper, less complex grain spirit.
Single grain whiskies are relatively rare, though there are some beautiful expressions like Hedonism from Compass Box and the 'G'-spot whiskies of the Scotch Malt Whisky Society. Now there's also Haig Club, whose target audience probably isn't too bothered.
It was trawling through the history archives that gave birth to Haig Club, still produced at Cameronbridge, the giant booze factory in Fife now owned and run by global drinks giant Diageo (LON:DGE). Quite what share of Haig Club's £45 retail price David Beckham gets to keep is anyone's guess. But you can perhaps get a rough idea of Brand Beckham's mark-up from Cameronbrig, a single grain whisky from the same distillery that costs just over £20. Some might claim it is a better whisky, but you don't get a blue bottle, nor David Beckham.
Celebrity is nothing new to Scotch branding, of course. Johnnie Walker has employed a roving cast of Hollywood stars from Harvey Keitel in the original Keep Walking campaign to Jude Law in its latest manifestation, 'Joy Will Take You Further'. But the partnership between Beckham and Haig Club is something completely new. He was there at conception and has fathered the brand from its initial release, to its roll-out across Asia, its US launch and recent tie-up with London fashion week. Along the way there have been spectacular Haig Club weeks in London, Miami and Shanghai.
Can Diageo pull it off? The PLC's latest interim results only noted that its big-name branded Scotch sales rose 9% in the 6 months to January against the same period a year before, "with double digit growth of Johnnie Walker more than offsetting a decline in Haig Club as it laps the launch last year."
But one should never underestimate the power of Diageo's marketing department, never mind the power of Becks. With Haig Club, a distillation of the man is what you get.
And when you've drained this smooth, slightly non-descript spirit, you can always recycle the bottle into a fetching bedside lamp.
Award-winning drinks columnist and author Tom Bruce-Gardyne began his career in the wine trade, managing exports for a major Sicilian producer. Now freelance for 20 years, Tom has been a weekly columnist for The Herald and his books include The Scotch Whisky Book and most recently Scotch Whisky Treasures.
You can read more comment and analysis on the Scotch whisky industry by clicking on Whisky News.