Friday 8/9/2023 09:00 Ian Fraser
I'm a Celebrity, Get Me a Scotch
Bedding down with a celeb to promote your brand is not risk-free and it's not cheap, though with the right partner it can do wonders. It clearly works for tequila, but can it do the same for Scotch, wonders Ian Fraser…
As Scotch brands move from being "product-focused", basing their marketing around provenance, heritage and tradition, to being "consumer-focused", based on how they might be enjoyed and the sort of people who might enjoy them, celebrity endorsements are increasingly sought.
"In the whisky world, we used to lead with the product, but that's no longer sufficient to persuade individual consumers a brand is for them," says Philip Ainsworth, founder of creative, media and marketing consultancy Bevamo and a former marketing director of Pernod Ricard.
He says that, done right, and with correct levels of engagement and buy-in, celebrities can dramatically accelerate a brand's route to market – enabling it to get closer to consumers, more quickly.
Under its "I Rise, We Rise" campaign, the world's third best-selling Scotch whisky brand - Chivas Regal – has over the past couple of years entered partnerships with a host of global hip-hop artists and rappers. They include 26-year-old Thai-born K-Pop star Lalisa Manobal of the South Korean girl group Blackpink who's known to her fans as Lisa.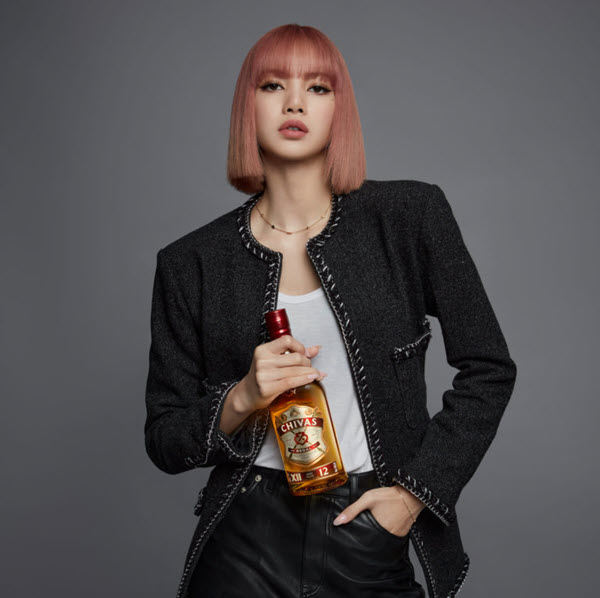 "It was a no-brainer to partner with Chivas, as their values are so closely aligned with my own, plus I've always been a whisky fan!" Lisa said in a release. The partnership dates from May 2022 and was closely followed by ten others with K-Pop stars – Simon Dominic, Woo Won-jae, Coogie, The Quiett, Paloalto, Ash-B, TOIL, Giriboy, JUSTHIS, and Kid Milli.
In the UK, Pernod entered a deal with British rapper Stefflon Don, co-launching the limited-edition Chivas 12 x Stefflon Don bottle, for which Don designed the labels, on 7 August. "They're using celebrity endorsement to its fullest extent. It isn't just slapped on," says Ainsworth.
Along different lines, Edrington recently recruited 46-year-old Taiwanese actor Chang Chen, who starred in Crouching Tiger, Hidden Dragon (2000), as Asia-Pacific ambassador for Macallan Litha, a variant launched in China on 4 August.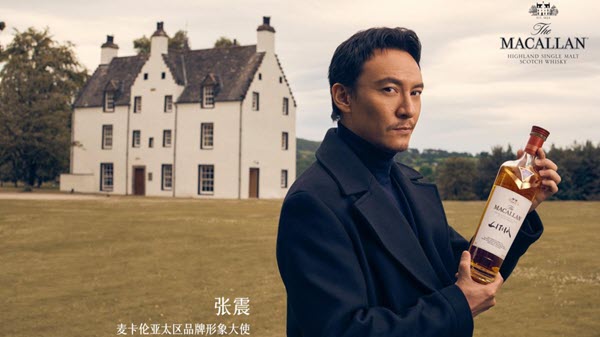 "We looked far and long to identify a partner that shares The Macallan's vision and ideas," Edrington's regional managing director Francois Saurel told Jing Daily. "Chang Chen is a long-time Macallan lover who embodies the understated confidence that's unique to The Macallan."
Ainsworth added: "Chen has been specifically engaged to get The Macallan's ultra-premium whisky Litha up-and-running in China. That's an ambassadorial role and he's being used as an advertising face," said Ainsworth.
One of the quirkier partnerships of recent times is that of Diageo and Nick Offerman, the actor who played Ron Swanson in the satirical US sitcom series Parks and Recreation. Since 2014, the Illinois-born actor, who claims to have been a fan of Lagavulin since the age of 29, has had a formal tie-up with the Islay single malt. He has made over 100 "My Tales of Whisky" videos, including one in which he does nothing but sit silently nursing a glass of Lagavulin in silence for 10 hours (looped version). Ainsworth said Offerman's approach is "quite low energy, which is exactly what Lagavulin is. It's all about consumer closeness."
Diageo is also behind one of the highest-profile celebrity partnerships of recent times – that of ex-footballer David Beckham and Haig Club which kicked off in 2014. It ended this year and some have questioned its success, but not Ainsworth.
"You have to ask yourself, what was Haig's objective," he says. "Remember this was one of the first of its kind – no one else had done it in 2014. It has helped Haig raise awareness, talkability and exposure."
Such deals may seem an easy shortcut to gain favour with new groups of consumers, who previously may not have considered whisky, but he warns they're harder work than they seem and there can be pitfalls. Companies need to thoroughly research the celebrity's personality, interests and value system to ensure they're compatible with their brands' values. Without authentic passion for the product, partnerships will falter.
"Deciding who to use is critical, but it's just the starting point," says Ainsworth. "You then need to decide how you will use them: Are they visiting bars? How frequently will they be posting about your brand? Signing the deal is part one of fifty."
Even successful and enduring partnerships can turn sour – as seen with the recent bust up between Diageo and US rapper Sean "Diddy" Combs. They joined forces to promote Cîroc vodka in 2007 and jointly acquired the premium tequila DeLeón in 2014. Now Combs is taking Diageo to court for breach of contract, alleging it underinvested in them, impeded their distribution and typecast them as "black brands" for urban consumers. He also accuses Diageo of racism. Euromonitor's Spiros Malandrakis told the FT: "This might be a wake-up call for Diageo to come up with a plan B... beyond celebrity culture."
The sums Scotch brands are forking out to bed down with celebs remain a closely guarded secret, but such deals do not come cheap. Julia Roberts was reportedly paid $50 million when she entered a deal with the French perfumes and cosmetic firm Lancôme in 2010, and Swiss tennis ace Roger Federer is being paid $300m for 10-year deal with Japanese apparel brand Uniqlo which started in 2018.
Even so, Ainsworth says such deals can represent good value for money, "depending on how they're being used, and provided you have the right celebrity for the brand."
The deepest partnerships are the ones where drinks firms enter joint-ventures, in which celebrities have an equity stake and are able to share more of the upside.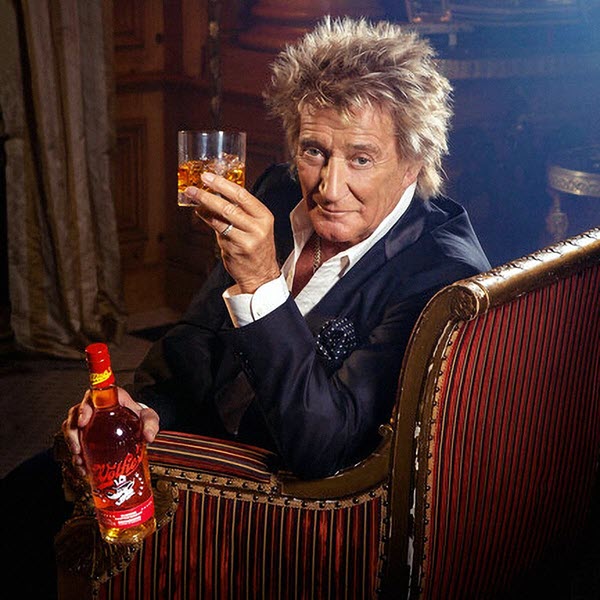 This is believed to be the case with Rod Stewart's recent launch of Wolfie's, a blend made by Loch Lomond Distillers that builds on the 78-year-old rock star's reputation as a 'cockney Scotsman'. The nec plus ultra here is Casamigos, a tequila launched by George Clooney, Rande Gerber and Mike Meldman in 2013, which turned out to be such a hit, the trio were able to sell the brand to Diageo for $1 billion less than four years later. "Therein lies the rub. Now everybody is looking for a one billion ticket, and they want it done in three years," says Ainsworth.
Overall, he believes that celebrity tie-ups is a model worth pursuing. "It brings Scotch to that next level of high energy, it brings greater engagement with a younger audience, it can give brands a more contemporary edge and much more importantly, relevance," he says. "Relevancy is the key."
Front Page Image: