Friday 23/6/2023 09:00 Tom Bruce-Gardyne
Haig Club: Life After Beckham
As Scotch whisky's biggest celebrity tie-in comes to an end, Tom Bruce-Gardyne considers the future for Haig Club and asks whether Becks was the right partner all along…
'Think of Haig Club and you think of David Beckham, not because of clever marketing or glossy advertising campaigns – but because David is a brand partner in every sense of the word.' This statement on the website will soon need changing.
Having been there from the start in 2014, Becks has decided to end his partnership with Diageo's single grain whisky to try and develop some drink brands of his own.
Was it a good idea to marry the whisky with the famous ex-footballer? "Ordinarily, I'd say no," says James Pais, currently director of the Glasgow-based creative agency, Frame. "But, there's something about Haig whisky that's different. It looks like a perfume bottle, and straight away it doesn't really fit in with the norms of a whisky brand, in the same way David Beckham doesn't really fit in."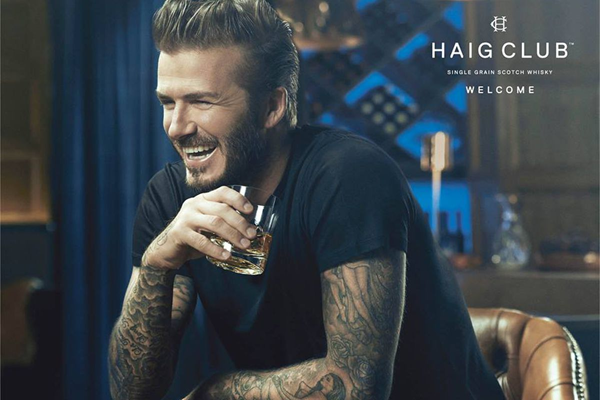 Writing in Marketing Week at the time of its launch, Mark Ritson made a similar point -'Diageo is hoping [Beckham's] lack of expertise will actually aid in converting younger consumers to a category traditionally associated with older consumers.' Personally, he felt that disconnection with whisky 'or anything alcoholic' for someone 'famously teetotal for most of his career' might well be an issue.
"When it first came out, I thought 'Nah, that's not going to work'," says Pais, but as Haig Club became more ubiquitous in bars and supermarkets, he changed his view. "Compared to traditional blends and malts, this broke the mould, in my mind," he says. Overall, he believes "it was a bold, brave move," by Diageo.
However, the word on the street is that Haig Club hasn't been quite the success its owners had hoped for.
If true, Elliot Wilson of the Cabinet - a design agency that has worked with whiskies like Johnnie Walker and Lagavulin, has a few theories. He reckons such partnerships can work "where the celebrity has doubled-down, has skin in the game and keeps adding value. The Beckham deal felt quite transactional, where he would make some adverts, turn up for some events, and the job would be good. But that's not how you build celebrity brands in the drinks industry."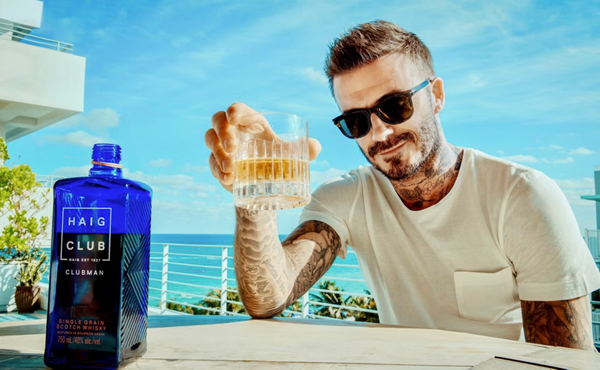 They are certainly all the rage. Kylie Minogue, Garry Barlow, Snoop Dogg … you name it, have all got wines in the supermarket, while no Hollywood star seems complete these days without their own tequila, gin or bourbon, though no Scotch as yet which tells you something.
The rewards can be eye-watering, as George Clooney discovered on selling his Casamigos tequila to Diageo for US$1 billion in 2017.
Maybe this is what Becks has in mind, though perhaps he'll invest in Scotland and buy a distillery instead. Who knows, but the model where the celebrity builds the brand and then sells it on has merit. For one thing, it protects the eventual owner from celebrity mishaps. The fallout can be catastrophic as Budweiser is learning from the Bud Light boycott in America sparked by its partnership with the trans influencer Dylan Mulvaney.
Beckham would seem a much safer bet, but his ongoing deal with Qatar, signed before last year's World Cup, provoked the ire of the LGBTQ+ community. Last November, Forbes magazine's whisky writer, Felipe Schrieberg, wrote of how it breached Diageo's human right's policy, and he urged the company to drop the former footballer if he refused to abandon Qatar. Whether that's one of the reasons he is leaving Haig Club we may never know.
Either way, James Pais thinks it is the right time to split. "The whisky's had its bedding-in process, and those who follow Beckham have been introduced to it and don't need him to guide them anymore. I honestly feel it will stand up on its own." Elliot Wilson is less sure that Haig Club will endure without Beckham.
One thing both agree is that the whisky got lost in the branding. Strip out the 'clever marketing', 'glossy advertising' and that shiny blue bottle, and arguably there's not much left.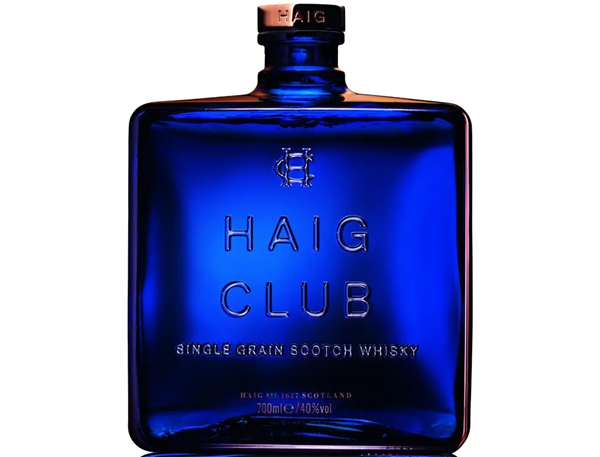 That said, Haig Club was 'perfect' and 'absolutely beautiful' for some reviewers on Whisky Exchange, while others called it 'very bland' and 'truly awful'. For at least one it was a victory of style over substance - 'if you wear a watch for fashion not function, dress for the yacht on dry land or wear biker gear on a bus – go for it'.
The original Haig Club with its aspirational £45 rrp, spawned the cheaper Haig Clubman in 2016. It was still 'Becks in a bottle' but half the price, and sold under the strap-line 'make your own rules', not that anyone has ever seen Beckham as a notorious rule-breaker. "I just think it's such a hackneyed expression, and therefore just feels hollow," says Wilson.
While he accepts that one shouldn't be snobbish about a brand aimed at a younger audience that has yet to embrace whisky, he believes what matters is being authentic. "Authenticity is everything, whether you like the product or not," he says. "Folk can smell inauthenticity a mile off."
As we wait to see what Diageo does with Haig Club in its life after Beckham, the company deserves credit for at least attempting to recruit the next generation of drinkers. Scotch must keep trying, for right now and for all sorts of reasons it would seem that Jack Daniel's, Jameson's and the like are doing a better job.
Front Page Image: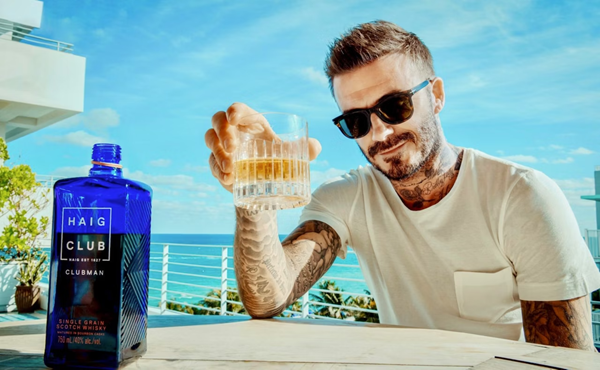 Award-winning drinks columnist and author Tom Bruce-Gardyne began his career in the wine trade, managing exports for a major Sicilian producer. Now freelance for 20 years, Tom has been a weekly columnist for The Herald and his books include The Scotch Whisky Book and most recently Scotch Whisky Treasures.
You can read more comment and analysis on the Scotch whisky industry by clicking on Whisky News.