Friday 6/5/2022 09:00 Ian Fraser
A Disruptive Force for Scotch
Scotch whisky has suffered from complacency in the past with brands failing to recruit new drinkers, but a batch of edgy new entrants on the scene are determined not to make the same mistake reports Ian Fraser for WhiskyInvestDirect.com…
AS Scotch whisky brands increasingly jettison old-fashioned cultural or geographic references and reinvent themselves as radical, contemporary, gender-neutral and even category-neutral, is there a danger they could become citizens of nowhere?
Not according to the leading whisky marketing consultant, Mike McGrail. He says the goal is simple and urgent – to persuade younger consumers that whisky is not a drink for middle-aged or older men wearing woollen jumpers, but something which can be sexy, fun and fashionable. "To recruit new drinkers, you have to have something bold. The last 10 years have been like an awakening, almost a revolution in whisky."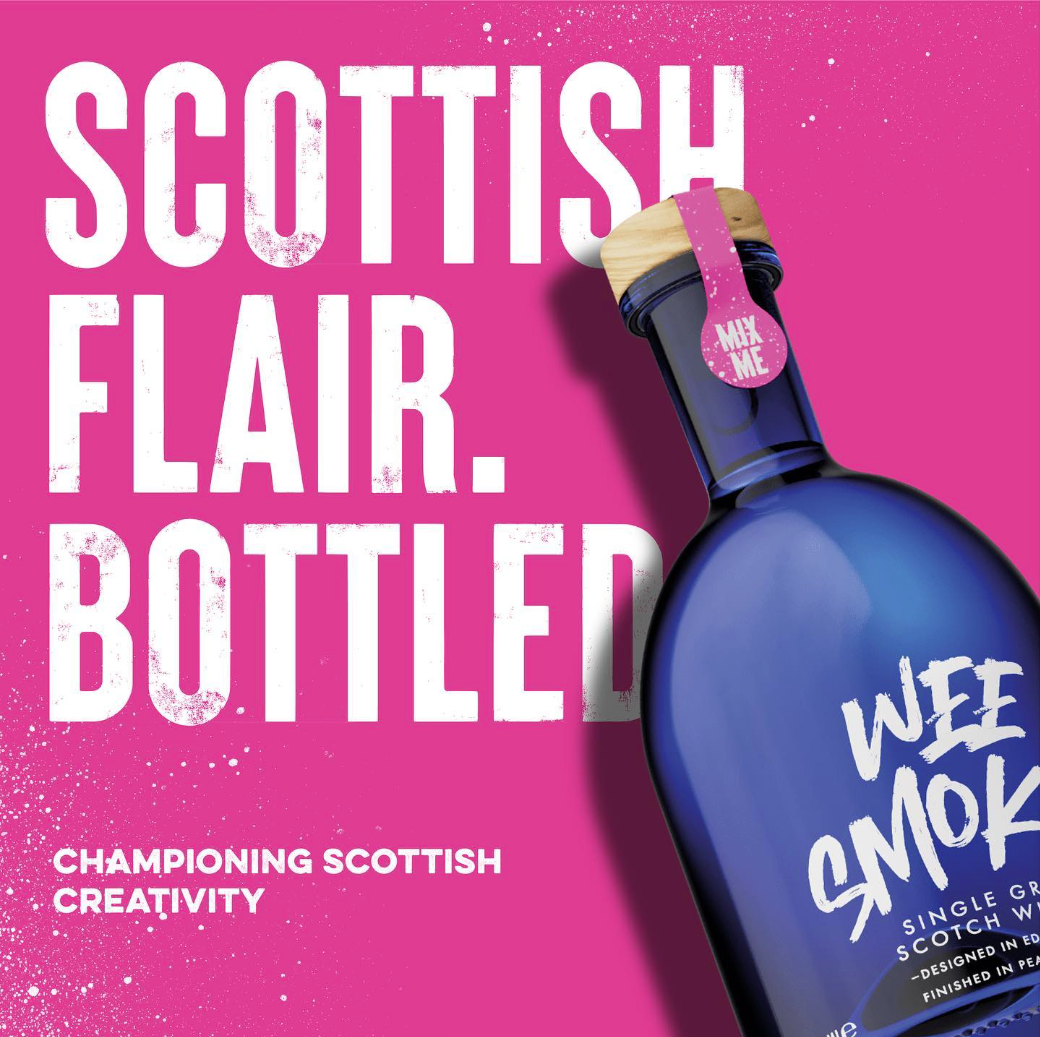 William Grant & Sons was the firm that broke the mould when it launched Monkey Shoulder in 2005. The blended malt – initially containing Balvenie, Kininvie, and Glenfiddich single malts – reportedly sells 400,000 9-litre cases per year at present.
"Monkey Shoulder has been a smash hit from day one," said McGrail. "The branding is really interesting and eye-catching. They were targeting the younger spirits drinker right from the start, making a whisky that's intended to be mixed. Bartenders love it as it's really flexible. They led the way."
"Monkey Shoulder is a brand built on disruption – of the pretentiousness of the Scotch whisky category, but also of pretentiousness in general," said Nicholas Rotondi, creative director at M&C Saatchi, the ad agency responsible for its latest ad. This shows the American comedian Joe McHale, patrolling the streets of New York in a giant Monkey Shoulder-branded cement mixer trying to entice people on first dates to change their plans and do something out of the ordinary.
More recently the brand entered a non-fungible token space through a deal with the specialist platform BlockBar on a range of "collectibles for Bored Ape Yacht Club (BAYC) and BlockBar NFT holders". It is all a long way from cut-glass decanters and the traditional image of Scotch.
While it doesn't quite do Monkey Shoulder's volumes, Ian Macleod Distillers' Smokehead also shows what can be achieved when a family-owned business puts its mind to reinventing the category.
The brand was launched 2006 after Ian Macleod's MD Leonard Russell attended the Islay Festival when "most of the Islay malts, if not all of them at the time, had traditional old-fashioned-looking packaging," he says.
The Eureka moment came after Russell met a Swedish biker who had tattoos of the logos of all the Islay distilleries. "I thought: I'm going to make an edgy single Islay malt brand that that man will want to tattoo onto his body."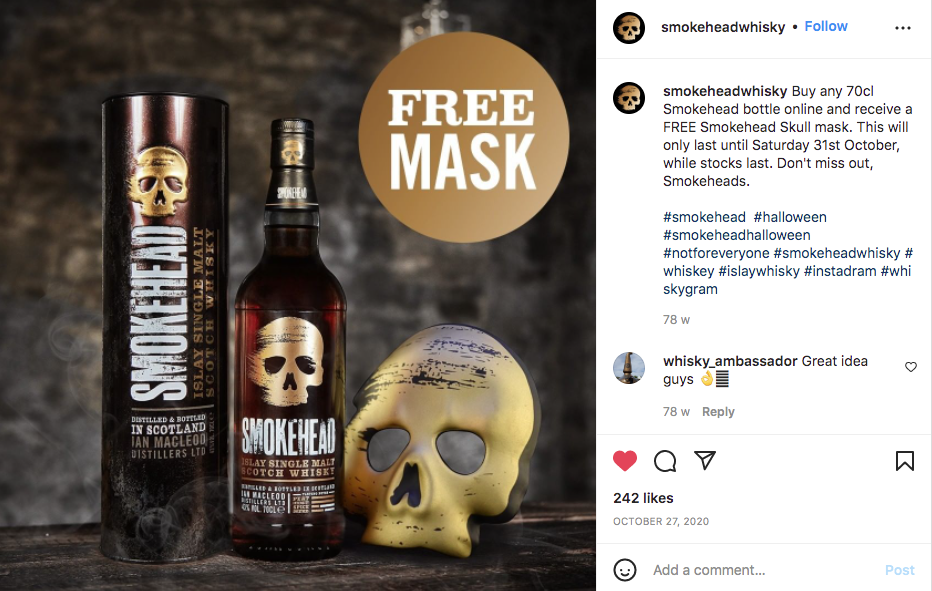 Sabitha Sudarsahn, a former advertising executive who recently gained a PhD in advertising from University of Texas, said Smokehead is now "the cult anti-Scotch brand", having exploited "a disruptive market strategy" and the sponsorship of leading Rock & Roll events to win over a "young, 'wild' male audience who want to try whisky, without it seeming 'old'."
In a sign of its success, Smokehead is a favourite tipple of South Korean rapper Min Yoon-gi, otherwise known as Suga, a member of the insanely popular Korean band BTS.
Others are getting in on the act and, in November 2020, Leith-based start-up Wee Spirits Ltd, founded by the former Edrington digital marketing consultant Rory Gammell, launched Wee Smoky. This is a single grain whisky specifically designed for mixing, which the company hopes will take the clubbing scene by storm in Europe and beyond.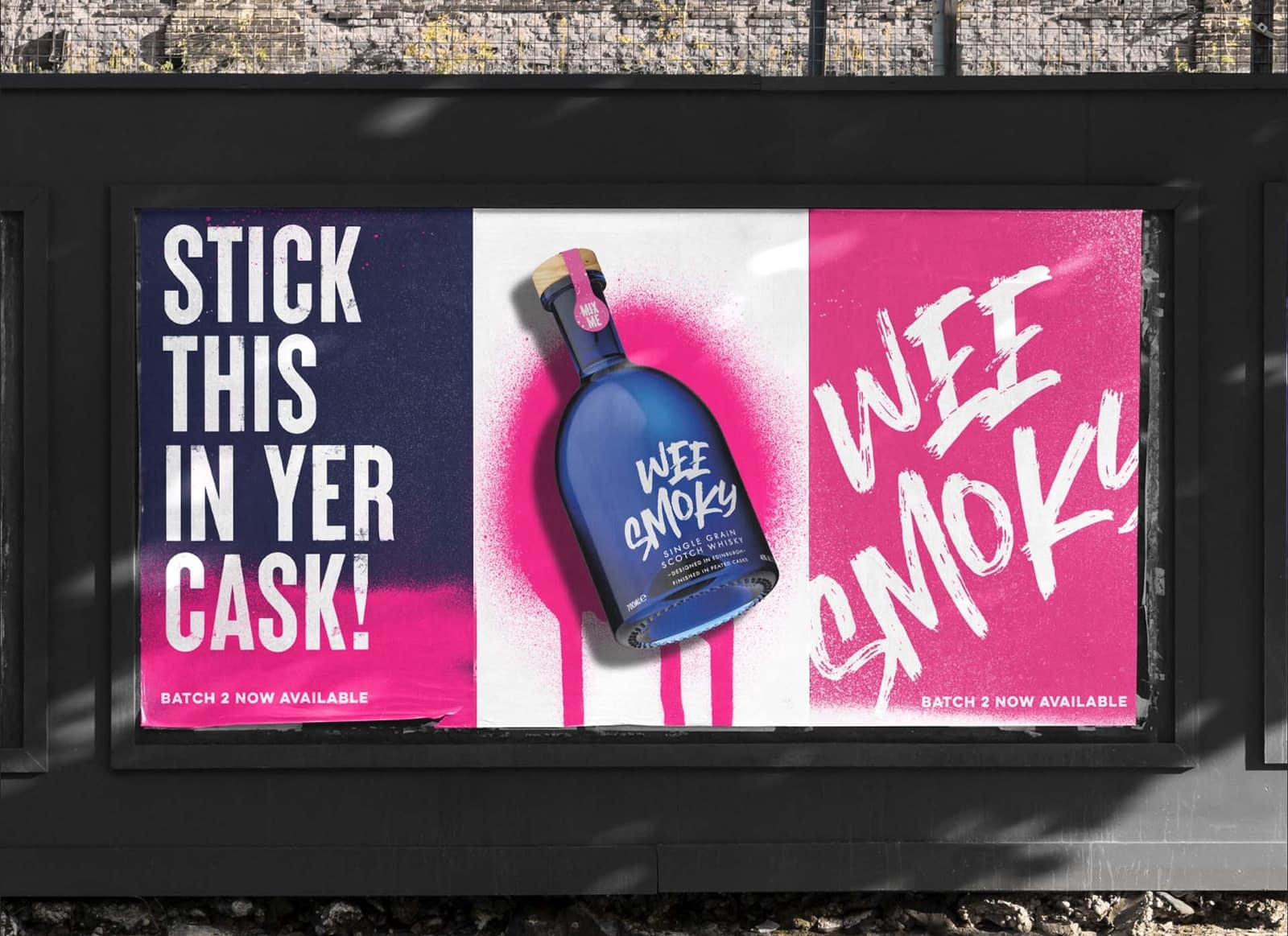 The concept was developed together with Barrington Reeves, creative director of Glasgow ad agency Too Gallus. Last year he said: "Many brands have postured to try and be different, but nobody has actually truly disrupted whisky – it's still inaccessible and elitist. I want to help make whisky the drink that people order at the club, like vodka and rum. We'll do that by making it genuinely inclusive, fun and high energy."
Just like Monkey Shoulder and Smokehead, Wee Smoky also tastes good. It won several awards at the 2021 International Wine and Spirits Competition, where judges said it was "brimming with delicate, smoky sweetness and a rather pleasant soft fruit finish." McGrail said the bright blue bottle "looks like it's gin or perhaps vodka. What they're doing is good. I like the boldness of it. They're very focused on communicating this as one to mix. There's not a single photo of a dram."
The next iconoclastic Scotch whisky to hit the bars and supermarket shelves could well come from BrewDog. The company has a distillery at its Ellon site already producing other spirits like gin, vodka and rum. The original pack design for its so-called "Young Blood Punk Whisky" in August 2019 got a big thumbs down from consumers, leading to a re-design featuring an eagle and a snake.
Mike McGrail is convinced BrewDog will go ahead and launch a Scotch whisky before long. "The distillery's there, so it would seem a bit crazy for them not to do so. I imagine that they have stuff maturing…" The company's CEO James Watt was approached for comment but didn't respond.
Other brands which have broken the spirit's marketing mould and shed traditional baggage include Moet Hennessy's Ardbeg ArdCore expression, whose packaging is inspired by the Sex Pistols "Never Mind the Bollocks" album. McGrail says: "Ardbeg has such a huge fan base they could do virtually anything and people would buy it. Ardbeg have done a great job of keeping some of the tradition but constantly making it fresh." Perhaps this is the secret, and the most difficult trick to pull off - become a citizen of anywhere, but remain a citizen of somewhere.
Front Page Image: