Friday 29/9/2023 09:00 Tom Bruce-Gardyne
Duty-Free Scotch
After those empty skies during Covid, Scotch has been clawing its way back to pre-pandemic levels in travel retail. It's taking longer than expected thanks to the delayed return of the fabled Chinese traveller, reports Tom Bruce-Gardyne…
This week-end, the major players in Scotch whisky will be heading for travel retail's annual global summit in Cannes. They will be frantically schmoozing the big duty-free retailers and showing off their latest travel retail exclusives. Having something unique, at least in appearance, to offer passengers that they won't find elsewhere is considered crucial in this sector.
"Research has shown that consumers are looking for something different in travel retail, and they're in that mindset to be a bit more explorative," says William Ovens, global travel retail (GTR) director at Ian Macleod Distillers. He describes Cannes as "a great opportunity to meet so many key partners from across the world, and it really marks the start of our cycle in terms of launching new products. It will be a very productive, effective and rather tiring week."
A clear added benefit of those GTR exclusives for the trade, is that they avoid any possible price comparison with the High Street. They can also be pretty lavish.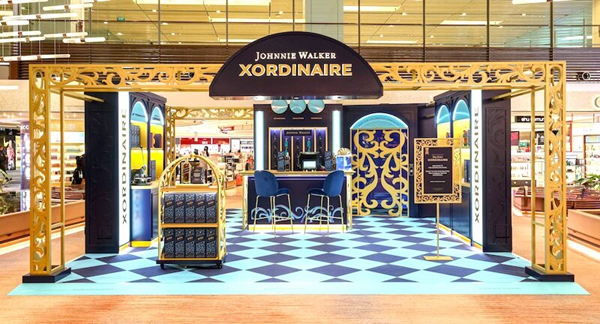 Johnnie Walker Blue Label Xordinaire was launched in Singapore Changi airport last month complete with a 3-D virtual 'lift', inspired by a Parisian hotel, that whisks passengers to a bar where they can sip the whisky and eat bespoke chocolates. Priced at £335 a bottle, and soon to be rolled out to Paris, London, Dubai and beyond, it claims to be Diageo's biggest exclusive offering to date.
"Our job in travel retail is to maximise the 'golden time' we have with captive consumers in transit," says Sarah Shimmons, marketing and innovation director, Diageo Global Travel.
"The time in travel retail is a unique brand building moment, and can create a halo for our brands. It is a time to inspire and educate if not always to purchase – though that is the goal."
For Clarisse Daniels, GTR commercial director at Whyte & Mackay, whose malts include Dalmore, Jura and Fettercairn: "International travellers are a captive audience looking to discover new expressions from brands they like and have elevated interactions whilst waiting for their next flight."
Scotch remains the top-selling spirit in GTR and Johnnie Walker the biggest single brand. Yet while the category showed good growth last year it was still well below pre-pandemic levels according to the IWSR which put single malts down 22% on 2019, while blended Scotch was down 26% in volume.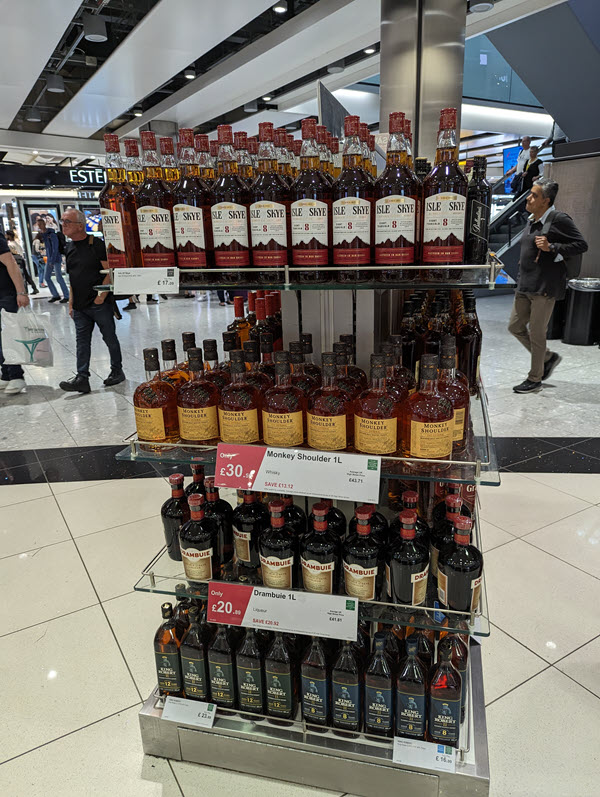 "A key factor there will be Asia that has been lagging behind the rest of the world in terms of passenger number recovery," says Ovens, who also wonders if malts have been reallocated to domestic markets in some cases where stocks are tight.
Everyone is waiting for the return of the Chinese traveller whose spend was forecast by Euromonitor to be the highest in the world this year at US$150 per outbound departure. Whether that figure will be achieved is unclear. "Chinese passengers were expected to get back to past trip behaviour, but it's not happening," says Manuel Gonzalez, Beam Suntory's marketing director for GTR. Like many, he predicted that Chinese passenger numbers would have reached 2019 levels by now, but as he says: "The current forecast is not showing it'll get anywhere near that level."
The Chinese State is keen to repatriate its citizens' spending abroad to domestic hubs like Hainan. Sales within this vast duty-free mecca in the South China Sea peaked at US$9.47 billion in 2021 only to fall back to US$4.8bn last year.
Spending has recovered to a degree, and Clarisse Daniels at Whyte & Mackay expects: "Hainan to remain a key destination for Chinese consumers as it is a great escape that doesn't require an expensive flight or a visa. The island gathers the biggest concentration of luxury hotels, the 'grandest' shopping malls in the world, a whisky museum about to open and a fantastic offering from The Dalmore."

Euromonitor forecasts that domestic duty-free in China will be worth US$70bn by 2027 which equates to a hefty 42% of total global travel retail. Potentially that's a lot of Scotch whisky, although there is plenty of competition out there. Globally, American whiskey has been performing better, while in China there is a tiny, if fast-growing domestic industry with 26 Chinese whisky distilleries as of May, though not all of them in production.
Beam Suntory's Scotch business in GTR is now ahead of where it reached in 2019 thanks to its Islay single malt Bowmore according to Manuel Gonzalez. "It's a strange thing to say, but the brand really benefited from Covid which happened just as we had a strong focus on Bowmore," he says. "Leveraging Hainan in particular, we managed to grow it significantly." He claims it's currently 8th in the world rankings among malts, and "is now the third brand in mainland China and Hainan." Pre-pandemic it was all but unknown there, apparently.
Globally, passenger numbers are predicted to return to 2019 levels by the end of next year, or early 2025. Clarisse Daniels quotes IWSR data putting single malts at already 90% of the way there by value, and says: "GTR is as important as ever" to a brand like Dalmore. Whether you personally love or hate duty-free as you emerge from the joys of airport security, the channel still really matters to Scotch whisky.
Front Page Image: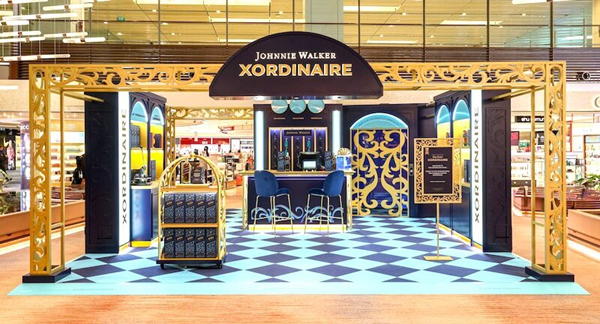 Award-winning drinks columnist and author Tom Bruce-Gardyne began his career in the wine trade, managing exports for a major Sicilian producer. Now freelance for 20 years, Tom has been a weekly columnist for The Herald and his books include The Scotch Whisky Book and most recently Scotch Whisky Treasures.
You can read more comment and analysis on the Scotch whisky industry by clicking on Whisky News.