Friday 10/7/2020 09:01 Tom Bruce-Gardyne
Scotch Grain Whisky: Punk in a World of Prog Rock?
Scotch Grain has a light, approachable style, no baggage and there's plenty of it. The only problem? It's still very niche. Tom Bruce-Gardyne investigates for WhiskyInvestDirect...
"WE BELIEVE this will be the year that grain whisky breaks into the mainstream and gains the recognition it deserves," declared David Gates, Diageo's then global head of premium spirits, on the launch of Haig Club in 2014.
Partnered by football and hair-product legend David Beckham, this single grain whisky certainly stood out, packaged in a fancy square bottle of shimmering blue glass.
A half-decade later, has Haig Club been a game changer, heralding in a whole new category of whisky? Well, not really.
Distilled usually from wheat in an industrial column still, and then aged (like all Scotch must be) in an oak cask for three years minimum, grain has failed to take off as a type of Scotch whisky people order at a bar or buy to take home. According to HMRC figures collated by WhiskyInvestDirect, exports of bottled Scotch grain whisky have never exceeded 100,000 cases in the past five years. In 2019 the total was just 82,000 cases compared to 68 million for bottled blends and 11.5m for single malts.
Yet Brian Kinsman, William Grant's master blender, sounds positively euphoric about this untapped resource. "I think in all honesty Scotch grain whisky could be the biggest whisky in the world," he says. "I think it's underrated, hugely – flavour-wise it's fantastic and so versatile. Obviously blends completely dominate, but as a pure spirit drink with an ability to do something really interesting, I think grain has huge potential."
There's certainly no shortage of supply, despite there being only 7 active Scotch grain distilleries against 120 for malt. If a medium-sized malt distillery produces around 3 to 4 million litres of pure alcohol a year, William Grant's Girvan grain distillery in Ayrshire can do that in a fortnight, as can Diageo's sprawling Cameronbridge distillery in Fife.
All but a drop then disappears into blends, whose owners invariably gloss over the grain to eulogize about the 'honeyed' Speyside or 'peat-soaked' Islay malts carefully selected to be in the recipe.
Considering it accounts for 70, 80 or even 90% of your average supermarket Scotch, grain whisky sounds like the industry's guilty secret – there as mere ballast to bulk out the blend. But Brian Kinsman is not the only fan by any means.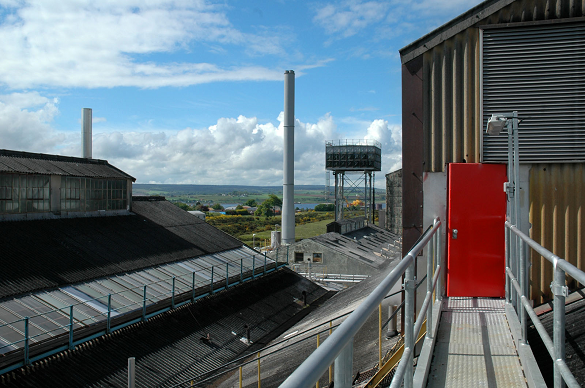 "Grains are just as important as malts in the way they add sweetness and balance to a blend," as Johnnie Walker's master blender Dr.Jim Beveridge once told me, "and the idea that they're just a canvass on which the blender paints with malts, is one that irritates the hell out of me."
What he and his team achieved with Haig Club "has been brilliant, because at last it's got people talking about [grain whisky]," says Brian. "Hopefully we'll build on that."
That conversation around Haig Club has required a classic lifestyle brand, however, with an aspirational price to pay for Becks, the bottle and some big budget ads.
You might imagine that the fact it's a single grain from Cameronbridge is pretty immaterial to your average Haig Club drinker. Isn't it more about an attitude, not the process, like William Grant's Monkey Shoulder blended malt? But being a grain whisky is integral to the brand, which styles itself as a light, accessible spirit best drunk with cola.
Haig Club's relative lightness comes from being distilled at a much higher strength than some hairy-kneed malt whisky from a pot still. Its accessibility was drummed home in a 2016 ad, where a woman gently mocks the stereotype:
"Whisky is a man's drink drunk by an open fire, waiting 'til it's old; waiting 'til you're old," she says in a sultry voice. "But you know what they say about rules; make your own rules."
The ad was part of a £2.5m campaign that did more than anything in recent years to shrug off the baggage that bedevils Scotch on how, when and where you should drink it. It's easier to do this with an unknown category, but that lack of awareness is grain whisky's biggest challenge.
"The problem is nobody knows what it is," says Brian Kinsman who sees parallels with the 1960s, when single malts were a whole new vice. William Grant's led the way with Glenfiddich, so perhaps it can pioneer a new single grain revolution? The firm's Girvan Patent Still range, launched in 2013, is highly regarded but still quite niche.
Maybe Whyte & Mackay's Invergordon grain distillery will crack the mainstream, having tried before with a fine 10 year-old single grain in 1990 which was drowned out by the noise around single malts. The timing looks much better now reckons whisky-maker Gregg Glass, who created the fabled Hedonism grain while at the boutique whisky producer Compass Box.
"The flavour profile can be beautiful, and it can really recruit people into whisky with a price point that's more accessible," Glass says of grain. "But it needs to have good age, and good quality wood, and that automatically excludes it from being 'a bargain basement' offering."
Haig Club can't offer much in the way of age or complexity, but it has brought out a cheaper variant called 'Clubman' (currently £16 in Tesco) and two ready-to-drinks in a can.
As for David Gates, who believed the 2014 launch of Haig Club would break grain into the mainstream, he left the corporate confines of Diageo in 2018 to join Brewdog, the self-styled bad boys of British brewing, whose top brew is Punk IPA.
Now CEO of Brewdog Distilling, maybe he could hit us with a Punk single grain to shake up the complacent, prog-rock world of big brand Scotch?
Award-winning drinks columnist and author Tom Bruce-Gardyne began his career in the wine trade, managing exports for a major Sicilian producer. Now freelance for 20 years, Tom has been a weekly columnist for The Herald and his books include The Scotch Whisky Book and most recently Scotch Whisky Treasures.
You can read more comment and analysis on the Scotch whisky industry by clicking on Whisky News.