Friday 10/2/2023 15:00 Ben Challen
Scotch whisky exports hit £6 billion in record year
Today's export data from HMRC was an exciting read for the Scotch whisky industry, showcasing unprecedented growth. Ben Challen takes a closer look for WhiskyInvestDirect…
2022 was an incredible year for Scotch whisky, topping £6 billion in sales for the first time as it surged to a 37% increase over 2021.
Today the Office for National Statistics (ONS) published its last batch of export figures to complete the data for 2022. We took a look at the year through the eyes of the taxman, and it was a very pretty view for Scotland's leading export. A 37% increase in export value was backed up by a 21% rise in volume sent overseas, and the buzzwords 'expansion' and 'premiumisation' will be bandied about in many boardrooms as they look back on the year.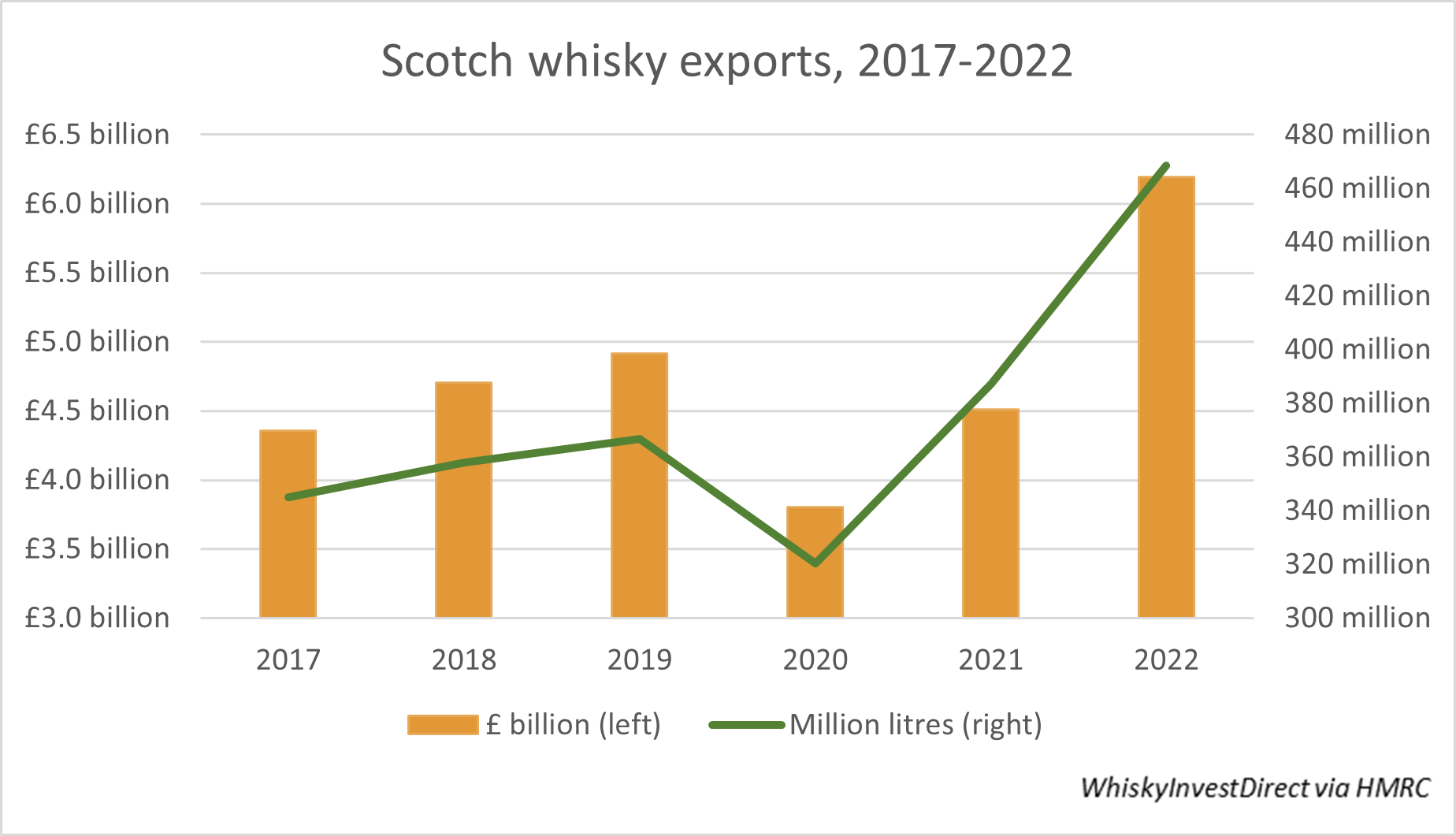 The strength of demand in the industry has been common knowledge for some time, but the sheer scale of these figures is almost startling. Having never topped £5 billion in previous years, 2022 skipped that landmark entirely, jumping to almost £6.2 billion.
As industry veteran and WhiskyInvestDirect co-founder Rupert Patrick put it, "It's been increasingly clear, over the last twelve months, that something extraordinary was happening with global Scotch whisky demand, and these numbers confirm that we are in uncharted territory. In over thirty years I've not seen anything like this."
A lot of the growth came in Scotch whisky's biggest markets, with the USA, France, and especially India posting strong numbers.
Sales were up 33% in value in the US, despite only a small rise in volume. Scotch whisky's continued struggles in the lower end of the market were swept under the table as their premium offerings carried the show. Single malt saw more than 50% growth in the States, and now accounts for 21% by volume of all Scotch whisky exported to the USA (against a global average of 11%).
India's performance was even more impressive. Exports almost doubled in value to £282 million, with blended Scotch doing much of the heavy lifting. It has now overtaken France to become the largest importer of Scotch whisky in the world by volume, although much of it is in the form of bulk deliveries rather than bottled product. Even without the long-awaited drop in tariffs, the Indian market is growing at an incredible rate, and exporters will be licking their lips at the possibilities if those tariffs do come down.
Asia as a whole showed a strong rise across the board, with traditional entrepôts Singapore and Taiwan recovering after a slowdown in recent years. After a relatively slow start to the year, China surged to record figures in the second half, and companies like Diageo and Pernod Ricard who have invested in the area will feel their work has paid off. The region's growth made it the largest importer of Scotch whisky, tipping Europe off the top spot.
Latin America continued its recent growth, with Panama's status as a key hub in the region hitting new levels. Sales there more than doubled in volume and climbed to over £200 million in value as the country took its place in the top 10 markets in the world. Other countries in the region such as Brazil and Colombia demonstrated the next phase in the process, with export volumes holding steady but premiumisation pushing value up by over 50% in each case.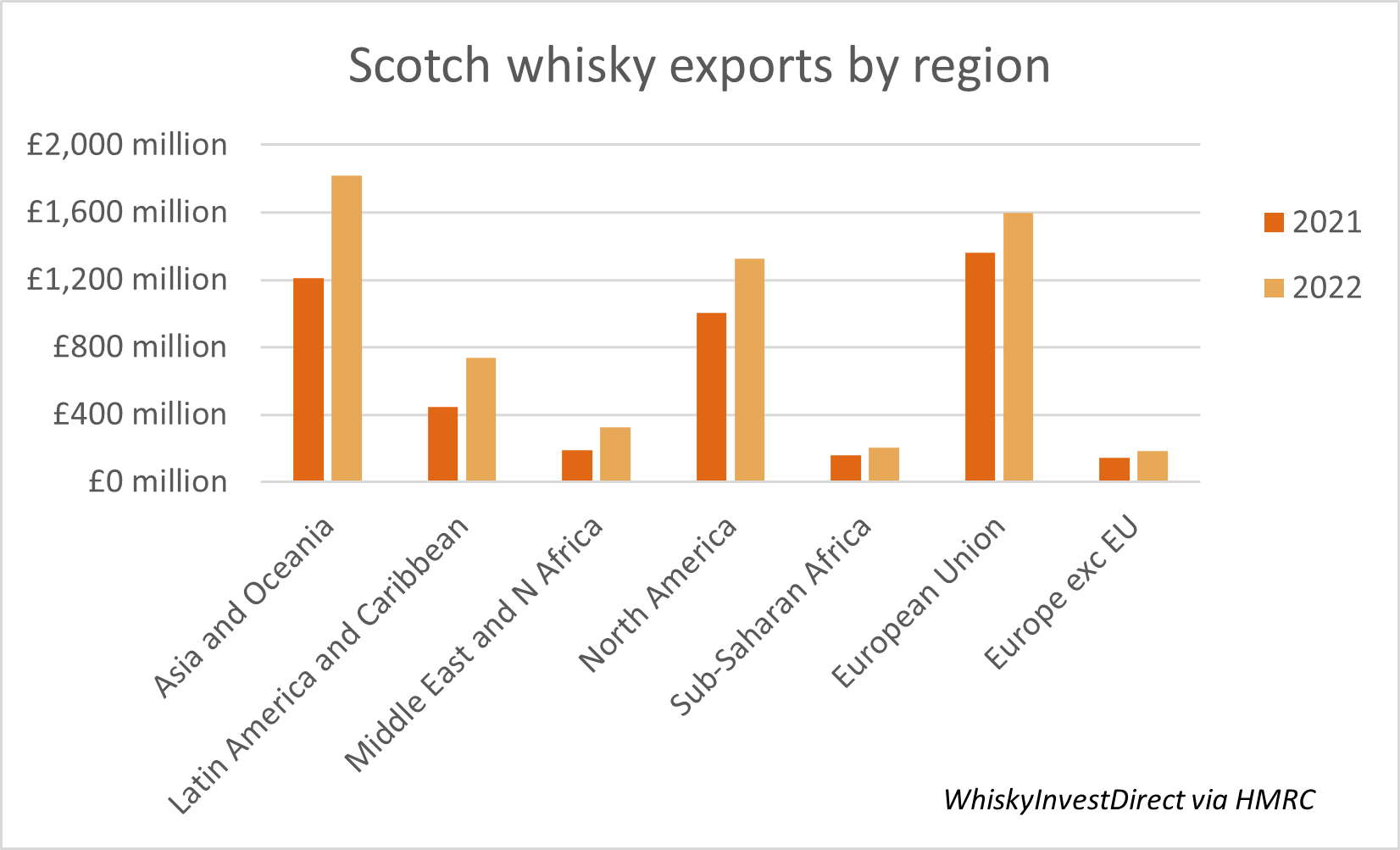 Europe experienced something of a mixed bag. It was more or less business as usual in western Europe, as France, Germany and Spain all posted growth over 25%. Further east though, rising living costs and war looming on the horizon tightened purse strings.
Russia's numbers were predictably decimated, although a closer look tells an interesting story. When Russia invaded Ukraine in late February, exports of Scotch whisky from the UK were quickly cut off, and HMRC reported no exports at all in April and May. However, it seems that the shutdown may have wavered later in the year, and by October the numbers were almost back to their 2021 levels.
Overall it was a stellar year for Scotch whisky, and one that will leave distillers desperately rejigging their projections to make sure production keeps up with demand. That production may get more expensive as the price of barley, transport and energy rise, but while much of the news is speaking of rising living costs and economic gloom, it seems there will always be room for a bottle of Scotch on the shelf.
Front Page Image: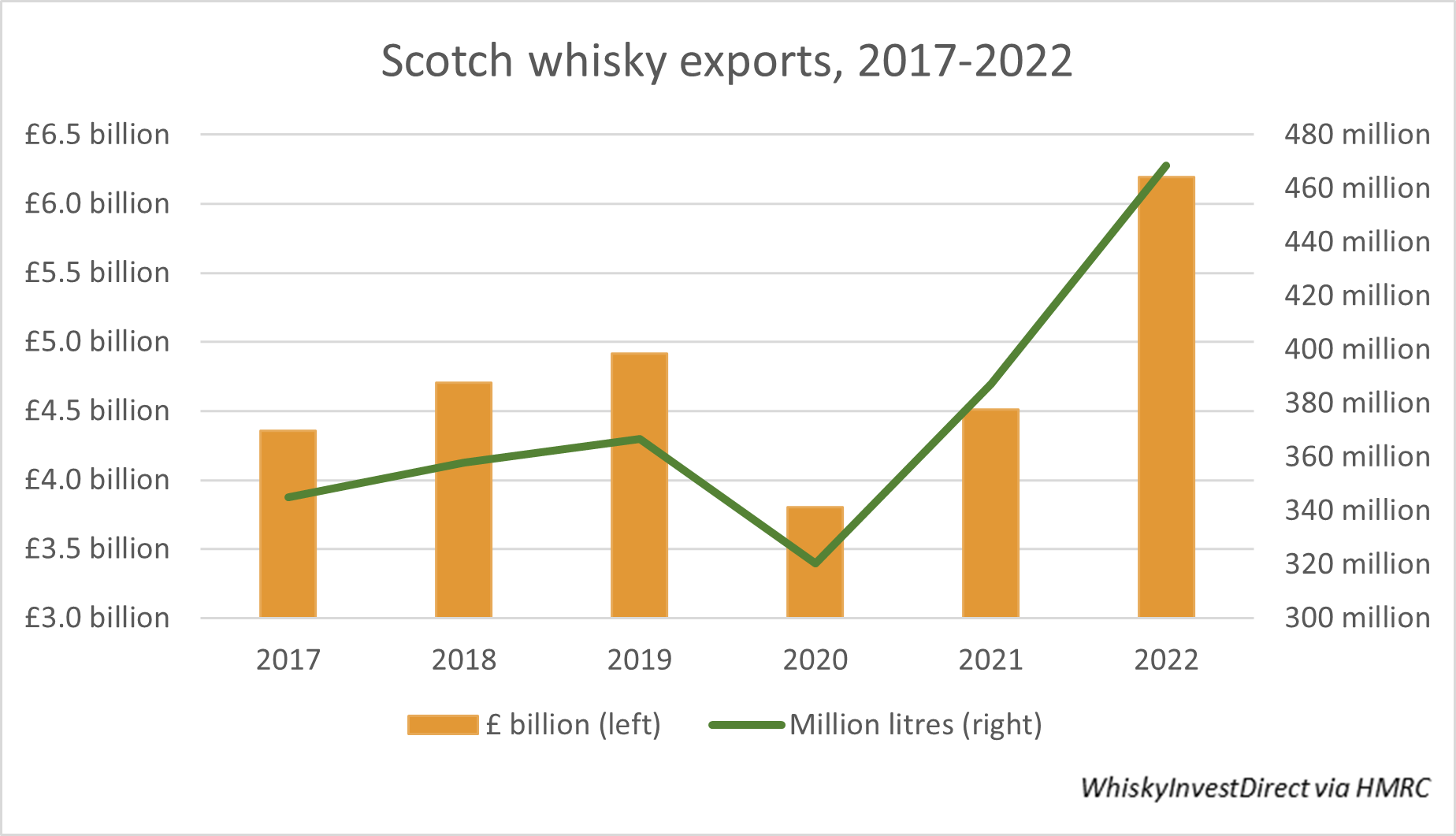 Communications Manager at WhiskyInvestDirect, Ben Challen is at his happiest when surrounded by whisky and statistics, sifting through the data to find out what makes his favourite industry tick.