Friday 11/6/2021 11:21 Tom Bruce-Gardyne
India: Is Whisky's No.1 Market Set for a Low-Tariff Revolution in Scotch?
India's 1.3bn population drinks 2.6 litres of whisky per head per year. Scotch whisky's opportunity is massive if tariffs fall, says Tom Bruce-Gardyne for WhiskyInvestDirect...
SCOTCH WHISKY was third on the agenda apparently when Boris Johnson met the Indian prime minister Narendra Modi on May 4th.
The trade summit, intended to be face to face, became a virtual one because of the raging pandemic in India. There was much talk of roadmaps and contours being 'redefined', along with the more pressing issue of vaccine supply.
As for Scotch, and its age-old battle to slash India's protectionist tariffs, no news yet – but the omens look good.
"The general sentiment in the SWA [Scotch Whisky Association] is much more optimistic than it was previously," says Leonard Russell, MD of Ian Macleod Distillers.
"We've been hoping to make progress for decades, but the 150% tariff could come down to 30% by 2025."
He admits "that's pure conjecture", but if true it could be a double benefit, boosting sales of bottled Scotch and also bulk whisky, sent for bottling by local Indian brands.
The prize? According to the research platform Statista, Indians guzzle 2.6 litres of whisky per head per annum, which is a lot of booze for a country of 1.3 billion. However, the vast majority is officially 'Indian-made Foreign Liquor' (IMFL), distilled from molasses and aged for a year at most.
Indian whisky, in other words, is basically rum, which is what it would have been called if India had been colonised by Cuba. Instead, expat Scots (among others) built distilleries and happily called their flavoured alcohol 'whisky'.
Some have become huge brands, with the top three – Imperial Blue, Officer's Choice and McDowell's No.1 – selling almost 90 million cases between them in 2019.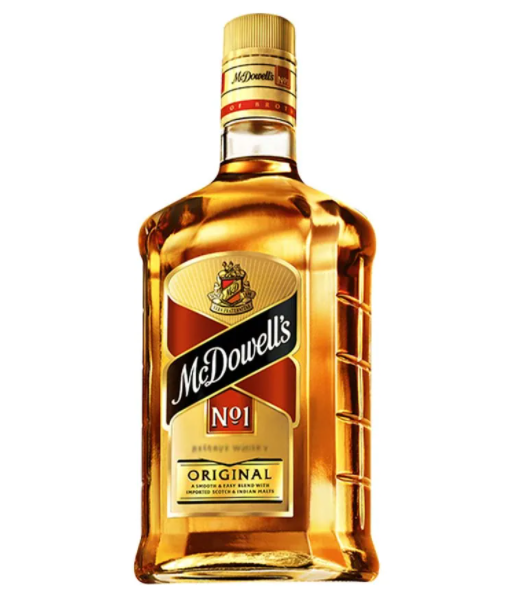 Each bottle has a glug of Scotch grain or malt in it, a nod to the home of whisky, and with a significant cut in tariffs Indian distillers might well add another glug in the name of quality.
Because of huge bulk shipments, which accounted for 84% of the total last year, India is currently Scotch whisky's third biggest market by volume, but just outside the top ten by value.
"Removing the 150% Indian import tariff would, over time, unlock over £1 billion of export-growth for our industry. This would be hugely significant for large and small distillers across Scotland, as well as throughout our Scotland and UK-based supply chain," says Graeme Littlejohn at the SWA, adding: "the UK-India trade talks are an exciting opportunity and we look forward to reaching an early agreement."
Is an announcement imminent? Well, Leonard Russell notes the slight squeeze in the current supply of three-year-old grain whisky, and wonders if Diageo is stockpiling for a major Indian offensive with brands like Black & White.
The drinks giant is deeply involved in India through United Spirits, the country's biggest distiller and distributor. In the past decade Diageo has upped its share in the firm to 55.9%, ousting former chairman Vijay Mallya in the process.
A drop in tariffs "is only a matter of time" feels Ashok Chokalingham of Amrut Distilleries, which produces one of India's top single malts, Amrut Fusion, though he questions whether they are properly applied at present.
"If the 150% tariff is in any way meaningful, then Glenlivet and Glenfiddich couldn't sell at a lower price than Amrut," he says. Yet with Glenfiddich 12-year-old selling for Rs3,200 (£31) in Uttar Pradesh for example, that is precisely what's happening. Basically, the sums don't add up.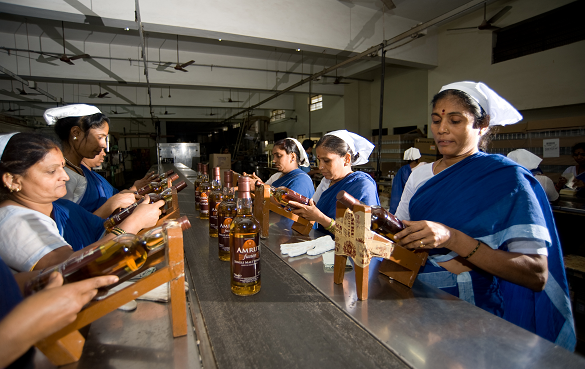 The issue is further complicated by all the local liquor taxes. Many Indian States appear drunk on the revenue from booze, which is probably the best safeguard against prohibition – a stated aim of the country's constitution since 1949. That said, the system is undeniably bureaucratic and pretty corrupt.
With tax calculated on the whisky's reported value at each stage of the supply chain (aka 'ad valorem') there's every incentive to undervalue it and pay less tax. You might get fined three times the duty you should have paid, but according to one industry insider, many big players feel it's a risk worth taking.
If tariffs are cut, what might India receive in return? The issue of visas for Indian students in the UK is bound to be on the table, but so too might whisky's definition in Europe. To date, Scotch has been the template, ensuring that any bottle of whisky sold in the EU has to be made from cereal grain and matured for at least three years.
Vijay Mallya locked horns with the SWA in his failed bid to have his molasses-based whiskies allowed in Europe. Many Indian distillers still dispute the definition, with Amrut's Ashok calling it "a non-tariff barrier for unfair competition." In particular, he questions the maturation rule which suits distillers in dreich Scotland where the angel's share (evaporation) is just 2% a year. In the sticky heat of India, the angels hoover up five or six times that amount, speeding up maturation as a result.
"One year-old Amrut can easily compare with a three or four year-old single malt," claims Ashok.
Meanwhile the SWA's Graeme Littlejohn says that currently "many Scotch whiskies simply are not for sale in India because of the cost and complexity of exporting there." Whether it will ever become less complex is debatable, but the potential for Scotch is undeniable if tariffs really do tumble.
A drink tantalisingly out of reach for so many will come that bit closer for millions of Indians.
Front Page Image: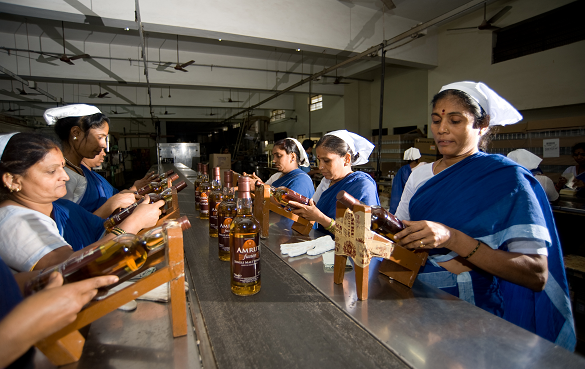 Award-winning drinks columnist and author Tom Bruce-Gardyne began his career in the wine trade, managing exports for a major Sicilian producer. Now freelance for 20 years, Tom has been a weekly columnist for The Herald and his books include The Scotch Whisky Book and most recently Scotch Whisky Treasures.
You can read more comment and analysis on the Scotch whisky industry by clicking on Whisky News.