Tuesday 22/12/2020 14:38 Ian Wisniewski
Giving the Gift of Scotch Whisky? How Christmas and New Year Bank 70% of Malt Sales
Everyone likes a tipple at Christmas, but just how vital has the festive season become to Scotch whisky sales? Ian Wisniewski investigates for WhiskyInvestDirect...
BUYING Scotch whisky during the festive season is, for some of us, just a continuation of what we do all year. But for many this is the only time they purchase Scotch, and a major reason is gifting.
"At least 50% of all malt is purchased as a gift in one form or another, and key periods like Christmas and Chinese New Year are the main celebratory seasons," says Kirsteen Beeston, head of international malts, Whyte & Mackay.
"In fact, the impact of gifting is so great, that up to anywhere between 70-80% of annual sales are made during this period."
Occasions such as Chinese New Year naturally inspire dedicated bottlings. Glenfiddich has a 2021 special edition gift pack ready for February 12th designed by acclaimed Chinese artist Rlon Wang. The second release in this annual series, it links the Glenfiddich Stag with wealth, prosperity and longevity in Chinese culture.
"Father's Day is our third-most important occasion, outside of Christmas and Black Friday," says Master of Malt editor, Kristiane Sherry. "It's also becoming bigger; we see order volumes and basket sizes increasing.
"Father's Day 2020 was especially busy for us, as people looked for gifts that they could share remotely."
Retailers and producers are of course ready for action long before a sales season begins. "In a 'normal' year, we might consider the Christmas season to kick off at the start of November," Kristiane continues.
"However, 2020 has been something of an outlier! Customers started shopping for gifts a lot earlier, perhaps even September. It will be interesting to see if this trend for shopping early continues."
What criteria qualifies a Scotch whisky as a gift? "I don't think there needs to be a price point or an age statement to make something a 'gift'," she says. "An accessibly priced tasting set can bring as much joy to someone and perhaps be more thoughtful than a full bottle of something fancy! Older is often perceived as 'better', so there's an education piece still to happen there."
There are however distinct spending patterns which provide insights.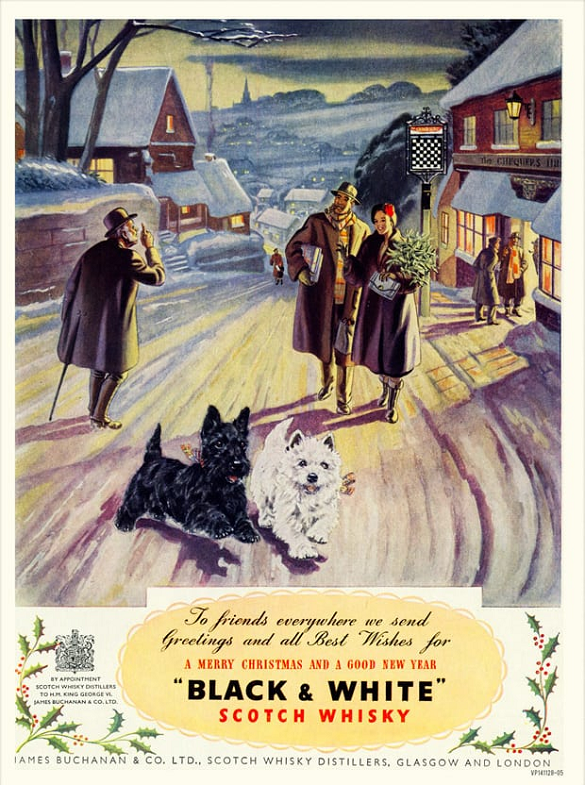 "The price in relation to age is what people look at, and the consumer mindset is that the price indicates whether it is special or not so special," says David King, international sales director, Gordon & MacPhail.
"For many years the minimum price point for this was £20, now it's £50, which explains why there is such a large choice at this price."
But do such price-points include equality between malts and blends, or is it about the status of each individual whisky? "Generally speaking, single malts are still perceived as a more 'prestigious' whisky category, says Kristiane Sherry.
"However, this is absolutely changing, especially as brands release more elevated expressions and consumers become more educated. Key examples would be the likes of Johnnie Walker and Compass Box, wonderful non-single malts that are well appreciated."
Whatever the name of the whisky, another significant name can be added, with various brands and retailers providing a personalised service featuring the recipient's name and a message. The Whisky Exchange offers single malts aged between 10-45 years old, with nine label designs and personalised messages.
Dedicated glassware is also gift-able, after all it's not just about drinking, it's about an experience.
"We always see a steady increase in demand in the 4-6 weeks leading up to Christmas," says Jason Kennedy, Sales Director, Glencairn Crystal.
Gift-packs can also include glassware together with a bottle. "Glassware may be expected but does tend to work well. Our retailers ask us for glassware regularly and, being a functional item, the gift has an intrinsic value," says Kirsteen Beeston at Whyte & Mackay.
With on-line purchasing having multiplied during the pandemic, delivery options are key.
"Customers want a delivery service they can rely on, that gives accurate dates, and offers them specific/fast options. We've found customers are more than willing to pay for this service," says Kristiane Sherry at Master of Malt.
Is it better to give than to receive ? We'll be doing both over Christmas, and not just then.
"There are so many gifting occasions for luxury brands from self-gifting to gifting to others, and seasonal gifting to once-in-a-lifetime milestones," says Aude Villebrun, Global Head of Channel Development – Meta Luxury, William Grant & Sons Brands Ltd.
Gifting has also provided the Scotch whisky industry with gift-wrapped sales figures.
"The premium whisky category has been driven world-wide by gift giving, which is incredibly important and variously understood in different markets," concludes David King.
Ian Wisniewski is a freelance writer and leading authority on spirits, with a focus on Scotch whisky. Over the course of his two decades covering the industry he has published seven books, including the Classic Whisky Handbook, and has contributed to publications such as Whisky Magazine, The Times, The Malt Whisky Yearbook and Scotchwhisky.com.
You can read more comment and analysis on the Scotch whisky industry by clicking on Whisky News.