Friday 8/7/2022 09:00 Tom Bruce-Gardyne
Whisky from the Outer Isles
Already famed for its gin, Isle of Harris is slowly preparing to launch its first whisky. But the world has changed somewhat since the distillery conceived over a decade ago, reports Tom Bruce-Gardyne for WhiskyInvestDirect...
IT HAS been a long journey for Simon Erlanger, MD of the Isle of Harris distillery, since he secured a £1.9 million government grant for the project a week before Christmas 2012.
This first big break proved to be the catalyst for attracting a bunch of private investors to raise the funds needed to build the distillery and sustain it through the intervening years. Its gleaming pair of Italian pot stills were fired up in September 2015 and while there's been plenty of gin since then, there's been no whisky … so far.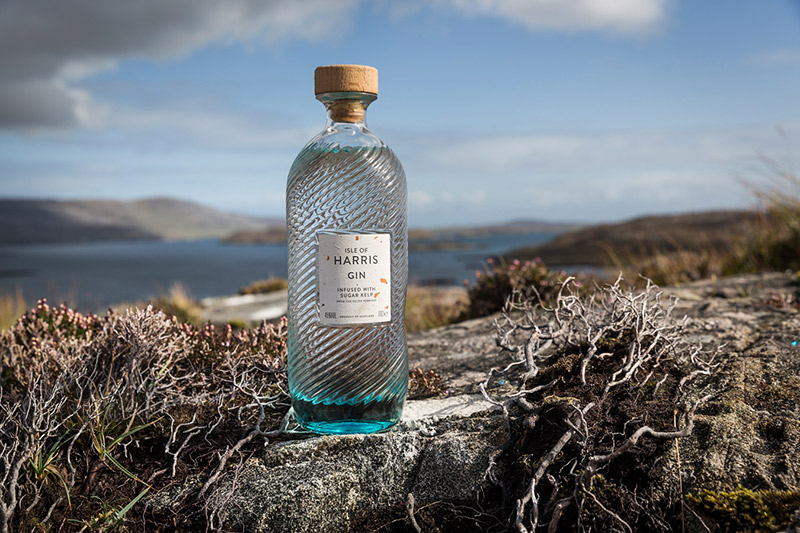 "We're still working on that," says Simon. "We always said it'll be ready when it's ready. Our shareholders have been extraordinarily patient, but when they put their money in five to eight years ago and have yet to see any return, they knew it would be a decade." But while 'The Hearach' single malt remains tantalisingly out of reach, Isle of Harris gin has been selling out.
Undoubtedly part of the reason is its much-admired bottle. "We know the bottle has opened countless doors for us across the world, but then the gin has to deliver in terms of quality," he says. There is also its distinctly boutique price and its relative rarity. At times the sheer effort of securing a bottle appears to have fuelled a cult following for the gin.
How its success will impact on the whisky remains to be seen. As Steven Kersley, director of Brewdog Distilling, recently quipped: "Right now, we're a whisky distillery with a big gin problem." Could the same be true for this distillery? Well, if it is an issue, it's what Simon Erlanger calls "a high-class problem."
To him, what matters most is that people buy into the story of the distillery. "What's going to create loyalty is this connection to us, the island and the people," he says, "and when it comes to the whisky, hopefully we've established that in people's minds."
It revolves around Isle of Harris being a 'social distillery' with a mission to bring employment to an island whose population has halved to 1,916 (as of 2011) in the past fifty years.
So far, the distillery has created 45 full-time jobs, 40 of them on Harris where it is now the biggest employer. Simon reckons this story of trying to help sustain a fragile, far-flung island economy will resonate with foreign consumers, certainly among the Scottish diaspora in countries like Canada.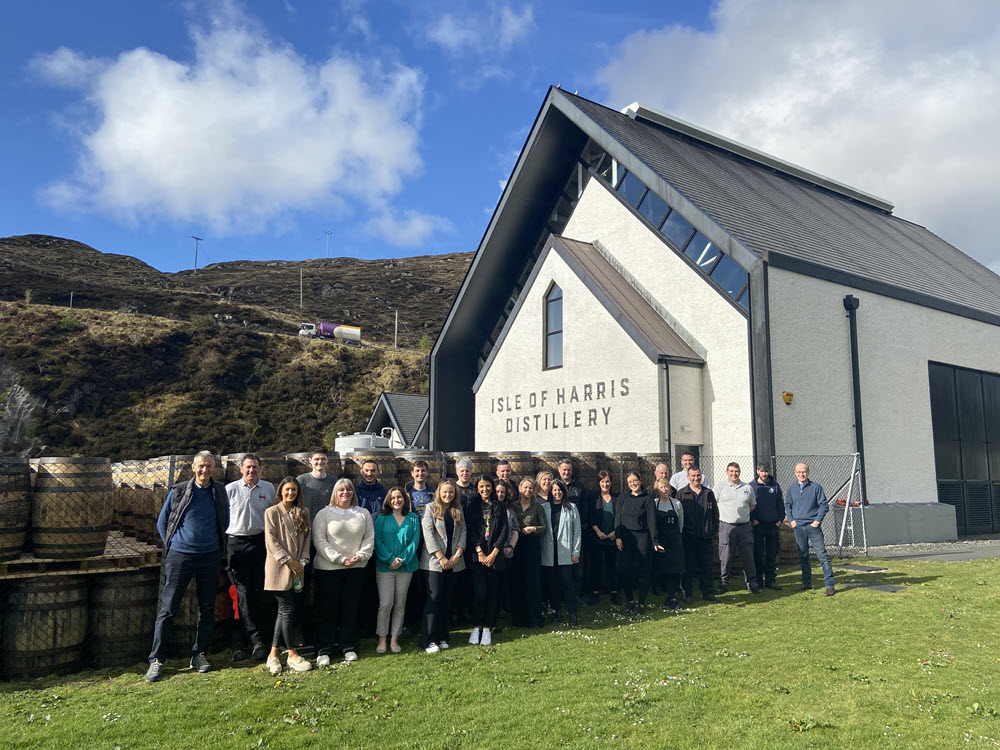 If the story is less relevant in Asia "then, we'll need to major on the bottle, because that's the 'eye candy'," he says. This has already been created by the same firm that designed Isle of Harris gin.
The gin has laid the foundations of the distillery story, built a global network of importers, and demonstrated the brand-building prowess of those involved. However, whisky has become ever-more global and competitive in the meantime.
"It all comes down to that finite space of a retail shop or bar whose owners need to maximise a return on it," says Simon. "And every day they're getting excited about a new whisky from Denmark, New Zealand or wherever. So, it's absolutely not going to be easy."
The distillery has been producing enough to fill just 300,000 bottles of whisky a year, and given its location in the Outer Hebrides, there's no chance of working 24/7. Distilling on the Sabbath remains a taboo. "I guess being 'boutique' is a strength because you're not going to be chasing volume as you carve out your niche," says Simon who is glad not to be a mid-sized producer forced to compete with those who can leverage serious economies of scale.
If it means having to sell on allocation and deal with importers who have sold out and are desperate for more, that's just another "high-class problem," he says. "The worst problem for importers is when they're stuck with inventory that they can't shift."
In terms of exports, the key markets for the gin are Germany, Canada, the US and France, which he suspects the whisky will follow, along with Taiwan, Japan and Australasia. But domestic sales will be equally important and offer a higher margin if done direct via ecommerce or at the distillery.
Overall, he fears there'll be a contraction in the number of new, standalone malt distilleries through mergers, acquisitions and those that fail. "And that has to accelerate when your oil costs double in three months, when packaging costs go up 40% and your costs of logistics increase by 200%," he says.
The Isle of Harris distillery was certainly born in less turbulent times. With no talk of rampant inflation, no Covid pandemic, no Russian invasion or threat of a third world war … did anything actually happen in 2015? Not that any of this has disturbed the slumbering casks of whisky maturing on the island. While the last few practicalities are sorted out, it seems 'The Hearach' single malt is very nearly there.
Front Page Image: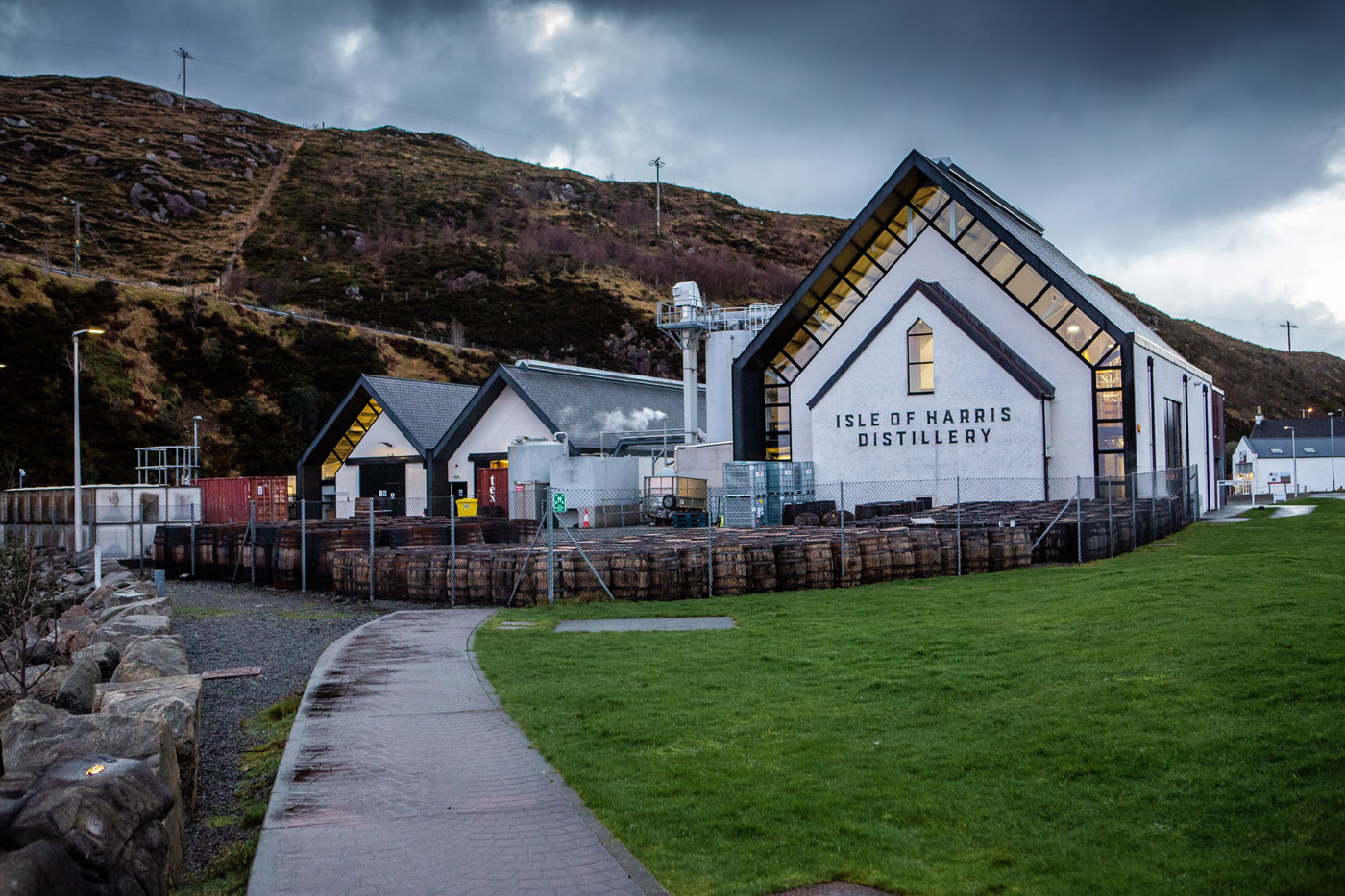 Award-winning drinks columnist and author Tom Bruce-Gardyne began his career in the wine trade, managing exports for a major Sicilian producer. Now freelance for 20 years, Tom has been a weekly columnist for The Herald and his books include The Scotch Whisky Book and most recently Scotch Whisky Treasures.
You can read more comment and analysis on the Scotch whisky industry by clicking on Whisky News.