Friday 17/4/2020 11:15 Tom Bruce-Gardyne
Is Scotch Whisky 'Essential'? Yes, Say Shoppers in Global Lockdown
With one-third or more of the world's population in lockdown, what impact is staying at home to stall the spread of new coronavirus having on the drinks industry? Tom Bruce-Gardyne reports for WhiskyInvestDirect, live from his kitchen table...
"LIQUOR is the New Loo Roll!" bellowed the UK's Daily Mail newspaper on March 21st above pictures of supermarket giant Tesco's drinks aisles stripped bare in Hartlepool, north-eastern England.
Panic buyers were panicking for nothing as it turned out, because a few days later the Great British off-trade – from supermarkets to tiny independents – was deemed 'essential' by the government, along with a few other retailers like chemists, hardware stores and bike shops.
Just about everything else, including the entire on-trade of bars, restaurants and hotels, closed down. But we haven't stopped drinking, not here or almost anywhere in lockdown. We're just doing it at home, and apparently on some scale.
Jerome Adams, the US Surgeon General, this week urged Americans – and particularly African Americans – to forsake drugs, tobacco and alcohol, but on booze few are listening it seems. So far only three countries have banned off-sales during lockdown – Thailand, Greenland and South Africa, where looting and a surge in the black market has followed.
The leading US alcohol delivery app Drizly meanwhile reported sales up 537% in the last week of March compared to the same period in 2019, and retail alcohol sales in total were up 25% in the week to April 4th compared to the same period last year, says market-research agency AC Nielsen, with spirits up by a third.
Here in the UK the stockpiling phase may be drawing to a close, with loo rolls and popular alcohol brands now back in the supermarket, but the choice is limited. This has driven consumers to shop elsewhere, first physically and then on-line when smaller independent stores closed due to staffing issues.
Majestic Wines' website crashed under the pressure, while Berry Bros & Rudd experienced its biggest day of web-based sales in its history. On-line sales at Royal Mile Whisky have "more than doubled" says its buyer, Arthur Motley, who has been encouraged by the number of first-time buyers. Asked if the trend is likely to endure when we are released from captivity, he says: "With all the new customers, we sold them a bottle of whisky at a fair price, so you'd hope they're going to come back."
The online channel will definitely be bigger than before, agrees David Robertson, co-founder of Edinburgh's Holyrood distillery. He says: "Many consumers will have discovered new sites, new offers, and the ease of buying spirits on line." As for his own production however, and having opened last summer, Holyrood decided to close during the lockdown.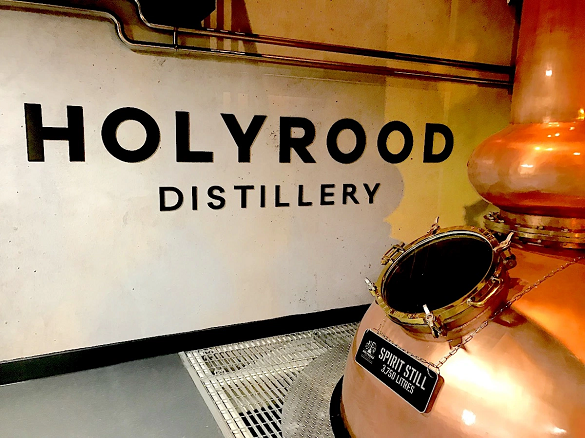 "It is heartbreaking for us and our talented staff to have to shut down what was Edinburgh's first city-centre distillery in almost 100 years, but needs must in these unprecedented times," says Robertson.
While many other distilleries have shut, some are continuing to operate, along with warehouses and bottling lines, on a skeleton staff. All are doing so very carefully and insist the safety and well-being of their people is their number one priority.
Trades union GMB Scotland is nevertheless campaigning to stop production, telling its members on March 26th that "Employers have gone too far by looking to keep you coming to work to pursue profits."
How many members the union has in the whisky industry is unclear, but it does have the ear of the Scottish government. Cabinet Secretary Fiona Hyslop has questioned whether distilling a spirit to make whisky in three years is "essential". That's not the message coming from Westminster, Dublin or other governments however, with food & drink production not split into what is needed or "non-essential". No one is telling Irish whiskey producers or gin distillers in London to turn off their stills.
A Diageo spokesman points to the knock-on effects of closure, saying: "We are working hard to ensure the essential services we provide are maintained: from the livestock farmers we supply with animal feed; to the wheat and barley growers who supply our distilleries."
Clearly this helps the cause for Scotch to be considered essential. The protein-rich draff from Invergordon distillery, for instance, is said to feed a fifth of all Scottish cattle. And then there's the new side-line industry of sanitizers for which Scotland's distilleries will provide 13 million litres of ethanol in the next two months.
Such corporate do-gooding, however, is far from the sole reason why production of Scotch whisky, the UK's premier food & drink export, has been allowed to keep running. Even if government policy changes, a few months' lost production – just like any dent in current consumption worldwide – could easily be absorbed by the industry in the years to come.
More urgently, the wholesale closure of whisky tourism risks a far bigger impact. "Over two million people visit distilleries every year, and we need to get them back as quickly as possible," says Whyte & Mackay's master blender Richard Paterson. "I cannot imagine air travel returning to where it was," adds Simon Erlanger, MD of Isle of Harris Distillers.
"In the short term, financial difficulties and fear will prevent people flying. In the medium term, video conferencing will have become the norm and therefore business travel will still be less frequent. Leisure travel is likely to take a while to come back and the eco-argument will also act as a restraint."
As Erlanger says, "It's hard to think of any positives for the airline sector." Against that, and compared to many other leisure and luxury sectors, the outlook for Scotch whisky and alcohol sales more broadly offers one bright spot in what is becoming a very dark economic outlook.
Award-winning drinks columnist and author Tom Bruce-Gardyne began his career in the wine trade, managing exports for a major Sicilian producer. Now freelance for 20 years, Tom has been a weekly columnist for The Herald and his books include The Scotch Whisky Book and most recently Scotch Whisky Treasures.
You can read more comment and analysis on the Scotch whisky industry by clicking on Whisky News.