Thursday 16/7/2020 16:24 Ian Wisniewski
Back to the Future: How Scotch Innovation Digs New Products Out of Whisky's History Archives
Where best to start new product development (NPD)? Scotch whisky brands increasingly dust down their own historic archives finds Ian Wisniewski for WhiskyInvestDirect...
'MOVE ON, look forward' is frequently repeated advice, but the past explains how we reached the present, which in turn provides a sense of our future direction.
The Scotch whisky industry certainly values heritage with a growing number of archivists employed, and some serious investment.
Diageo sank £1.5 million into a new, expanded archive at Menstrie in 2014, while Bacardi is currently extending its archive relating to the Dewar's brand.
"We have been working on a new whisky bottle archive in Glasgow that will help us preserve the many products and packaging items currently in the pipeline with lots of space to grow the collection," says Jacqui Seargeant, Bacardi's global heritage manager.
"It's not just the physical space where we see the investment, we are also funding projects to help with digital preservation and will be launching new efforts in this space in the coming months."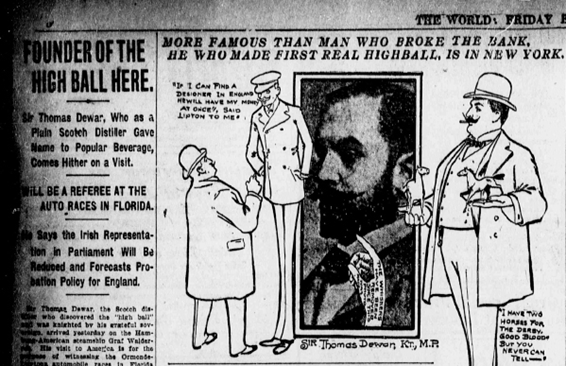 Yet far from being an in-house museum, an archive is a vital source of information and inspiration.
"Marketing and design agencies regularly come to the archive to be inspired, or to research an existing concept for NPD," says Jacqui, giving the Craigellachie 51-year old as an example.
"We have the production ledger which shows this was one of the last batches produced before the distillery was rebuilt, when one main change was going from coal-fired to steam-heated distillation."
NPD driven by archival material has an integral 'authenticity' that resonates with many consumers. Dr.Nick Morgan, Diageo's head of whisky outreach, claims "most projects start in archive" including single grain whisky Haig Club, which was inspired by a series of print adverts for the 'Haig clubman' in the 1920s.
Meanwhile, existing brands require repackaging to keep themselves 'fresh' and 'relevant.' How often and how extensively this is undertaken varies enormously, but the starting point is the same.
"I have lots of visitors, agencies and marketing teams come to the archive when repackaging a brand," says Chris Brousseau, Chivas Brothers' head archivist. They want "to see how the bottle shape, label and carton design have evolved over the years. The Chivas Regal timeline for example shows every instance of packaging and label changes."
Thanks to digitisation, says Brousseau, "the archive website is available to all employees around the world, and each brand has its own web page including the brand history, packaging and advertising campaigns. We have great stories to tell and can back up all our statements and brand claims because we have the documents to prove it."
In addition to preserving items, archives grow with acquisitions from auctions and dealers, as well as donations. This naturally raises the question of focus.
"Rather than trying to accumulate absolutely everything we focus on records that document change and developments, such as minute books that show how and when company directors made significant decisions," says Seargeant at the Dewar's Archive.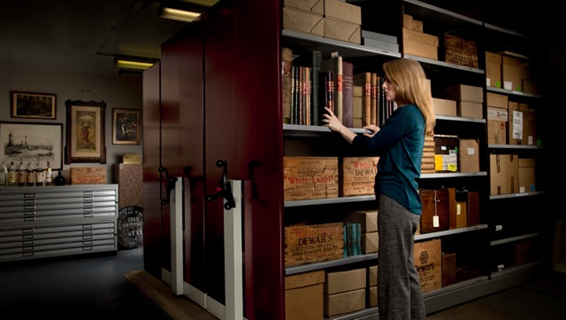 Communicating stories via social media is standard practice, and has the advantage of not requiring text, because posting emotive images suffices. "Social media is so visual," says Seargeant, "and we have original artworks for lifestyle adverts painted by artists in the 1930s, depicting a beautiful world that you would want to live in."
A beautiful world also needs cocktails, which are thriving in the USA, UK, Europe and Scandinavia. Whisky cocktails can recruit newcomers to whisky very effectively, and provide a fashionable, credible serve for existing whisky drinkers. Taking ownership of a classic cocktail presents significant opportunities, particularly as the classics have stories to tell.
Tommy Dewar's claim of inventing the Highball, for instance, apparently during a night out in New York bar-hopping with friends, was published in an article in the Evening Statesmen in 1905.
"Jacqui Seargeant discovered these clippings, and multiple others, from the time," says Zeenah Vilcassim, Bacardi's Global Brand Director Whisky. "They have helped us build the story of true and authentic pioneership of this iconic cocktail serve. The Highball now runs as a core thread through our drinks' strategy, influencing the cocktail development around each of our products."
The value of an archive is immense and not restricted to looking back, but also the present and future.
"The archive collections," says Seargeant, "are fundamental to developing and telling the stories of brands, the founders of our business, and to capturing the stories of today that will make history tomorrow.
"An archive is a living, breathing entity, and continually evolving. The archive of the future is a cloud."
Ian Wisniewski is a freelance writer and leading authority on spirits, with a focus on Scotch whisky. Over the course of his two decades covering the industry he has published seven books, including the Classic Whisky Handbook, and has contributed to publications such as Whisky Magazine, The Times, The Malt Whisky Yearbook and Scotchwhisky.com.
You can read more comment and analysis on the Scotch whisky industry by clicking on Whisky News.