Friday 18/9/2020 10:01 Tom Bruce-Gardyne
Scotch in the Time of Covid, à la Pernod Ricard
Scotch whisky's No.2 outperformed Diageo in its full-year results, surfing US tariffs on malts with some style reports Tom Bruce-Gardyne for WhiskyInvestDirect...
"I CAN tell you one thing," declared Pernod Ricard's CEO Alexandre Ricard as he unveiled the firm's full year results two weeks ago.
"Sooner or later, guaranteed, we will all find ourselves back in our favourite bars and restaurants to celebrate being together again."
Clearly the closure of the world's on-trade for nearly four months thanks to Covid-19 put quite a dent in the French spirits giant. Its Scotch brands include Chivas Regal, Ballantine's and Glenlivet. In the year to June 30, those whisky sales shrank 11%.
The group's overall net profits collapsed 77% thanks to a massive €1 billion asset write-down that mostly concerned Absolut vodka. Strip that from the equation, and recurring operating profit at Pernod (EPA: RI) was down 13.7% in FY20 – noticeably better than its earlier predictions, causing the share price to rise in early trading on the day of the results.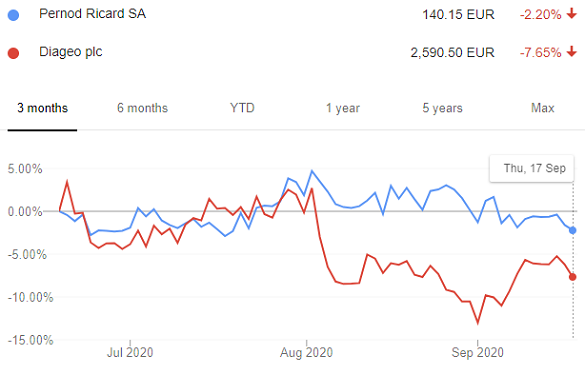 Good expectation management is a lesson the UK government might care to learn in its hubristic promises on Covid testing.
Describing the fallout from the pandemic, Alexandre Ricard said: "It started in China towards the end of January, spread very quickly to travel retail in Asia during the course of February and became global in the month of March and thereafter." He reported that Q4 (April-June) saw a "progressive recovery" in China compared to the previous quarter, and that 90% of Pernod's Chinese on-trade accounts have now reopened which sounds encouraging.
Meanwhile India suffered from the country's six-week national lockdown that began in late March. That sent the firm's huge Indian whiskies like Imperial Blue and Royal Stag into double-digit decline. Yet Pernod's biggest Scotch brand Ballantine's – which slipped 8% globally to 7.2 million cases – enjoyed "very good growth" in India, it was claimed.
It seems the decision to sponsor a TV mini-series featuring Bollywood star Kunal Kapoor touring its Scottish distilleries paid off.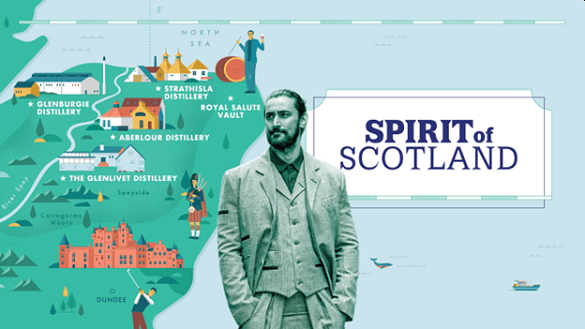 Next among the so-called 'must-win markets' comes global travel retail, which was 27% down for Pernod year-on-year.
"There used to be approximately 140 million Chinese travellers outside of China. Of course, not right now, there are zero," said Ricard, who doesn't see the channel recovering anytime soon.
This goes some way to explain the 17% contraction for Chivas Regal, down to 3.7 million cases, given that it's the third biggest-selling spirit in duty free behind Jack Daniel's and Johnnie Walker, the world No.1 Scotch whisky brand.
Diageo's venerable 'striding man' stumbled badly in the last 12 months with sales down almost a quarter, helping the company's total Scotch sales to fall 17%. This was revealed in early August's FY20 results from Diageo (LON: DGE), covering the same period as Pernod's figures but released a month earlier.
Chivas Regal 12 competes head-to-head with Johnnie Walker Black Label as best-selling 12-year old blends, and it would be fascinating to know who is really winning. One suspects Diageo's pride and joy is pulled down by its Red Label standard blend stablemate.
The other 'must-win market' for Scotch whisky producers is obviously the USA, which accounts for a fifth of Pernod's sales. There is clearly delight at how buoyant the off-trade has been with Americans doing their heroic best to soak up all the booze not being sold in the country's bars, clubs and restaurants.
Of course, every brand will differ in the way it leans towards the on or off-trade, but it definitely helps to be well-established. "What this crisis showed is our portfolio of brands, of known and trusted brands is the right portfolio for that environment," said Alexandre Ricard, and there's no doubt the untested, new-to-market brands from small craft distillers have suffered most in America.
But none of this quite explains why Glenlivet has been so strong in its biggest market by far. Compared to its modest global growth of 2% to 1.2 million cases, it appears to be positively on fire in the States, growing 16% in the first half of FY20 and 6% in the second half.
This in spite of the 25% tariffs on single malts levied by the Trump administration eleven months ago, alongside French wine, Spanish olive oil and the like to put pressure on the EU in the long-running and totally disconnected dispute over aircraft subsidies. Back in January Walmart in California was selling Glenlivet Founder's Reserve for US$28, which would have been shipped before the tariffs came in on October 18. The price is now $36.
It may not have been Donald Trump's intention, but perhaps the price hike has simply fuelled demand. That might sound perverse, but it wouldn't be the first time among luxury brands, and if it happens with designer handbags and elite champagne, why not single malts?
Something to discuss with Alexandre Ricard over a dram in his favourite bar.
Award-winning drinks columnist and author Tom Bruce-Gardyne began his career in the wine trade, managing exports for a major Sicilian producer. Now freelance for 20 years, Tom has been a weekly columnist for The Herald and his books include The Scotch Whisky Book and most recently Scotch Whisky Treasures.
You can read more comment and analysis on the Scotch whisky industry by clicking on Whisky News.