Friday 7/8/2020 08:52 Tom Bruce-Gardyne
Diageo's Scotch Sales in the Eye of the Covid Storm
Diageo – the big white whale of the whisky trade – has struggled through the Covid pandemic, but its faith in Scotch appears unshaken, reports Tom Bruce-Gardyne for WhiskyInvestDirect...
TUESDAY this week brought the Scotch industry's first hard data on the effect of the Coronavirus pandemic on whisky sales worldwide.
It was the day the world's biggest Scotch producer, Diageo PLC (LON: DGE) announced its preliminary results for the year to June 30th (FY20). And as CFO Kathryn Mikells said of the beer and spirit giant's last 12 months, "It was a year of two distinctly different halves."
Back in January, Diageo's first half figures were looking okay with organic growth of 4.2% spread fairly evenly across the globe and across its portfolio of drinks. That has since turned into 8.4% drop with pre-tax profits halved to £2 billion for the full year, marking the company's worst annual performance for more than a decade according to analysts at Bernstein.
Six months ago, Diageo's Scotch volumes were flat, though parts of the portfolio were performing well. Sales of Buchanan's were up by 9.4% and the firm's malts by 16.7%. There was mention of 'the evolving Coronavirus situation in China', but of course no inkling of the global crisis it would unleash.
This week CEO Ivan Menezes announced the results in the empty atrium of Diageo Towers in London. Pinned to his lapel was a miniature striding man – the emblem of Johnnie Walker, and possibly the company itself.
As the world's best-selling Scotch with sales of 18.4 million cases last year and its most valuable spirits brand after China's baijiu Moutai, Johnnie Walker is the lifeblood of Diageo. From Red to Black to Blue Label and beyond, the brand accounts for 55% of the firm's Scotch business.
2020 is the striding man's bicentenary and great festivities were planned, not least the opening of a dazzling new brand home in Edinburgh. Sadly, the party has been postponed like so much in this year of the plague, and the Johnnie Walker Experience on Prince's Street will now open in the latter half of 2021, according to Menezes.
The closure of bars and restaurants during lockdown which continues in India, South Africa and cities like Los Angeles, has clearly hurt. However, Johnnie Walker was beginning to slip before then, with sales down 3.8% in the first half of F20. By the end of June that had turned into a 22% fall for the full year, which helped Diageo's net sales of Scotch whisky to shrink by 17%. Meanwhile the firms' Tequila brands were up by a quarter given the rocketing demand for Don Julio and Casamigos in the States. Such a contrast in performance might encourage some at Diageo to cut their losses and redirect resources, but not the man in charge it seems.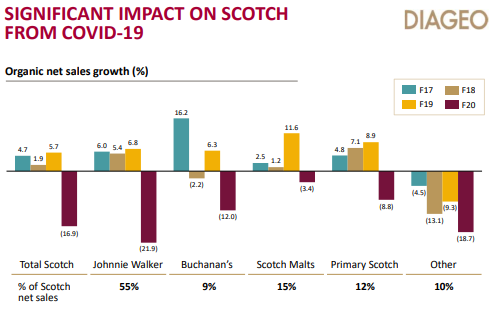 "I love our whisky business, and we will absolutely ensure that it stays on a healthy trajectory as we come through the Covid disruption," Menezes declared at the post results press conference. While 'disruption' may be understating things, his words should reassure the industry that its biggest player remains fully committed to the long-term future of Scotch.
Menezes admitted it had been "a challenging year for our Scotch portfolio," with sales flat in the first half "due to specific market challenges impacting Johnnie Walker in particular" which he said was "lapping last year's highly successful innovation of 'White Walker'."
"In the second half, Scotch was disproportionately impacted by Covid-19," he continued. "This reflects the greater exposure to emerging markets and travel retail, which together accounted for over two-thirds of our Scotch net sales in fiscal 19." Clearly duty-free has been battered by the pandemic and Johnnie Walker was bound to suffer most as the sector's biggest spirits brand by far.
The US is Diageo's most valuable market, and notwithstanding Covid the firm's total volumes grew 2% in North America. So far, the boom in drinking at home appears to have mopped up the loss from all those shuttered bars and restaurants which normally make up a fifth of Diageo's sales. Elsewhere in markets like Europe its on-trade share is closer to 50% which clearly ramps up the impact of the lockdown.
Menezes spoke of the benefit of having a broad portfolio of Scotch brands for consumers to trade in and out of. "In select markets in Latin America, Africa and Asia Pacific we have been using primary Scotch as a recruitment tool for the next generation of Scotch drinkers," he explained, referring to the likes of Black & White and Vat 69. "In a challenging economic environment, we are also ensuring our standard Scotch brands are well positioned to win share in target markets."
Standard Scotch at Diageo means brands like J&B and Johnnie Walker Red. Both were struggling long before the pandemic hit and bringing them back into growth won't be easy. However, Red Label does have the right name behind it and a powerful advocate in the shape of Ivan Menezes.
"We want to win with our global giant," he said on Tuesday, "and to make Johnnie Walker the most desired, enjoyed and talked about whisky in the world." Diageo's CEO is clearly determined that the striding man regains his poise after this year's stumble.
Award-winning drinks columnist and author Tom Bruce-Gardyne began his career in the wine trade, managing exports for a major Sicilian producer. Now freelance for 20 years, Tom has been a weekly columnist for The Herald and his books include The Scotch Whisky Book and most recently Scotch Whisky Treasures.
You can read more comment and analysis on the Scotch whisky industry by clicking on Whisky News.