Friday 24/7/2020 09:14 Tom Bruce-Gardyne
'Every Night is Friday Night!' But Where's Scotch Gone in US Lockdown?
For all its ups & downs America remains by far the most valuable export market for Scotch whisky, writes Tom Bruce-Gardyne for WhiskyInvestDirect, and every brand wants a slice of the action – tariffs or no tariffs...
WHATEVER else the Americans have been doing during lockdown, they have not stopped drinking.
AC Nielsen tracks US retail chains' sales, and it claims the country's off-trade has been "the standout performer during Covid-19", with spirits leading the charge over beers and wines.
Weekly spirits sales have regularly been above 30% on the previous year, enough to compensate for the 22% that Nielsen estimates has been lost from all the closed bars and restaurants.
"Every night is now Friday night," to quote one distributor, and the new emerging market in on-line booze can barely keep up. The start of lockdown saw Drizly, the leading alcohol delivery app, report sales surging 485% in the month to mid-April versus the same period in 2019. That should all sound good for Scotch. But when the firm reported its top 10 best-sellers for the week covering Independence Day (July 4th), there was no mention of Scotch, with the list led instead by Tito's vodka, White Claw hard seltzer, and Casamigos tequila.
Might this mark a change of trend for Scotch whisky in its most valuable export market?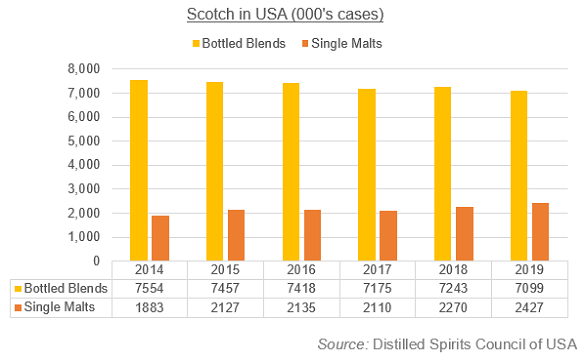 Scotch sales to the US had been remarkably strong, with the value of US shipments breaking the £1 billion barrier for the first time in 2018. While many standard blends have struggled, the premium end has performed well, particularly single malts. According to HMRC figures compiled by WhiskyInvestDirect, some 25.8 million bottles of malt were shipped last year, worth £377m.
As such, this one market guzzles a fifth of all single malt shipped out of Scotland – or rather it did until the drink was caught in the crossfire of a transatlantic trade war. Despite pleadings from the Scotch Whisky Association (SWA) not to retaliate, the European Union slapped a 25% tariff on US whiskey as punishment for American sanctions on steel and aluminium in March 2018. Last October the US hit back with the same sized tariffs on single malts, this time over alleged 'illegal' subsidies to Airbus.
It was a classic 'tit for tat' in other words, and none too smart putting the idea in Trump's head.
With Scotch US shipments down by a third since October, the SWA's CEO, Karen Betts sees tariffs as "a more strategic threat to the industry than Covid because there's a risk that we start to lose longer-term market share that takes a very long time to win back." As she says, it has been particularly tough on the new start-up distilleries.
"If you add in Covid, US tariffs and the imminent B-word [ie, Brexit] what it does is create huge amounts of uncertainty," says Liam Hughes, MD of the Glasgow Distillery, whose plans to conquer America were thrown into disarray last October. Less than 24 hours after he signed a deal with a US importer came news of the tariffs. And that news could get a whole lot worse if they are increased or extended to all Scotch on the next review date of August 12th. (Of course, the US could decide to scrap them, but you wouldn't want to bet on it.)
Yet in spite of everything, there are grounds for optimism. Data from the Distilled Spirits Council of the US (DISCUS) shows that 'super premium' Scotch – including the likes of Glenmorangie, Macallan and Johnnie Walker Blue Label – has been a key driver for years. Having sailed through the 2008/9 financial crash almost unscathed, in 2019 this top category jumped 11.8% in volume and 12.3% in value.
"I think it's still where we're headed as an industry," says Craig Bridger Whyte & Mackay's malt specialist director for North America, about premiumisation in Scotch whisky. He believes US consumers have become more discerning and says: "It's no longer about 'badge' drinking and saying 'look at me' or 'please bring me that bottle with sparklers'. It is shifting to a story of true quality, heritage and craftsmanship."
That story undoubtedly benefits single malts far more than ritzy over-packaged vodkas. So while the virus and those tariffs clearly don't help, "Our malts, especially the Dalmore, have proved remarkably resilient," says Bridger, quoting IRI figures which put the brand up 16% in the year to May 31st – the second-fastest mover among the top ten single malts.
David Ozgo, chief economist at DISCUS, is also "quite optimistic" for Scotch whisky's outlook State-side. While he feels the Nielsen stats quoted above may be overstating things, he believes the overall spirits category is still in growth in the USA, albeit by around 1-2%, even with on-premise sales in free fall as bars and restaurants stay shut or empty.
Brexit meantime looks set to climax in less than 6 months' time with a no-deal end to the transition period, while the path for Covid is anyone's guess. As for those US tariffs, might a change of regime at the White House, or a new UK-US trade deal, restore zero rates for Scotch? We can but hope.
Award-winning drinks columnist and author Tom Bruce-Gardyne began his career in the wine trade, managing exports for a major Sicilian producer. Now freelance for 20 years, Tom has been a weekly columnist for The Herald and his books include The Scotch Whisky Book and most recently Scotch Whisky Treasures.
You can read more comment and analysis on the Scotch whisky industry by clicking on Whisky News.