Thursday 9/11/2023 10:03 Tom Bruce-Gardyne
A Postcard from Arran
The current boom in new, independent malt distilleries was partly inspired by Lochranza on Arran which pioneered the movement almost thirty years ago, reports Tom Bruce-Gardyne…
Due east of Islay, not far as the crow flies, is another whisky island albeit not as famous and not quite on the same scale. Arran has just two distilleries – Lochranza in the north and Lagg in the south, both owned by Isle of Arran Distillers, compared to Islay with nine in production and five on their way. Last month's news that Pernod Ricard is to build yet another Islay distillery makes the whiskies from other islands like Arran somehow just that little bit more special.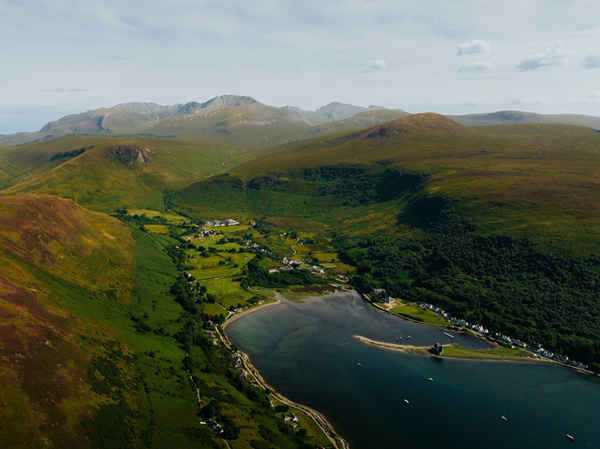 It was in 1995 that the late Harold Currie, a former Chivas Bros MD, opened the Lochranza distillery and brought legal whisky-making back to Arran after almost 160 years.
In its illicit heyday, the island that lies tucked behind the Mull of Kintyre was humming with small stills whose spirit slipped across the Firth of Clyde to slake the thirst of Glasgow.
"It was a bold move back in the mid-1990s," says Euan Mitchell, Isle of Arran Distillers MD, about the timing of Lochranza. "The industry was in a slight slump at that stage. The big companies were cutting back and some distilleries were being mothballed."
But what made Currie's decision even bolder was the complete absence of new, stand-alone malt distilleries back then. It was a real pioneering move that paved the way for many others.
Not that Arran was an overnight success - apparently it did not make a profit until 2010. "It wasn't easy in the early days selling 4 or 5-year-old single malt whisky at a time when people were very hung-up about age-statements," recalls Euan who joined the firm in 2003. "There was a scepticism about young whisky, but I think that doesn't really exist anymore."
Lochranza's style of whisky is "fairly soft and unpeated. It's very approachable, but certainly has enough character to appeal to seasoned single malt fans," says Euan. The distillery's capacity was increased to 1.2 million litres of pure alcohol (LPA) and a peated version - Machrie Moor was launched in 2010.
The success of that whisky and the need for more warehousing, led Isle of Arran Distillers to the south of the island where it opened its 0.5m LPA Lagg distillery in 2019. It is here that all the firm's smoky single malts are now made.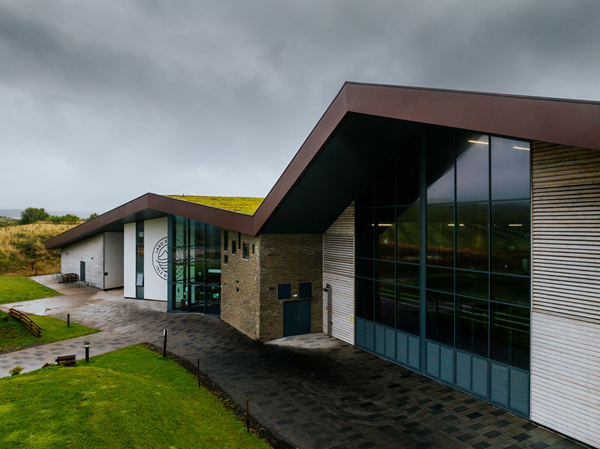 Since 2019 turnover has trebled to £17.5m in fiscal 20222, as have the number of employees to 90. Meanwhile, visitor numbers to Arran have yet to recover to pre-Covid levels thanks to Cal-Mac and its fleet of arthritic ferries that are forever in and out of the repair yard. A report by North Ayrshire council two years ago put the bill for lost revenue for the island at £170,000 a day.
"It has been disruptive, and we've had to close production because malt deliveries could not be made," says Euan who praises the flexibility of his suppliers who will drive all the way to the other island ferry, if the main route from Ardrossan isn't running. "The biggest impact has been on the commercial, tourist side of the business." Lochranza has an award-winning visitor centre and café, but numbers are down.
For Euan, "a big part of that is just the lack of confidence in the ferry service, and how it's reported in the media." While perception is clearly worse than reality, for somewhere that promotes itself as 'island time in no time' being less than two hours from Glasgow, you can understand people's reluctance to sail to Arran if they fear they'll never get back.
Glen Sannox, a popular beauty spot on the island, is now better known as the ferry that is already six years late and more than three times over budget. It is currently due to come into service on the Arran run next summer, but Euan and the islanders will believe it when it happens. That said, he believes "the long-term picture is very optimistic" for the island and its tourism.
In his view "the lure of single malts is about the place where it's made and the people who make it. And in terms of the place, we own that. Arran belongs to us, and we belong to Arran and that gives us a really unique selling point." With exports, which account for 90% of sales, this certainly resonates in Europe where half the shipments go, led by France.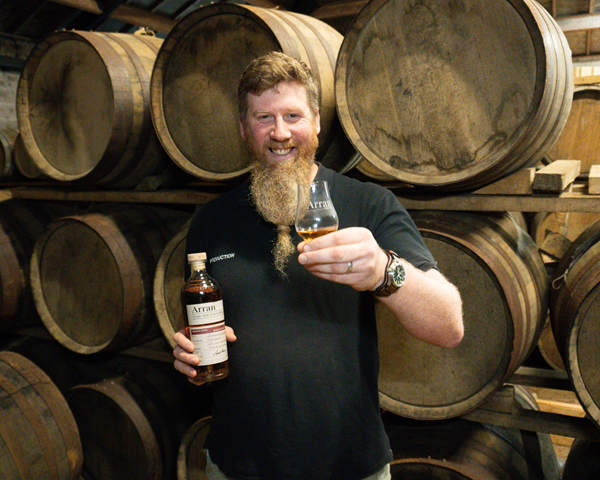 Other key EU markets are Germany, Belgium and Denmark, while Japan has become the biggest importer of Arran 10 year-old, since the range was rebranded in 2019. However, the US remains "a very difficult market to crack unless you have a lot of money to throw at it, and even that's no guarantee of success," says Euan.
As a relatively small player, Isle of Arran lacks deep pockets, but "we can react much faster than big companies where they have meetings about meetings," he says, adding that with the help of social media "we can build really strong relationships and consumer loyalty for the long term."
Arran has just released its new Signature series where distillery manager Stewart Bowman has pulled out some interesting parcels from the warehouse, which at £80-85 a bottle is meant for drinking.
"There's nothing wrong with collecting whisky, but we should never get away from the original purpose which is to share and enjoy it with friends and family," says Euan. "I think if we lose sight of that, we've lost sight of everything."
Front Page Image: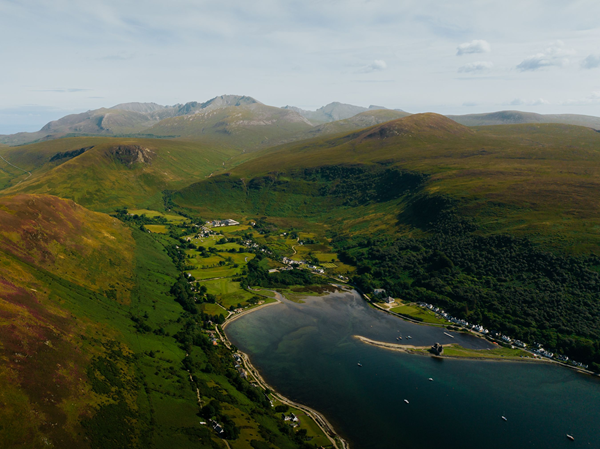 Award-winning drinks columnist and author Tom Bruce-Gardyne began his career in the wine trade, managing exports for a major Sicilian producer. Now freelance for 20 years, Tom has been a weekly columnist for The Herald and his books include The Scotch Whisky Book and most recently Scotch Whisky Treasures.
You can read more comment and analysis on the Scotch whisky industry by clicking on Whisky News.