Friday 10/6/2022 09:00 Tom Bruce-Gardyne
Canned Heat
Many a Scotch whisky brand has grown old with its core audience, and failed to attract new consumers. As canned spirits become more premium, could this be a way to reach out, recruit, and get liquid on lips, asks Tom Bruce-Gardyne for WhiskyInvestDirect…
Back in the 1990s, the shelves were clogged with highly-sugared, neon-coloured cans with names like Reef, Hooch and WKD.
These malt-based ready-to-drink (RTDs) provoked a moral panic over alcopops and under-age drinking which was swiftly sorted by the taxman. There were a few based on spirits like Greenall's Gin & Tonic which proved a smash hit in Russia even on the early morning commute on the Moscow Metro, apparently.
Scotch whisky sensibly declined to get involved, though there were a few best-forgotten examples like the short-lived Bells and Irn-Bru RTD. However, the sector is rapidly being transformed with explosive growth of spirit-based RTDs during and since the pandemic, particularly in America. The IWSR predict volumes of these drinks will treble in the US by 2025, and will continue to move up market.
But it was a bold move by Ian Macleod Distillers to launch two expressions of Smokehead - one with Cola and the other Ginger & Lime - as the world's first-ever single malt in a can last summer.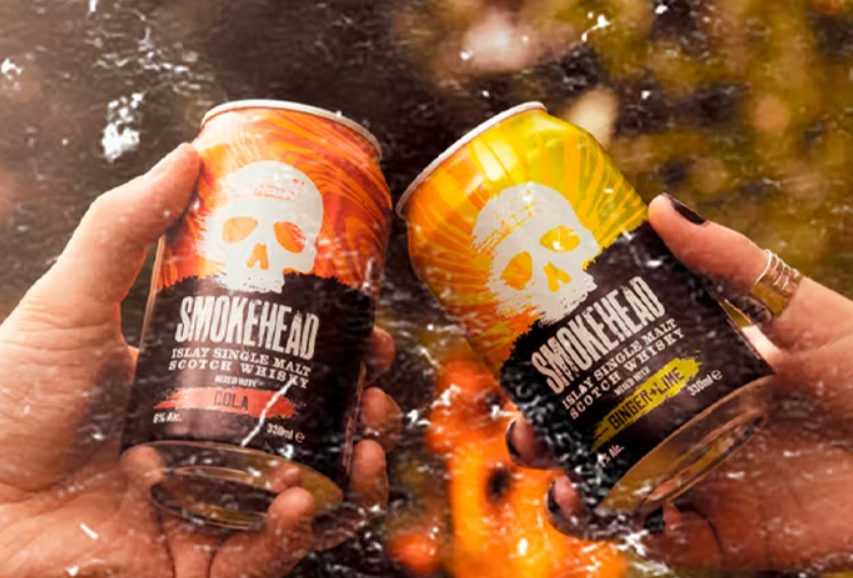 "The key issue is you've got to maintain the quality of the product, which we know we have. So, why not innovate?" says Macleod's marketing director, Iain Weir. "Why not play and disrupt a wee bit? And maybe reduce some barriers and boundaries that maybe put off a certain audience that we'd like to introduce to the joys of malt."
But then again, knowing the brand, perhaps not so bold as it plays perfectly to Smokehead's disruptive nature as an Islay single malt that was inspired by the whisky tattoos on a Swedish biker.
"So far the feedback and demand have been very promising and we're ahead of our target," says Weir. The brand is about to be trialled in Australia, a country in thrall to the convenience of booze in a can and which effectively invented the category back in the sixties.
Over in Glasgow, Douglas Laing & Co. came out of the pandemic brimming with innovative ideas including doing an RTD.
Its range of blended malts were taste tested with all manner of mixers but instead of the obvious Coke or ginger ale, "one that no-one expected was the combination of Rock Island and Tonic," says Laing's CEO, Chris Leggat. "It scored really highly, I think because Rock Island has this maritime salty sweetness going on, and the balance of the tonic just worked really well."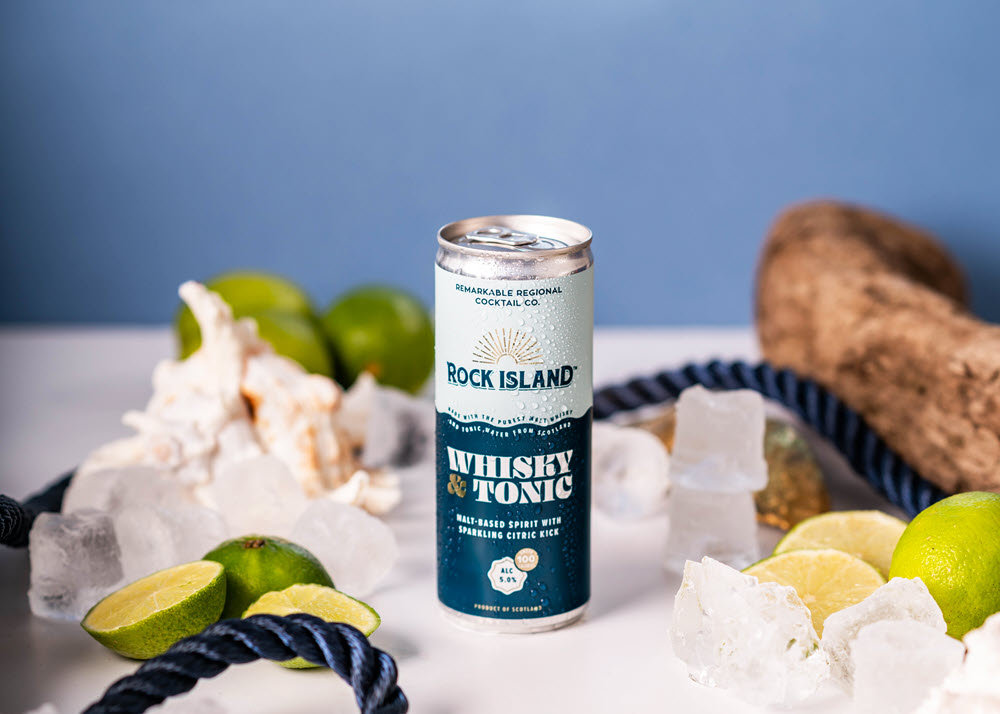 He describes Rock Island & Tonic as "a two sipper" and says "The first sip and it's 'Oh, that's interesting'. The second sip, and you fall in love." He admits that not everyone will react that way, but it certainly provokes a reaction, and so far, so good with a second batch already in production and Laing's overseas importers begging to try it too.
"Scotch doesn't have to be sold in a 70cl bottle to sit on the back bar beside other Scotch whiskies," says Leggat. "Good whiskies can be mixed and enjoyed in many different ways." It is a point that is repeatedly made by the industry whose brands love to trumpet their affinity with cocktails. Yet few have thought to offer the consumer something pre-mixed in a can, and for unlikely combinations like whisky and tonic, waiting for consumers to start ordering them in a bar, could be like waiting for Godot.
"I think there's a nervousness around upsetting the traditional consumer," says Leggat. "Maybe there's a worry that if you start associating with RTDs you are in some ways debasing the proposition. However, our argument, driven really by some of the key markets in Asia is 'don't be shy – you can have a highball, you can have a long serve, you can drink Scotch any way you like."
Diageo has put its Haig Club in a can, and last year launched a pair of Johnnie Walker Highballs in 275ml bottles in Australia, one with 'blood orange' and the other 'zesty lemon'. Ten years ago, Beam trialled a Teacher's & Cola RTD in India, while William Grant's blend with Cola and Ginger made a brief appearance in a can. But the industry's embrace of RTDs has been pretty underwhelming and nothing compared to that of American whiskey.
Or Irish, with Pernod Ricard giving a big push to its newly repackaged Jameson Ginger & Lime RTD in time for this year's St Patrick's Day celebrations in America. The firm's CEO, Alex Ricard has said that some canned propositions are "not extremely attractive" when it comes to "profitability".
Iain Weir agrees, up to a point. "From a margin perspective you're better off sticking with bottled sales than canned sales," he says. "However, you have to balance that from the point of view of accessibility and recruitment." For a younger demographic, not flush with cash but curious to try Smokehead, £35 for a full bottle can certainly be a barrier. And, having proved it can be done with malts, the opportunities for blends appear blindingly obvious. As he says – "The blended category is crying out for innovation – so why not?"
Front Page Image: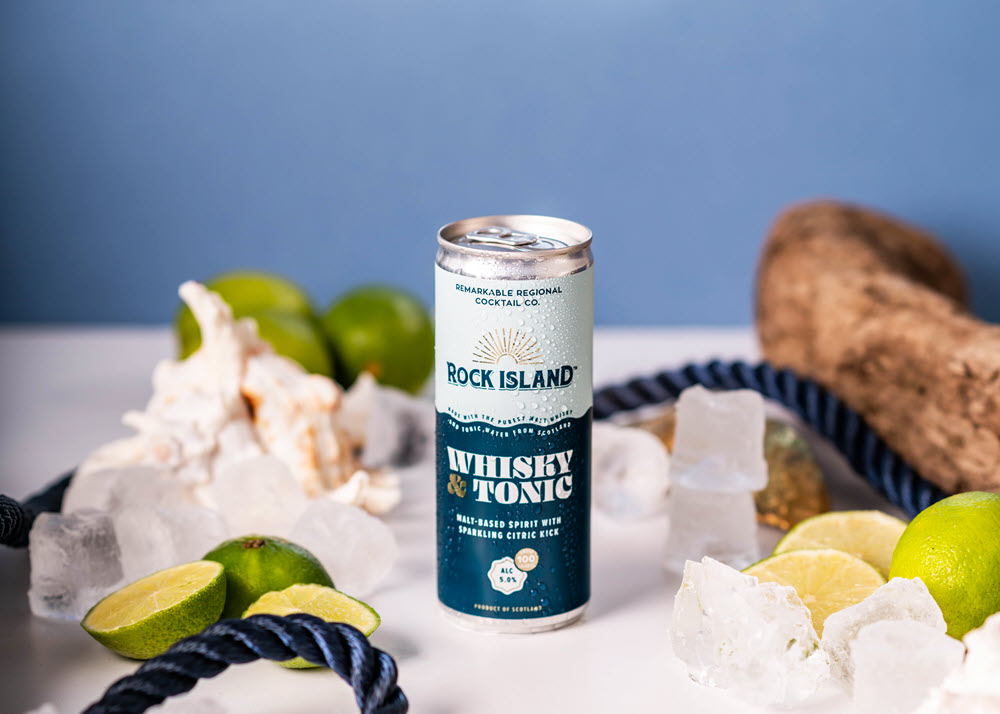 Award-winning drinks columnist and author Tom Bruce-Gardyne began his career in the wine trade, managing exports for a major Sicilian producer. Now freelance for 20 years, Tom has been a weekly columnist for The Herald and his books include The Scotch Whisky Book and most recently Scotch Whisky Treasures.
You can read more comment and analysis on the Scotch whisky industry by clicking on Whisky News.