Friday 10/12/2021 09:00 Tom Bruce-Gardyne
Scotch Surfing the Mexican Wave
As Mexico emerges from its third Covid wave, sales of Scotch whisky appear to be on the rebound. Tom Bruce-Gardyne assesses the current state of affairs in this critical top ten market for WhiskyInvestDirect…
THIS time last year, Mexico City was flirting with prohibition.
On alternate week-ends, alcohol sales were banned in half the city under orders from mayor Claudia Sheinbaum as Mexico succumbed to a second wave of the pandemic. By early June she had lifted most Covid restrictions only to reinstate them two weeks later as the country embraced a third wave.
By mid-July Bloomberg was reporting that: 'Around 20% of all restaurants in Mexico have pulled the plug since the beginning of the pandemic as lockdowns, wary customers, and a lack of economic support from the government choked businesses.'
"This is a market that definitely depends on the on-premise, especially for Scotch and tequila," says Juan Campos, MD for Mexico at Edrington who own Macallan, Famous Grouse, and Highland Park.
"It's definitely a better situation now with the on-premise booming at the top-end. The mid and lower tiers are still suffering however, basically because we are in this hybrid mode of work." Downtown bars and restaurants catering mainly to office workers have clearly been hit hard.
Mexico was the fourth biggest export market for Scotch in 2018 when it imported 4.6 million cases of bottled blends. By 2020 that figure had slumped by a third to 2.9m cases pushing it into seventh place, while the total value of exports fell from £131.5m to £85.4m over the period, returning the country to where it had been nine years ago.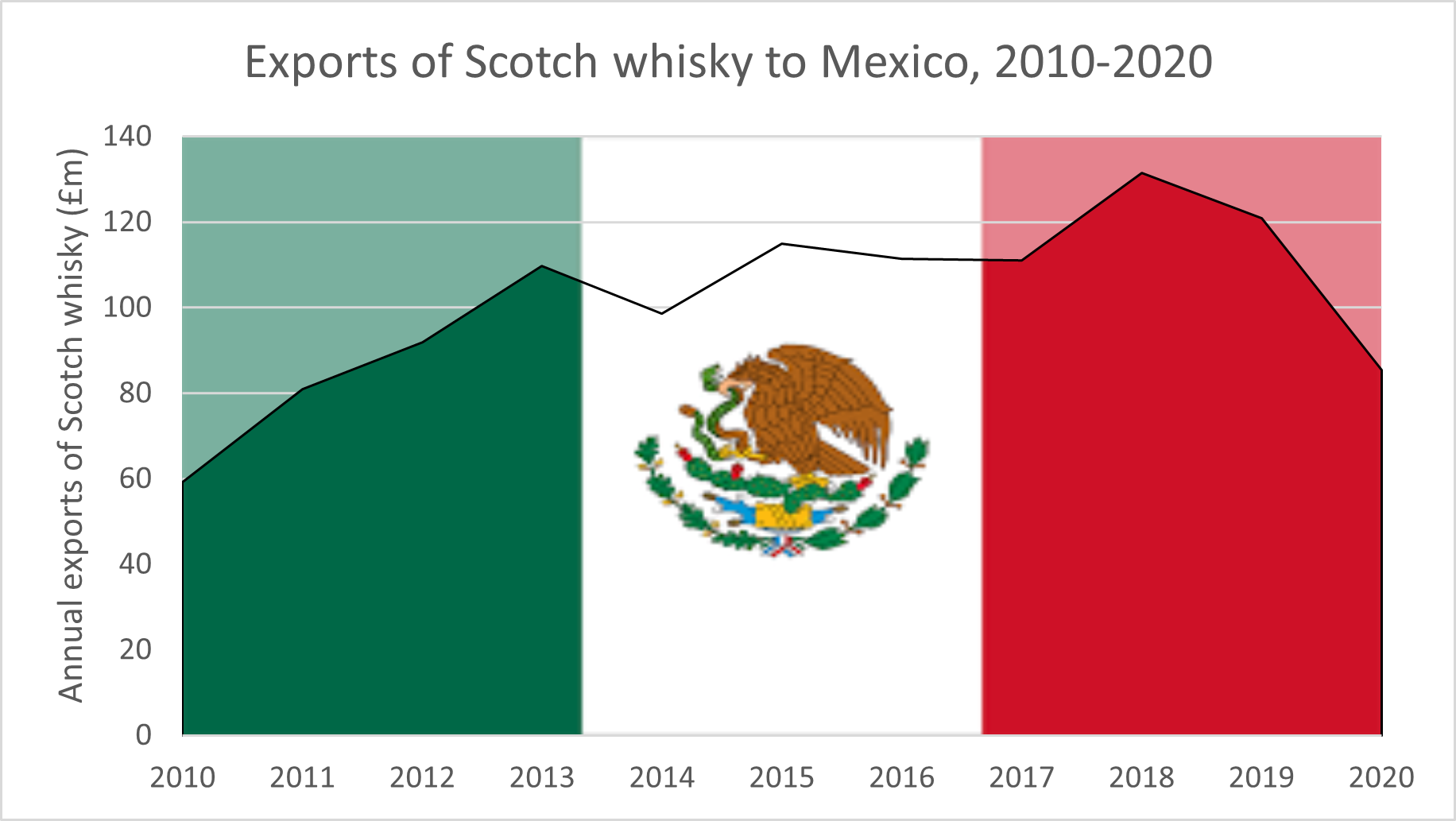 However, Diageo has already reported a rebound in its most recent results in the year to June 30th where 'Scotch sales grew 12%, driven by Buchanan's and Johnnie Walker.'
Juan Campos is optimistic and claims that Macallan has already surpassed its pre-pandemic sales of 2019, although single malts are still in their infancy in Mexico.
Just 59,000 cases were shipped last year, and yet that accounted for 8.8% of overall Scotch value compared to 85% for bottled blends. By comparison, just under a quarter of all Scotch drunk in America was single malt last year according to the Distilled Spirits Council of the US.
"Mexico is the number one supplier and customer of the US, so the two countries are very connected," says Campos. There are endless cultural ties from Netflix to American football where Mexicans are the NFL's biggest fan-base outside America, and there's obviously vast amounts of cross-border travel. The country was "less restricted than many and you could travel wherever you wanted," he says. "Mexico was always open."
You can see the appeal for US tourists with resorts like Los Cabos on Mexico's Baja California peninsula boasting 320 days of sunshine and a sea than never dips below 20C˚, and on a recent visit there, Campos counted 45 private jets.
Meanwhile Mexicans have been heading in the other direction for US vaccines, which suggests more than the official 52.7% of the population (as of December 5th) are now fully vaccinated.
Campos agrees there's an education job to do on malts in Mexico.
"People understand, or think, single malts are better, but when it comes to articulating 'why', their reasons are probably not very rational," he says. "They're probably more emotional."
As for Edrington's flagship blend, he admits: "We don't have a huge focus on Famous Grouse. There's a hugely competitive environment here with Diageo and Pernod Ricard, and I would say 'it's probably not our fight'."
It is a similar situation with Dewar's, a top-selling blend in America yet "almost invisible" in Mexico, concedes Susana Salazar, comms director for Latin America at brand-owner Bacardi.

Its key priority is William Lawson's which "is going through a deep re-engineering after three years of a down trend," Salazar explains. "We're just planning a comeback for this important brand – indeed, the second most important business for us in Mexico after Bacardi rum. I'm convinced that next year we'll have very interesting things to share about William Lawson in Mexico."
Mainstream blends could certainly do with that here. While Buchanan's Black & White "had a fantastic year last year," according to Juan Campos, he predicts the blended category will continue to struggle, partly because the brands don't really fit what he calls the "discernment moment". By this he means that Mexican consumers may have been undiscerning at home during lockdown, but once out in a bar they are much more conscious of being seen with the right drink.
"Wherever you go, Macallan will always be served, bringing the bottle to you, and that's super-Mexican," claims Campos. Order a Johnnie Walker Red and soda, and you will just be given a glass.
Yet, while status is obviously a very powerful driver, Scotch whisky's broad base in Mexico is destined to remain its standard blends which must broaden their appeal and attract a younger more diverse audience. Walking away from the fight like Famous Grouse suggests the category's volume decline may become self-fulfilling. Let's hope not.
Front Page Image:

Award-winning drinks columnist and author Tom Bruce-Gardyne began his career in the wine trade, managing exports for a major Sicilian producer. Now freelance for 20 years, Tom has been a weekly columnist for The Herald and his books include The Scotch Whisky Book and most recently Scotch Whisky Treasures.
You can read more comment and analysis on the Scotch whisky industry by clicking on Whisky News.