Friday 13/8/2021 09:08 Ian Fraser
'Absolutely Committed to Scotch': Diageo's Big 2021 Bounceback
No whisky brand is bigger than Johnnie Walker, and no Scotch producer outsells Diageo. So why does a bottle of tequila grace the front of its latest annual results? Ian Fraser reports for WhiskyInvestDirect...
TEQUILA brands have outshone Scotch whiskies for drinks giant Diageo (LON: DGE) since the start of the Covid-19 pandemic, even featuring prominently on the front cover of the group's 2021 annual report.
Sales of Tequila Casamigos and Don Julio surged 79% in the year to 30 June, compared to a 15% rise in sales of Diageo's Scotch whiskies over the same period which didn't quite mop up the 17% fall in the previous twelve months.
Time to up the ante on Tequila? Time to prioritise Mexico over Scotland, perhaps?
Well, not if you are Ivan Menezes, Diageo's CEO, who quickly reaffirmed his faith in whisky.
"We are absolutely committed to Scotch – big time," he declared on the day the company unveiled an eight per cent rise in full-year net sales to £12.7 billion and a 74.6 % leap in reported operating profits to £3.7 billion.
"Diageo, as the market leader in Scotch, is committed to keeping this category vibrant, recruiting, and building for the next generation," he continued.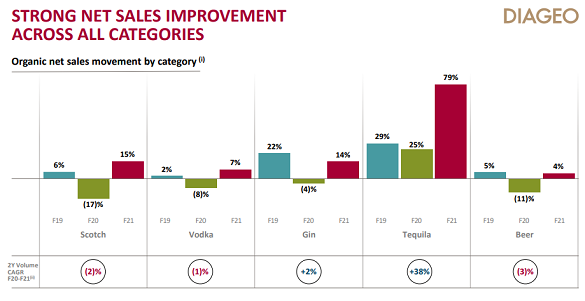 "Overall, the whisky trends around the world have stayed very positive. Young adults who are turning legal drinking age are increasingly turning to whisky and to premium whisky. And within that our Scotch whisky portfolio is well-positioned. We feel very good about the future of Scotch."
Menezes also said the trend to drink "better, not more" is helping, with the group's top-of-the-range "reserve" brands – whose whiskies include Johnnie Walker Blue Label (yours for £125-plus in the UK) and The Singleton malt brand – growing by 36%, and today accounting for a quarter of group sales by value.
At the accompanying press conference, Menezes outlined the scale of the firm's investment in its Scotch business, ranging from £185m poured into the Johnnie Walker Experience – opening on Edinburgh's Princes Street on September 6th – to enhanced distillery visitor centres from Clynelish to Glenkinchie; the reopening of 'ghost' distilleries at Brora and Port Ellen; continued heavy marketing and advertising spend on Johnnie Walker and other Scotch brands; and a major investment programme to ensure production and packaging are much more environmentally sustainable.
Menezes admitted, however, that Scotch – which today accounts for 23% of Diageo's annual sales, or just shy of £3bn – has been more seriously affected by Covid than other categories in its portfolio.
"The pandemic's impact on Scotch was more severe because of three factors.
"First, global travel, which disappeared and is coming back slowly; secondly, our Scotch whisky business is disproportionately strong in the emerging markets and they were more severely impacted, and that is coming back fast; and thirdly, Scotch is more on-premise dependent than other forms of whisky and spirits, and the on-premise took a bigger hit.
"So, it's a temporary dislocation. It is going to come back and it is a very attractive category."
But Menezes also said that Diageo has adapted to lockdowns and other Covid-related disruptions by "understanding consumer needs", focusing on "premiumisation", and accelerating its use of e-commerce.
Speaking from the boardroom of Diageo's London HQ, he highlighted the success of its US$100m 'raising the bar' recovery fund, which has helped more than 30,000 pubs, bars and restaurants get back on their feet post-lockdowns.
In the US, Diageo's biggest market, Scotch was up 18% in the 12 months to end-June, more than recovering 2020's drop of 9%, with Johnnie Walker up 19% on the back of 'premiumisation'.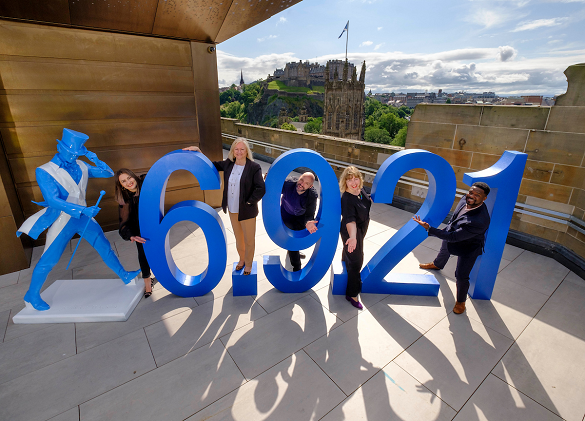 US sales of Buchanan's grew 40%, propelled by what Diageo called "commercial interventions in key states," and "a more effective media plan to recruit target consumers".
But US sales of Diageo's single-malts fell by 13% largely due to Trump's 25% tariffs imposed in October 2019 and finally suspended this March. Menezes said: "We obviously welcomed the fact that the US and the UK were able to reach an agreement on removing [the tariffs]."
Diageo's Scotch brands also performed well in other parts of the world. Sales were up 24% in Northern Europe, driven by Johnnie Walker and malts. In Turkey, sales rose by 94% on the back of strong off-sales, particularly of Johnnie Walker. In Brazil, Paraguay and Uruguay, Scotch sales jumped 66%, with double-digit growth in Johnnie Walker and triple-digit growth in White Horse. In China, thanks to single malts and super-premium variants of Johnnie Walker, Scotch was up 21% on the back of what Diageo calls "route to market expansion".
Worldwide, net sales of Buchanan's saw a 29% bounce on last year's 14% plunge, driven by strong growth in North America, Latin America and the Caribbean. But overall, global sales of Johnnie Walker Black Label grew at a more pedestrian 6% having sunk by 29% in the first year of Covid.
Menezes was phlegmatic about the fact that Jane Walker, another variant targeting female drinkers launched in February 2018, has been dropped. "It wasn't a permanent introduction," he said. "We had it as a limited time offer. We do interesting things with Johnnie Walker on and off. It had a very positive impact and you'll see more things happening on Johnnie Walker in the next few years." That desire to innovate and really invest in the brand goes a long way to explain why the 'Striding Man' is many strides ahead of his nearest rival.
Sophie Lund-Yates, equity analyst at investment group Hargreaves Lansdown, said Diageo has "come out of the pandemic in remarkably resilient shape. It's now poised to make the most of the re-opening of Europe's bar and nightclub scene."
However, she warned the company could "face a headwind" from a long-term fall in the number of people actually wanting to club the night away.
Diageo's importance to Scotch whisky is hard to overstate, and the feeling appears to be mutual. For the industry's biggest player, the category is not quite back to where it was in 2019, but the momentum looks good and the company's commitment even better.
Front Page Image: