Friday 4/9/2020 11:04 Tom Bruce-Gardyne
Innovation in Scotch Whisky: Who, What and How?
Stung by accusations of past complacency, Scotch distillers are determined to show how innovative they can be, reports Tom Bruce-Gardyne for WhiskyInvestDirect...
IN THESE febrile times, the long-term nature of the Scotch whisky industry may well be its saving grace.
Consider the millions of litres of spirit that will be distilled across Scotland this year. Under the law, they cannot be bottled as Scotch until 2023 at the earliest.
By then we might even have a vaccine for Covid-19 and be the far side of this impending global recession – here's hoping.
The slow rhythms of production are reflected in product innovation. With single malts, distillers have been endlessly creative with maturation. "Wood is definitely the biggest single factor in flavour, and it's also the quickest way to get a product to market for sure," says Brian Kinsman, William Grant & Sons' master blender.
You can finish a malt in an exotic cask for three months before it goes on sale, whereas an experiment with peated barley or a new strain of yeast might take a decade or more before it ever saw the light of day.
Among blends, so-called 'innovation' is often more about the packaging than the liquid and actual new brands have been in short supply. However, there have been some genuinely fresh to market blends in recent years, including Compass Box's Great King St, James Eadie Trademark X blend and Whyte & Mackay's Woodsman.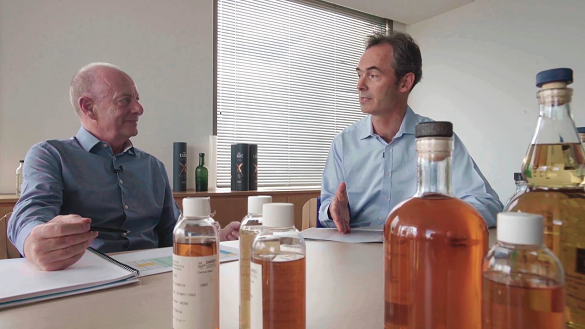 In terms of innovation's long tail, Sandy Hyslop, director of blending at Pernod Ricard's Chivas Bros, claims to have experiments in his warehouses dating from the days of Allied Distillers before its takeover by Pernod in 2005. His opposite number at Diageo, Johnnie Walker's master blender Dr Jim Beveridge OBE, talks of "a pipeline of trials that may or may not work."
Beveridge insists he feels no constraints from his corporate bosses, in fact quite the opposite. "I'm encouraged to innovate and look at things differently," he says. "But you need to have a purpose behind innovation. It's really important it isn't just for the sake of it – the motivation must be around consumer choice."
And in that regard, as Beveridge told WhiskyInvestDirect in May, "Scotch cannot afford to sit still."
Arguably the industry was not just sitting still, it was asleep at the wheel during its post-war boom in the US. In those suburban, Kodachrome years of the American Dream, consumers stayed true to their chosen brand of tobacco, automobile and Scotch. Whisky brands snuggled down with their loyal fans and failed to recruit new drinkers who were being weaned onto vodka.
The millennials who followed are noticeably more fickle and demanding than previous generations. So today, such complacency has been banished, at least according to the industry's big players who insist their scale benefits this newfound drive for innovation compared to the small guys.
"There's a strong desire for us to do really pretty radical stuff," says Brian Kinsman at Grant's. "The difference is as and when we do things, we're not compelled to release them. If you're smaller you might be compelled because it was too big an investment to park."
As he says: "you need a lot of failures to get a success, but you always learn from innovation and build on it." Whatever doesn't work can be blended away in one of your many Scotch blends if you are the size of William Grant's or Diageo. And that's not an option available to the new generation of standalone distillers.
Inevitably talk of innovation brings up the debate over Scotch whisky's tight regulations. In the words of Paul Miller, founder and CEO of the Eden Mill brewery & distillery: "The current rules suit the big companies who can often experiment with their Irish, Japanese or American whiskeys and leave Scotch alone, leading to missed opportunities through a lack of innovation."
It is a charge flatly denied by the big guys. "The variety of flavours in Scotch are far greater than lots of those other categories, and the options for innovation are also far greater," says Jim Beveridge. At Chivas, Sandy Hyslop has never been told that one of his many trials would be better suited to Pernod's Irish whiskey Jameson's, for example.
Hyslop goes on to explain what he calls 'the push-pull process' of innovation at Chivas. "Marketing will come to me with an idea and say 'What d'you think?' and I'll go away and make it happen. But I'm really encouraged to do experiments that are not associated with a brand and put them to marketing," he says. Personally, he finds the rules on Scotch "a little bit frustrating, but they're also quite comforting."
Behind the scenes is all the innovation to maintain consistency and boost efficiency which some of the big distillers may have pushed too far. Talking about experimenting with yeast – which can definitely change a whisky's character – Ian Palmer of InchDairnie distillery says: "If you go for flavour you will lose efficiency and place consistency at risk." Because established brands are loathe to meddle in this area, least of all for their core expressions he says: "the opportunity lies with those who don't have a history, people like me who have no baggage."
In truth there is real innovation coming both from the smallest dolls house distiller to the biggest corporate whale, and long may it continue. Because this creativity will keep Scotch exciting and relevant to consumers who now have more choice than ever before.
Award-winning drinks columnist and author Tom Bruce-Gardyne began his career in the wine trade, managing exports for a major Sicilian producer. Now freelance for 20 years, Tom has been a weekly columnist for The Herald and his books include The Scotch Whisky Book and most recently Scotch Whisky Treasures.
You can read more comment and analysis on the Scotch whisky industry by clicking on Whisky News.