Friday 11/9/2020 10:56 Ian Wisniewski
What's In The Box? The Role (and Risks) of Packaging Scotch Whisky
Johnnie Walker is trying a whole new look for his 200th birthday. What role do design and packaging play in a Scotch whisky's success? asks Ian Wisniewski for WhiskyInvestDirect...
The JOHNNIE WALKER striding man is a globally-recognised icon that can now be seen bestriding limited-editions celebrating the brand's 200th anniversary.
The styling of these bottles breaks with the brand's long-established look however. It follows last year's innovative limited edition, when the striding man was strutting about in armour on an icy white and blue label, playing 'White Walker' to surf the popularity of cult TV series Games of Thrones.
That marketing tie-up was sorely missed this year according to Diageo's CEO Ivan Menezes. Announcing DGE's latest 12-month results in August, he said sales of the brand tumbled 22% year-on-year thanks to Covid-19 and because, in Menezes' words, it was "lapping last year's highly successful innovation of White Walker."
Will this year's bicentennial packaging spur a rebound? What does it take for a Scotch bottle's design to win sales anyway?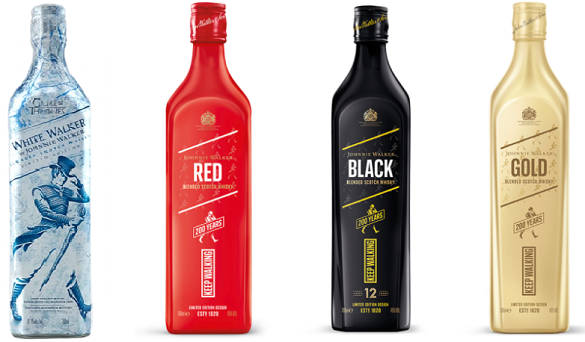 "The competition is brutal," says Kevin Shaw, founder of design consultancy Stranger & Stranger, "so the job of the packaging is to get noticed in the first place and that takes an understanding of the shelf space and competitive set, knowing where the pack will sit and what will likely be next to it.
"After that the packaging needs to communicate the product and the story – and it needs to do it fast because consumers scan quickly – so that someone might pick up the bottle and start the discovery."
Designers can begin by questioning the product: "We ask why anyone should care," says Shaw. "It's a pretty brutal question and asking people what they stand for can lead down an existential wormhole, but it helps focus everyone on the real issue: the consumer.
"What do we want people to think about your product? Why is it better? Why should they try it? What's the story? And are you the only ones saying this?"
Brand-owners also have plenty to tell designers. "They must feel the soul of the whisky, to ensure it's displayed in the correct manner and gets full recognition," says Richard Paterson, master blender, Whyte & Mackay.
"It has to create an emotional response in the consumer and reflect what they're paying for. If you have the right packaging from the beginning, you can command a price and maintain it. If you start with lower quality packaging and then improve it subsequently, you're sending out a mixed message and it takes years to get consumer confidence."
To create a bespoke bottle, "the mould tooling costs about £30,000 and generally amortizes, versus a stock bottle, at around 100,000 units," says Shaw at Stranger & Stranger. "Then there's the label which is relatively cheap, pennies, and the capsule or closure. You get what you pay for."
Once the countdown has begun, more dialogue follows. "We receive an initial design within a month, which is a mood board, followed by a more detailed design," says James Saxon, assistant whisky-maker, Compass Box.
"The challenge is to get the architecture and level of detail right. Packaging for limited-editions is more representative of the time it was released, and once sold out the packaging doesn't have to speak to consumers year after year in the way a core expression such as Spice Tree has to."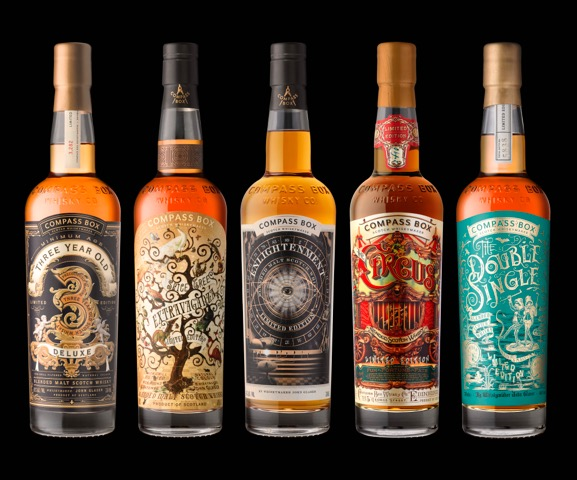 Another strategic use of packaging is to segment a brand portfolio. "You can differentiate the 12, 15, 18 and 21-year olds by tweaking the same design," says Paterson at Whyte & Mackay. "But the 25-year old and above need a dramatically different and enhanced look, as this is within the rarity sector."
For high-end deluxe whiskies 'the look' increasingly involves a decanter. "Ultra-premium decanter presentations really kicked off in 2010," says Scott Davidson, new product development director, Glencairn, "with Asia and Russia the main drivers. Then [the decanter] went global as it became highly desired and ultimately established with collectors and whisky lovers.
Bespoke, hand-blown decanters typically take 9-12 months to develop, and can account for 20-30% of the total product cost. But 'decanter-isation' has enormous potential: creatively and commercially.
"There is much further we can go with design," says Davidson. "We're being pushed to do this, and we push our customers. A decanter presentation used to be a flag flying exercise for a company, now it's a massive brand building opportunity and a long-term revenue stream in its own right that delivers serious profit."
Quantifying the influence of packaging on sales volume would be impossible, although fascinating. But the broader 'appearance' of a brand can clearly impact demand for the liquid itself, no matter how famous its quality.
To return to 'White Walker' and its impact on the world's No.1 Scotch whisky brand, was its success down to its look, the consumers' love for Game of Thrones, the flavour of the blend, or simply its novelty?
Diageo appears to hope it the packaging played a part, but while "you can spend a fortune developing packaging," says Richard Paterson at Whyte & Mackay, "you must get the return and you must get the consumer to like it.
Indeed, "some people are suspicious of extravagant packaging. There are so many different criteria to think about. It's not easy to appeal to various sectors."
Ian Wisniewski is a freelance writer and leading authority on spirits, with a focus on Scotch whisky. Over the course of his two decades covering the industry he has published seven books, including the Classic Whisky Handbook, and has contributed to publications such as Whisky Magazine, The Times, The Malt Whisky Yearbook and Scotchwhisky.com.
You can read more comment and analysis on the Scotch whisky industry by clicking on Whisky News.