Friday 23/10/2020 09:01 Richard Woodard
Young, Wealthy, 40% Female: Taiwan's Evolving Taste for Scotch Whisky
Taiwan began with blends, moved onto vatted malt, and now has a real sophisticated passion for single malt – preferably at cask strength. Richard Woodard reports for WhiskyInvestDirect...
WHAT is Taiwan?
It gives every appearance of being a sovereign state, but it isn't a member of the UN.
To China, it's a renegade province that should be reintegrated with the mainland – by force if necessary, as the world has been reminded recently.
And to Scotch whisky? It is a template of how to build an export market of increasing sophistication.
Taiwan's thirst for Scotch – it was the fourth biggest market by value last year, according to HMRC whisky export figures collated by WhiskyInvestDirect, worth £205m (up 22% on 2018) – has its roots in the island's rapid post-war economic development, known as the 'Taiwan Miracle'.
In recent decades, it has proven to be the most resilient of the four 'Asian Tiger' economies, with a wealthy, highly urbanised population of about 24 million people and a paradoxical relationship with the People's Republic of China.
For all the obvious differences, Taiwan has been a lead player in its vast neighbour's industrial development, investing an estimated US$150bn, with about 10% of its labour force working on the mainland.
"Forty years ago, this was a Cognac market, not Scotch, for wealthy consumers," says Mike Cottingham, CEO of Taipei-based drinks importer Cottingham Ltd and a veteran of the market.
"There was a sea change when Taiwan changed tax rates in early preparation for WTO entry in 2002." As tariffs fell, the big Scotch blends could afford to invest, and invest they did.
The early Scotch market was not really built on category knowledge. "There arose a strong recognition of a few big whisky brands, even though the consumer might not even know what Scotch is, and certainly would not know what single malt is," Cottingham says.
David King, now international sales director at independent bottler Gordon & MacPhail, saw this consumer behaviour for himself back in the 1990s. "I vividly remember being in the Park Hyatt in Taipei," he recalls. "There were four people sitting at a table. The ladies were drinking Lafite, or possibly Latour, and the guys had a bottle of Macallan 25."
There was also Coca-Cola on the table – and it was being liberally mixed with both red wine and single malt.
"It was a big thing for Taiwanese people to go into a Western hotel or restaurant," says King. "The whole point was that (a) they were there and (b) they could afford the most expensive thing on sale."
However, it wasn't Macallan – with or without Coke – that broke the blends' dominance, but vatted or blended malt. While an esoteric niche elsewhere, in Taiwan the combination of recognisable brand names with the cachet of 'malt' resonated hugely with consumers.
Cottingham recalls: "Between 2002 and 2005, we took Ballantine's Pure Malt from 600 nine-litre cases per year up to 28,000. We did that by emphasising that this was malt whisky (even though the consumer did not know what 'malt' was). We simply told them that this was 100% malt, whereas blends were only 50% malt."
Having adopted vatted malt, now the market has developed further again. In 2019, for the first time, more bottles of single malt than blends were shipped to Taiwan.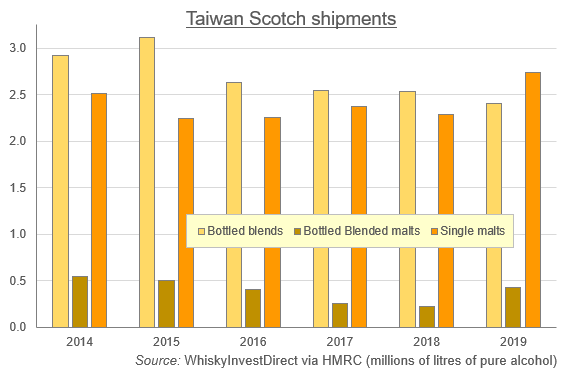 The value of single malt exports there has more than doubled to £126m over the past decade, while blended malts have plummeted to a relatively paltry £8m.
What is more, no one brand has dominance. Where malts were once all about Macallan (and, more recently, Diageo's umbrella Singleton brand), now the market is increasingly fragmented.
"They're very much into bottling single casks at cask strength," says King. "Our lead product there is Benromach 12 Cask Strength, but we don't really do it anywhere else. They're big fans of the really old stuff too – 50, 60, 70 years old – and we'll find customers – wholesalers usually – that will buy the whole outturn of a cask."
For Cottingham, this illustrates the psychological evolution of the Taiwanese whisky consumer. Breaking away from the taste of their parents, younger consumers have the wealth and the inquisitive nature to explore the world of single malt.
"It used to be that one person in a group would say: 'I'll have a Heineken,' for example, and all the rest would say: 'Me too,' due to a lack of knowledge and the desire to fit in," he says. "No longer. We see that change in personal choices of single malt, or craft beer. They have the confidence and curiosity to discover what they really like."
The presence of a domestic whisky industry – multi-award-winning Kavalan, and now state-owned Nantou – has if anything cemented this love of Scotch. After all, almost everything at Kavalan's King Car distillery comes from Scotland, including the stills.
The result of decades of evolving tastes is a Scotch whisky market that is one of the most sophisticated on the planet. It is also, as anyone who has attended one of its huge whisky shows will attest, one of the most diverse. "The crowd at these events is young, it's diverse, there's boys and girls, there's a lot of energy," says King. Cottingham reckons that about 80% of attendees are younger than 50, and 40% are female.
Young? Wealthy? Gender diverse? That's the kind of demographic that Western whisky event organisers and brand owners dream of. Maybe they could learn a lesson or two from a visit to Taiwan, whatever its geopolitical status.
Richard Woodard has been writing about spirits and wine for 20 years, editing and contributing to a number of magazines and websites, including Decanter, The Spirits Business, just-drinks.com and Club Oenologique. He was also one of the founding editors of Scotchwhisky.com.