Friday 3/7/2020 10:37 Richard Woodard
Boom, Bust, Bulk: The History of Scotch Whisky in Japan
Whisky's early success in Japan is shrouded in legend, reveals Richard Woodard for WhiskyInvestDirect, and the 4th largest Scotch export market is only a little less mysterious today...
ON PAPER Japan is a huge importer of Scotch, the fourth biggest in the world.
But the reality is more complex than that may sound, because three-fifths of those exports travel in bulk containers, not bottles. This puzzle extends a tradition of mystery running back to whisky's first appearance in the island-chain nation.
When in the mid-19th century Commodore Matthew Perry sought to open up the notoriously isolationist country for trade with the US, he took whisky – a lot of it – to sweeten the deal, but it was of course American in origin.
Legend then has it that when Japan's Iwakura trade mission (1871-3) returned from Scotland, its diplomats brought home a case of Old Parr blended Scotch, procured from Cragganmore distillery on Speyside. But since Cragganmore was only built in 1869, and Old Parr wasn't registered as a trademark until 1909, this seems somewhat fanciful.
What there can be no doubt about is that, as the Japanese people opened their eyes to the wider world, they began to embrace products from overseas, including whisky. And they loved it. So much so that they wanted to make their own.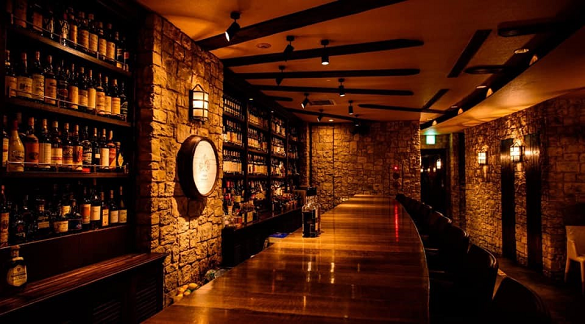 Initially the process was artificial, combining base spirit with additive flavours in a lab. Thanks then to the efforts of early 20th-century pioneers Shinjiro Torii and Masataka Taketsuru – founders of what remain the two biggest makers of Japanese whisky, Suntory and Nikka – the nation's young domestic industry turned to the conventional process.
By the time that David King, now international sales director at independent bottler Gordon & MacPhail, first encountered Japan in the mid-1990s, whisky was big business in Japan. But there remained an 'old school' feel to meetings: translators, formality, smoking, geishas. And just as Scotch had been one of the luxurious trappings of Japan's phenomenal economic growth during the 1980s, so now – with the bursting of that economic bubble in 1991 and subsequent recession – it was viewed as a symptom of the country's malaise.
"In many ways, we as an industry broke it," says King. Distillers had ruthlessly exploited Japan's culture of gifting, producing ever more luxurious one-off bottlings housed in ceramic decanters and wooden boxes, and sold for eye-watering sums.
Cynical pricing, plus the economic recession and also Japan's growing confidence in its own whisky industry, conspired to kill consumer demand for blended Scotch. Yet importers carried on ordering new stock, afraid of losing face with their Scottish suppliers, and this led to a massive hangover of supply that sent domestic Japanese prices spiraling downwards.
Salvation came, unwittingly, from those domestic Japanese distillers.
The drink that made whisky great again in Japan was the mizuwari, a kind of highball combining whisky with cold water and ice in a tall glass. It appealed to Japanese palates used to consuming cold beer, or traditional shōchū spirit with fruit juice, alongside food.
The runaway success of the mizuwari, coupled with a price war between some of the big Japanese distillers, saw demand run way ahead of supply – at precisely the time, in the early 2010s, that the world at large discovered the quality and distinctive character of Japanese whisky.
Soon stocks were running dry and age-stated products were withdrawn from sale. Scottish (and North American) distillers happily stepped into the breach, supplying larger bottles (made of PET plastic, not glass) with labels in Japanese to ease entry into the crucial izakaya on-premise accounts – casual bars where much of the serious mizuwari drinking is done.
The resulting increase in Scotch whisky shipments to Japan over the past decade is astonishing. According to HMRC figures collated by WhiskyInvestDirect volumes have increased by 280% since 2010 to the equivalent of more than 60m bottles in 2019, and value is up almost 150% to nearly £150m.
But there's more to Scotch's Japanese revival than successfully muscling in on the mizuwari. Japan's own whisky laws are notoriously lax – in fact, they're practically non-existent. A bottle labelled as "Japanese whisky" could, quite legally, be entirely made up of bulk spirit imported from Scotland or Canada, or contain only 10% whisky combined with neutral spirit. And as supply outstripped demand, these practices have become commonplace.
You can see the result in the detail of the Scotch whisky shipment figures. Yes, shipment volumes of bottled blends between 2010 and 2019 rose 140% to 20.9m bottles, while single malt surged up 114% to 3m bottles.
But the figures for bulk Scotch shipments are mind-boggling.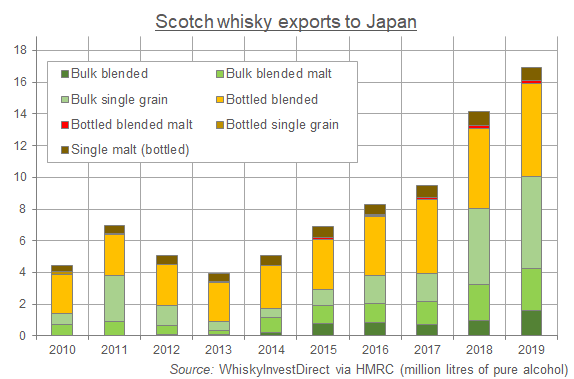 Volumes of blended Scotch shipped in bulk containers are up by 27,000%, from the equivalent of a paltry 21,000 bottles in 2010 to 5.6m bottles last year. Meanwhile, bulk single grain shipments are up 732% to the equivalent of more than 20m bottles. And an awful lot of this Scotch then vanishes, morphing into so-called "Japanese" blends that are nothing of the kind.
From a branding view however, it would be a mistake to think that Scotch and Japanese whiskies are entirely interchangeable in consumers' minds. "They're definitely seen as different," says King. "Scotch is part of Japan discovering international brands post-war, such as Marlboro or Levi's. There's still a clear distinction between domestic and international product."
This continued discernment is shown by the insatiable thirst for unique single-malt Scotch bottlings, preferably single cask, cask strength and from independent bottlers like Gordon & MacPhail, seen in Japan's top-quality bars, away from the izakaya drinking dens.
"It's the easiest Japan job I've ever had," says King. "I would say the average RSP [recommended selling price] equates to £250 in UK terms. They love Mortlach, Longmorn, Strathisla – classic Sherried Speyside – and they're very particular about the quality of the packaging. All the indie [bottlers] are doing really well."
There is optimism too in the demographic that hankers after these unique whiskies. "They're very, very nerdy about knowledge, and there are a lot of whisky clubs," says King. "But the market is definitely getting younger and much more mixed – there are a lot more women getting involved and attending whisky shows, especially compared to Europe."
Japan and Scotch whisky have a long, complicated and sometimes difficult relationship – but, for all the challenges and cultural differences, that relationship has arguably never looked more harmonious and promising than today.
Richard Woodard has been writing about spirits and wine for 20 years, editing and contributing to a number of magazines and websites, including Decanter, The Spirits Business, just-drinks.com and Club Oenologique. He was also one of the founding editors of Scotchwhisky.com.