Friday 27/3/2020 12:59 Ian Wisniewski
Scotch Whisky Barrels: What's Happening In Wood?
With the virus crisis likely to hit Scotch whisky output, shipping and retailing, Ian Wisniewski looks at one part of the supply chain already being affected: oak barrels and casks...
2020's global virus crisis is clearly set to impact the Scotch whisky industry. But while the hit to consumption won't become clear for some time, new production is already facing big challenges.
Distilleries were applying work-from-home policies even before the Government's official lockdown last Monday. Now they're offering to switch production to make ethanol for hand sanitiser.
This comes as another key part of Scotch production sees its first shutdown, with the temporary closure of Speyside Cooperage as a precaution against spreading the novel coronavirus.
Repairing, reconditioning and remaking barrels for the drinks industry, cooperages are major suppliers of casks for Scotch maturation. How many other cooperages will close, and how long for? Will this reduced flow force distilleries to revise filling schedules?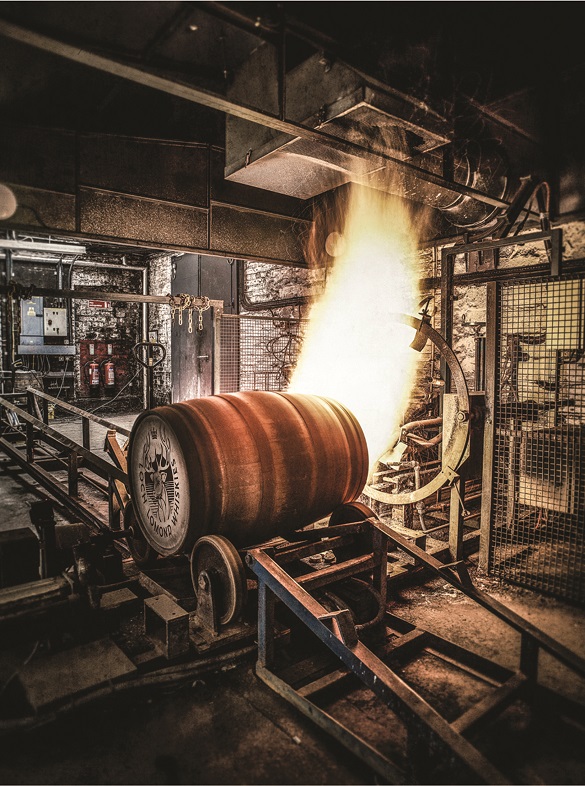 While we wait to see the impact, we can in the meantime look at how these relationships usually work, the better to understand the vital role played by barrel supplies to the production of mature Scotch whisky.
The collapse in global trade will certainly be hitting inflows of barrels from the United States, from where Bourbon barrels have become the mainstay of the Scotch industry since the 1930s, when F.D.Roosevelt's New Deal to fight the Great Depression included a law to create demand for US timber – and also create work for US cooperages – by banning the re-use of any cask.
Today, this constant flow of second-hand Bourbon barrels starts at £90 each. At that price the casks aren't inspected by coopers prior to shipping, and so some repairs in Scotland (at the distiller's expense) will be inevitable. Prices peak at £200 each for barrels inspected prior to shipping.
"Five years ago there was an issue with supplies of Bourbon barrels," says Michael Henry, Master Blender, Loch Lomond Group, partly because so many tequila and rum producers were also sourcing them.
"But production of Bourbon has increased, making more casks available to other producers. Additionally, more large-scale cooperages have opened in the USA in the past five years, which has increased the number of casks that can be produced annually."
However, the customer base for seasoned casks could increase significantly, because a growing number of American malt whisky distillers are lobbying to change FDR's Great Depression regulations, to allow the use of seasoned casks. This would potentially reduce availability for Scottish distillers, even as ever-more producers throughout the wider whisky world are also chasing Bourbon barrels.
Sherry casks in contrast are rarely acquired as ex-ageing stock. Instead, the norm is a 'seasoned to order' arrangement, with master blenders specifying the style of Sherry used, and length of the seasoning period. Consequently, distillers guarantee supply without being affected by other issues in the industry. Prices are £400-500 for a hogshead (250 litres), and £700-1,000 for butts (500 litres). Learn all about different whisky casks and barrels here.
Forward planning, and catering for eventualities is integral to any master blender's job, with 'wood management' a vital phrase and a philosophy. 'Wood' refers of course to oak casks, without which Scotch whisky has no future, while 'management' makes it all happen, as it includes negotiating contracts, prices and quantities with a cooperage at least 2-3 years in advance.
Wood management is also highly creative. Scotch whisky regulations allow oak casks previously used to mature ale/beer, wine, fortified wine and spirits, with each cask type contributing an individual flavour profile. Consequently, continued innovation relies on access to a broad range of casks, beyond the two pillars of the industry: Bourbon barrels (adding vanilla, caramel, coconut notes) and Sherry casks (raisins, dried fruit and rich sweetness).
Wood management began a dynamic new era in the 1990s, when Glenmorangie and Balvenie pioneered 'special finishes'. This meant transferring malt matured in Bourbon or Sherry casks into other cask types to gain additional flavours during a 'finishing period.' Port casks for example add damsons and sloes, with Port and other innovative casks subsequently used for full-term maturation.
Different species of oak beyond the usual American and European (typically French or Spanish) is another approach, as each species has an individual influence. Scottish oak casks for example have hosted Scotch whisky, while Swedish distiller Mackmyra and various Irish whiskies have also filled indigenous oak.
"Buying casks that are seasoned to order is the easiest option, though the seasoning process is around 2-3 years, so you have to cover yourself for the minimum quantity in advance. Ex-ageing stock is less expensive but also less available, usually only when a bodega closes," says Michael Henry at Loch Lomond.
Virgin casks (ie, unused) offer an alternative, carrying more intense influence than casks previously seasoned with Bourbon or Sherry. So too do smaller casks such as octaves (50-55 litres) and quarter casks (125 litres).
Because these innovations influence flavour they play a genuine role, and so will inevitably continue. Cask selection provides another advantage: a story to tell, which can certainly help sell a whisky. And while production stories are ever more comprehensive, one detail that could be a focal point is often omitted.
"It's often not possible to name the source of the casks, though not doing so is also a practical safeguard for both parties. You never know what negative publicity might arise, and it's vital to control your image and protect your reputation," says Brendan McCarron, Glenmorangie's Head of Maturing Whisky Stocks.
Availability of other cask types varies enormously, with Madeira casks for example in short supply, while other cask types are still waiting to be explored. Even after 30 years of innovation in Scotland there's still more to do. And that's what whisky lovers expect.
"The pressure to come up with something new is constant," says Sandy Hyslop, Director of Blending, Chivas Brothers. and using different cask types is one way of doing this, though any innovative expressions need to be discernibly different from the regular offering when tasted side by side."
More innovation in the wood used to hold and help mature Scotch whisky may become necessary if those US regulations do change. But flexible management is sure to become more urgent as the current crisis first unfolds and then starts to recede.
Ian Wisniewski is a freelance writer and leading authority on spirits, with a focus on Scotch whisky. Over the course of his two decades covering the industry he has published seven books, including the Classic Whisky Handbook, and has contributed to publications such as Whisky Magazine, The Times, The Malt Whisky Yearbook and Scotchwhisky.com.
You can read more comment and analysis on the Scotch whisky industry by clicking on Whisky News.