Friday 22/1/2021 11:52 Tom Bruce-Gardyne
'Mine, All Mine!' How Not to Save Money or Speculate in Rare Casks of Scotch Whisky
While most whisky fans collect miniatures or chase full bottles online, some high-rolling buyers now want to hoard whole barrels, reports Tom Bruce-Gardyne for WhiskyInvestDirect...
A FAMOUS scene in Ken Loach's 2012 film 'The Angel's Share' – currently available on BBC iPlayer – features a cask of extremely rare whisky being auctioned at a distillery.
This was a conceit to fit the story concedes Charlie Maclean, the renowned whisky writer who stars in the film more-or-less playing himself.
Back then you would never have seen a barrel of Scotch auctioned. But you do now.
"Yep, it's another case of life imitating art," says Charlie.
Over time whisky collectors have supersized from miniatures to full bottles to owning a whole cask, or at least dreaming of it. And with well-healed collectors paying ever higher prices, the industry is increasingly predisposed to assist.
At first the spirit a barrel contains will be identical to all the neighbouring casks in the warehouse filled on the same day. But over the years it will evolve into a totally unique whisky. By getting your hands on the contents of an entire cask you can have it all to yourself – around 250 bottles from an ex-Bourbon barrel.
Can this save Scotch whisky fans money? Last February the Grand Whisky Auction in Invergordon sold a cask of 11-year old Bruichladdich for £9,600. That works out at £38 a bottle, until you realise that it doesn't cover transport of the cask from the distillery, then bottling, labelling, or the duty and VAT.
Once you've added those, the price mushrooms to over £19,000 or roughly £75 a bottle which is altogether less of a bargain.
Andy Simpson, co-founder of analyst and broker Rare Whisky 101, first spotted casks being auctioned 18 months ago. "It's not very popular [with the whisky industry] or scalable," he says.
However, the industry itself is increasingly happy to sell casks to private clients, and it is part of the business model for any number of new boutique distilleries to help with cash-flow and build some serious brand loyalty. Nothing will bond you to the Isle of Harris or InchDairnie in Fife for example, so much as owning a freshly-filled cask at the distillery which you can come and stroke, take samples from and eventually have bottled.
Even Diageo, the industry's biggest player, has got involved with its Casks of Distinction (COD) programme. For a company that pumps out millions of bottles of Smirnoff and Johnnie Walker you may wonder why it would faff around with single casks. Tod Bradbury, who runs the programme at Diageo's subsidiary Justerini & Brooks, admits there was scepticism when it launched five years ago. The production team "were looking at us like we'd just landed from Mars," he says.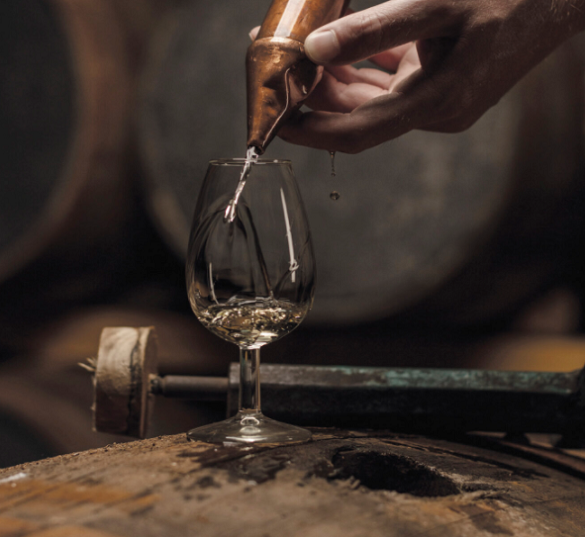 Clearly the value of single casks has soared, especially for COD whiskies that are mostly over 21 years old and hand-picked by Diageo's four master blenders, but it seems it's not really about the money.
For Andy Simpson "it's the way you get your brands on the yachts, onto the shelves of the world's finest bars and into the hands of ultra-high-net-worth individuals [who can] inadvertently become your biggest brand-ambassadors."
Bradbury agrees, saying: "One of my best clients is an American who travels globally and uses his bottles as ice-breakers for gifting, so he's basically taking Scotch around the world for us."
"I would say the majority of our clients are not speculative investment types," he continues, and this tallies with Simpson's view that owning a cask's worth of whisky is about having "some to keep, some to drink and some to gift. If you're buying a Cask of Distinction, you need to be drinking it, you're not going to be selling all 300 bottles, you'd flood the market."
For Gerry Tosh, who runs a similar programme at Whyte & Mackay for Dalmore, "The whole point is the experience. Owning your own cask, watching it mature, being able to pick your own packaging – within reason, and having the brand logo on it, is truly special."
If the conversation turns to investment, he tells the clients: "It's about investment in passion and about something you love." They are expressively advised not to sell the whisky on, though the odd gifted bottle may pop up at auction.
The prices of these venerable casks have inevitably attracted auctioneers and new whisky 'investment' companies who "we avoid like the plague," says Gerry. Invariably these firms play to the speculative end of the market and dangle the latest auction records by whiskies like Macallan as an incentive and perhaps to mask their own high mark-ups.
And some will try and offload casks from new distilleries with purple prose about their 'investment potential' which is untested to say the least.
Needless to say, WhiskyInvestDirect is none of the above. It's not about betting on brands like horses in the National or trying to hit the jackpot at auction. It is about investing in the long-term strength of the Scotch whisky industry and the fact that the stuff itself tends to steadily increase in value as it matures in the barrel.
It's a lot less exciting than pure speculation, but considerably safer.
Award-winning drinks columnist and author Tom Bruce-Gardyne began his career in the wine trade, managing exports for a major Sicilian producer. Now freelance for 20 years, Tom has been a weekly columnist for The Herald and his books include The Scotch Whisky Book and most recently Scotch Whisky Treasures.
You can read more comment and analysis on the Scotch whisky industry by clicking on Whisky News.