Friday 28/8/2020 09:01 Richard Woodard
Covid's Impact on Scotch Start-Ups: A Hole in Your Stocks?
2020's dreadful pandemic is hitting craft distillers badly worldwide. How are Scotch whisky's new start-ups coping in the age of Covid? asks Richard Woodard for WhiskyInvestDirect...
The COVID-19 PANDEMIC has brought tough times to the small spirits makers of the world.
In the US, craft distillers have seen a 41% drop in sales, worth US$700m on an annualised basis, according to a survey released last week by the Distilled Spirits Council of the US. Some 31% of staff – 4,600 people – have been furloughed.
Wherever in the world they're located, smaller operators and start-ups suffer more than most during times of crisis: they tend not to have substantial financial reserves to draw on, they often lack good distribution beyond their immediate locale, and they rely heavily on direct sales to visitors and in pubs and bars – both of which have been severely curtailed by the pandemic.
Among new Scotch whisky operators, production at least seems to have escaped the worst effects of Covid-19. "We have managed to keep going throughout the whole thing which, as a small business buildling a delicate stock profile for future years, has been invaluable," says Annabel Thomas, CEO of Nc'nean distillery, which opened in 2017 on the remote Morvern peninsula in northwest Scotland.
"We are lucky in that we have a huge site and four employees involved in distilling, two of whom are married. All live locally and could easily keep distant."
Others tell a similar story – some, like The Glasgow Distillery, secured key worker status while producing hand sanitiser – but not all. Production was halted at Edinburgh's Holyrood Distillery in March, only restarting in August – something which co-founder David Robertson acknowledges will create "a hole in our stocks".
The impact on tourism has been far more serious, especially as lockdown coincided with the start of the all-important spring/summer season, points out Scott Laing, director of Ardnahoe distillery on Islay, which opened last year.
"We missed out on the Islay Festival, which is the most important week of the year for all of the Islay distilleries, and so that was a blow, given that we had quite a few good events planned," he says.
"About 50% of our revenue came from on-site sales last year, when you add together the shop sales and the tour revenue, mostly concentrated within the months of April-September," adds Thomas at Nc'nean. "And not only a revenue impact, but it also impacts our ability to spread the word about what we do and why."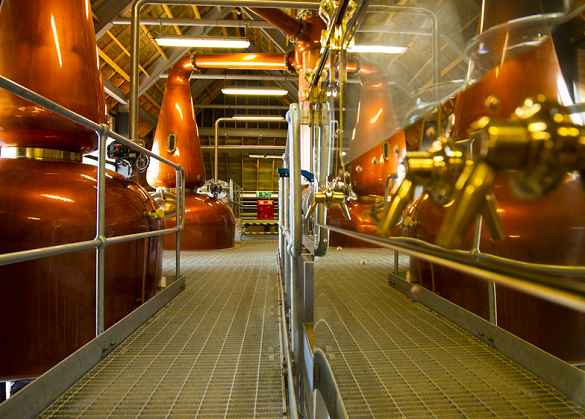 Distilleries have had to adapt their visitor facilities since tourism businesses in Scotland were allowed to reopen in mid-July. Nc'nean's tours are free and restricted because of the ongoing need for social distancing, and it's a similar story at the Borders distillery in Hawick, where director John Fordyce has overseen a move to online pre-booking, and limitations on visitor numbers and tour frequency.
Holyrood's location on the edge of Holyrood Park means that tourism was always a huge part of the vision for the new distillery, so the impact of the pandemic here has been "massive", says Robertson. "All our metrics were looking strong in January, February and March 2020, and we were on track for a wonderful summer season – and then the wheels came off."
As a result, Holyrood has opened a courtyard bar and developed appointment-only visitor experiences, but has still had to lay off some staff – a move which Robertson hopes will only be temporary.
Distillers have had to move fast to find alternative revenue streams. A good chunk of Nc'nean's sales came via bars and restaurants – which vanished overnight with the enforced closure of the on-trade – and through cask sales, also temporarily interrupted. "We have reacted quickly and moved to focus on online sales, which to be honest has been a great thing for us to do, and something we should have been doing anyway," says Thomas.
Cask sales have also offered a bright spot amid the gloom for Ardnahoe, Holyrood and Borders, where Fordyce reports that uptake "remains strong" for 1837, the distillery's private cash ownership scheme.
At The Glasgow Distillery, lost sales in the on-trade have been offset by gains elsewhere, says CEO and co-founder Liam Hughes, including online sales, strong performances in Russia and Asia, and a swift rebound in Germany and elsewhere in the EU.
Despite this resilience and adaptability, help is still needed. The Glasgow Distillery recently secured a £5.5m lending facility with Barclays, and Holyrood has secured funding support from various government schemes, and from its global investor group.
Thomas is highly critical of the Scottish government's refusal to extend business rate relief to distilleries – as has happened in England – complaining that the authorities have been "pathetic slow and haphazard" in their approach to the issue.
However, all is emphatically not doom and gloom. Nc'nean's inaugural bottle of its single malt, Ainnir, recently fetched a world record £41,004 at auction, with proceeds going to five charities, and the distillery's first bottling sold out in a day and a half. "It is definitely not all bad," says Thomas.
"Online spirits sales have grown significantly in many markets, and that's a place where people seem more willing to experiment and seek out new options," adds Rod Gillies, head of marketing at Borders.
"The long-term environment for new, small and discovery brands remains an attractive place, and that's as true in whisky as it is in the wider world of spirits, and drinks, and food, and just about every other consumer category."
Amid the chaos, one thing hasn't changed since early 2020: there is a large and growing base of consumers who appear to be endlessly curious about the rich and varied world of Scotch whisky, and particularly the most recent operators to fire up their stills. Beneath all the concern, optimism endures that Scotland's new wave of distillers still have a very bright future indeed.
Richard Woodard has been writing about spirits and wine for 20 years, editing and contributing to a number of magazines and websites, including Decanter, The Spirits Business, just-drinks.com and Club Oenologique. He was also one of the founding editors of Scotchwhisky.com.