Friday 26/6/2020 10:48 Tom Bruce-Gardyne
Passport, Tickets, Mask: Will Scotch Whisky Enjoy 'Revenge Shopping' in Duty-Free Post Covid?
Scotch whisky accounts for 1/3rd of all spirits sold through 'global travel retail', reports Tom Bruce-Gardyne for WhiskyInvestDirect. What will the world's halting exit from Covid-19 lockdown mean for this high-cost channel...?
The EASING of lockdown heralds a return to the skies and the sound of carrier bags clinking through Departures once more. But in a normal year, airports would already be full of passengers jostling to get past security and navigate a path through duty-free.
For two-thirds of us this confected corridor of perfume, chocolate, tobacco and booze holds no appeal. But those who do shop here effectively subsidise air travel for all, because this is such a serious revenue stream for the airports.
Available figures suggest London Heathrow took £1,719 per square foot in 2019 from the shops on its terminals' 420,00 sq.ft of retail space. That revenue beats even the £1,200 per sq.ft in total earnings reported in 2018 for Harrods, famed as the world's most successful luxury department store.
These figures illustrate how airport owners can charge eye-popping rents on their retailers, who demand similar margins from brand owners in return. Some analysts have questioned whether the spiralling costs of this three-tier system of landlords, retailers and brands is sustainable in the long term. For the Scotch whisky industry however, global travel retail (GTR) enjoys some singular benefits over other markets.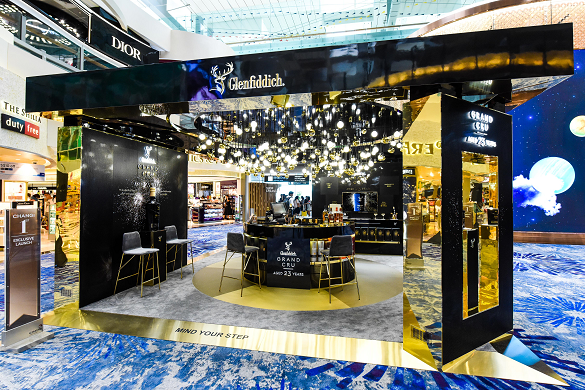 Duty-free has always been a great shop window for brands like Johnnie Walker and Glenfiddich, and it has seemed programmed for non-stop growth in line with passenger numbers. Those flying internationally grew by 400 million between 2014-18, and last year the air industry trade body ACI predicted that total flights would double by 2037.
But then came coronavirus, shutting airports and grounding fleets worldwide.
Ed Cottrell, William Grant & Sons' MD of GTR, says 2023 is "the forecast date" for passenger numbers to recover to last year's level, though he accepts business travel may well be reduced long-term thanks to the boom in video-conferencing. And while whisky tourism to Scotland itself may not re-open quite at the levels the industry was expecting pre-Covid, Barry Geoghegan, founder of Duty Free Global Ltd, is also upbeat about a recovery in duty-free.
"The bottom line is the travel gene in most people isn't going away," he says. "If anything being locked up has caused pent up frustration and there's going to be revenge shopping and revenge travel when it's safe to do so."
The term 'revenge shopping' was first coined about Chinese tourists emerging from the privations of Mao's cultural revolution of 1966-76. Today's would-be travellers may have suffered far less in lockdown, but once people have adjusted to the 'new normal', Barry at Duty Free Global believes they will simply tell themselves: "Okay, I'm travelling now. I've got my wallet. I've got my boarding pass and my mask...Off I go."
Spending could bounce back quickly if China's experience of SARS is anything to go by. When that epidemic struck in 2003 the country's retail sales growth halved to 4.3% in the May, only to recover to its previous rate by July.
Travel retail is extremely important to Scotch whisky, which in turn accounts for a third of all spirits sold there by volume – a dominance it can only dream of on the High Street. Johnnie Walker is the top-selling spirit bar none, with GTR sales pushing 3 million cases last year. That's three times its nearest duty-free rival, Jack Daniels.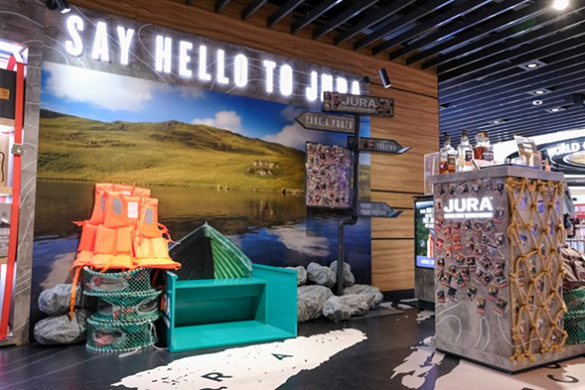 Overall, the top three spirits by value are blended Scotch, Cognac and then single malts, according to Richard Trimby, Whyte & Mackay's GTR director, with that last category growing 11% in 2018. Among regions to watch, he sees massive potential in India, which he believes could one day overtake Taiwan as the most valuable duty-free market for malts
What can travellers expect from duty-free when we tentatively return to the skies? Not free sips of whisky it seems, at least not for a while. "Instead, you'll get the virtual tour of the distillery at point of sale," says Barry Geoghegan. "You'll get the master distiller telling you why using sherry casks gives you something so much richer than bourbon casks."
Ed Cottrell agrees there will be a lot more digital media, but maybe less choice. "Retailers are looking at rationalising their range over the next 12 months, so there may be some contraction in the number of brands in the market, and less innovation in the short term," he says.
GTR has always been a highly innovative market for Scotch, where distillers can test out new products before rolling them out into the wider world. An endless supply of 'travel retail exclusives' is the result, though the motive is often to disguise any direct price comparison with the High Street, because the margins have to be so much wider to cover the fees demanded by the retailers and, above them, the landlords.
Politics has also driven this shift to 'exclusive' expressions for airport shops, as discounts on popular brands disappeared within the European Union when tax commissioner Mario Monti abolished duty-free in 1998. The channel didn't disappear however, not as the industry had predicted in the most ferocious lobbying campaign Brussels had ever experienced. Instead, it simply evolved. Modern travel retail is about offering passengers unique products and experiences, and gently trading them up.
But in Britain, the old bargain-hunter mentality that once drove the channel may be returning. Last September HM Treasury tweeted that old school duty-free is coming back if we leave the EU without a deal at the end of 2020. With duty on whisky currently £11.50 a litre in the UK, there would be plenty for airport retailers to pocket, or maybe share with you and I.
Cross-Channel ferries will meanwhile be transforming themselves back into floating off-licenses, ready to sell us cheap booze and fags where the tax on a £100 carton of 200 cigarettes is around 85%.
Will that off-set the Scotch industry's wider concerns over the impact of a no-deal Brexit? Only time will tell.
Award-winning drinks columnist and author Tom Bruce-Gardyne began his career in the wine trade, managing exports for a major Sicilian producer. Now freelance for 20 years, Tom has been a weekly columnist for The Herald and his books include The Scotch Whisky Book and most recently Scotch Whisky Treasures.
You can read more comment and analysis on the Scotch whisky industry by clicking on Whisky News.