Friday 19/6/2020 12:07 Ian Wisniewski
Famous Grouse & Virtual Flights: Lockdown's Online Scotch Whisky Trends Revealed
Lockdown has redefined every aspect of our lives, including how whisky-ites buy, enjoy and share their favourite drams. Ian Wisniewski explores the big trends and changes for WhiskyInvestDirect...
WHAT do we want? Experiences. When do we want them? Now. How are we going to get them? Erm, online I guess.
Lockdown unlocked a very 'cash rich, time poor' dilemma for Scotch whisky's more affluent consumer base. It gave people the time to browse bottles to buy, plus online gatherings to attend like the Summerton Whisky Festival (May 30th) which offered talks, tastings and music.
A third of those who logged on to
Summerton
had never been to a whisky festival before according to a subsequent poll. So online festivals don't just pander to whisky-ites, they could help recruit them.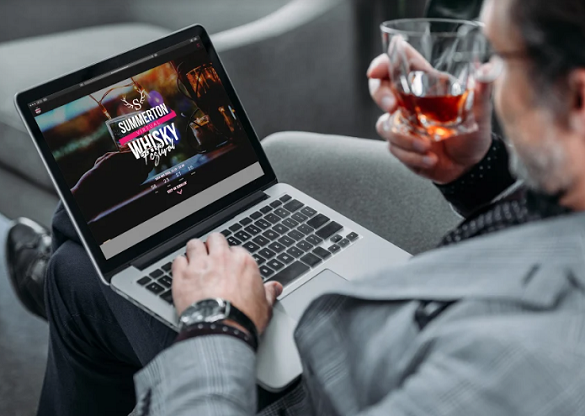 The online boom began before lockdown officially started, explains Doug McIvor, spirits manager at
Berry Bros & Rudd
, with people rushing to stock up before the shutters came down. "From mid-March there was a massive stocking up as people anticipated staying at home, and we had the same level of orders as pre-Christmas," he says.
Increased purchasing has revealed some distinct trends, starting with a real taste for standard blends. "The greatest number of orders are for lines that pre-lockdown may have been picked up at grocery stores," says Guy Hodcroft, head buyer at online retailer
Master of Malt
. "We've picked up a lot of new customers since lockdown, around 60% of them only want
Bell's or Famous Grouse
."
While that suggests doubts over
premium Scotch thriving in lockdown
were well-founded, "The remaining 40% [of new customers] are also buying brand extensions such as Naked Grouse which they haven't seen before.," says Hodcroft. Trading up is also driven by generosity, sending gifts to friends, family, and especially treating ourselves.
"There has been an extraordinary amount of self-gifting," says Hodcroft. "Traditional core shoppers are thinking, I'm in lockdown, I'll buy myself something special."
'Something special' includes miniatures, which are seeing strong demand as people host or join tasting parties, selecting a small range (aka 'flight') of whiskies to try.
"We operate 'drinks by the dram' which are 3 centilitres," says Hodcroft at Master of Malt, "and also offer tasting sets such as 'Islay' and 'Regions of Scotland' priced at £20-25, which are flying out of the door. These are an opportunity to try something new, and that can result in a full-sized bottle being purchased."
Miniatures are also integral to online tastings, where guests can pre-order relevant flights and join in. "When Glen Moray's head of whisky creation Kirstie McCallum led a live tasting on YouTube, there was a lot of feedback," says the brand's UK sales director, Claire Baigrie. "Hearing direct what consumers really think was invaluable. We also saw a huge influx of orders on our website straight after a virtual tasting."
Purchasing is only the beginning of course, and every transaction needs delivering. As Baigrie at
Glen Moray
says: "A consumer trait is that we don't like waiting for anything, so the faster you can get an order to a customer at the best price provides a huge advantage, but the quality of delivery is as important as the speed."
Increased online purchasing also incorporates greater contact between customers and customer services. "The most frequent questions from customers are the provenance of the cask," says Doug McIvor at Berry Bros & Rudd, "which many want to know in nano-detail, and also the component whiskies in a blend, and why a whisky has been bottled at a particular strength.
"People desire education and we're having great engagement with customers."
The lockdown's online boom is also about enjoying whisky in various formats, with customers requesting cocktail advice for example.
"Our ready-made cocktails such as the Rob Roy are also a great success, together with product bundles, which contain all the ingredients to make a particular cocktail, except the glassware and ice," says Guy Hodcroft.
"New consumer occasions have emerged," adds John Grieveson, Loch Lomond Group's CMO, "such as digital quiz nights and happy hours, cocktail making, food matching, all of which offer brands opportunities to present new ideas and content."
What about demand overall? Among respondents to a recent survey commissioned by Waitrose, 25% claimed to be drinking more since lockdown, while another 21% said they are drinking less. But however that trends splits, the longer-term outcome for Grieveson at
Loch Lomond
is clear cut: "Lockdown has definitely grown online purchases and this behaviour is here to stay."
And how about virtual tastings? Berry Bros & Rudd and Master of Malt will continue running them as part of their programs. Similarly, some festivals are set to offer virtual and physical versions in future.
"I'm looking into the possibility of holding a virtual festival every winter, and continuing with the physical event each summer," says Dan Humphrey, founder, Summerton Festival.
Two a year sounds much better than one. And the advantage of a virtual festival is that it happens wherever you are.
Ian Wisniewski is a freelance writer and leading authority on spirits, with a focus on Scotch whisky. Over the course of his two decades covering the industry he has published seven books, including the Classic Whisky Handbook, and has contributed to publications such as Whisky Magazine, The Times, The Malt Whisky Yearbook and Scotchwhisky.com.
You can read more comment and analysis on the Scotch whisky industry by clicking on Whisky News.