Friday 25/9/2020 10:01 Richard Woodard
China's Rollercoaster Ride for Scotch Whisky: After TOT Comes E-Commerce
Following the false dawn of China's last luxury spirits boom, Scotch whisky now shows real potential for sustained growth in the world's 2nd largest economy, reports Richard Woodard for WhiskyInvestDirect...
IMITATION, they say, is the sincerest form of flattery.
When reports surfaced last year of pallet-loads of fake Macallan 30-Year Old 'Blue Label' turning up in China, it illustrated the country's soaring demand for high-end single malt – and the sometimes troubled relationship it has had over the years with Scotch whisky.
The industry has long been lured by the huge potential offered by China's fast-growing economy and appetite for luxury, but this has historically been a volatile market where boom is inevitably followed by bust, with export graphs covering the past decade or so resembling a frantic cardiograph.
Back in 2012, it was the promised land. Pernod Ricard's Chivas Brothers whisky unit couldn't bottle enough of a US$3,000 Royal Salute blend, and whisky was giving Cognac a run for its money as the wealthy businessman's drink of choice.
Pernod's then chief marketing officer, Martin Riley, said China offered "a new paradigm", where consumers were willing to pay "prices that people in Europe think are absolutely crazy for a bottle of whisky or a bottle of Cognac."
It all seemed too good to be true. And it was, because much of the high-end whisky changing hands was oiling business deals with high-ranking officials and executives, and this didn't sit well with President Xi Jinping. Later that year, he announced a crackdown on extravagance and corruption – and the luxury spirits market collapsed overnight.
But that wasn't the only problem. Most of the Scotch being sold during the boom was 12-year-old blends – chiefly Chivas Regal, but increasingly Johnnie Walker too – and they built their volumes by supplying the huge club chains where businessmen made full use of their fat expense accounts.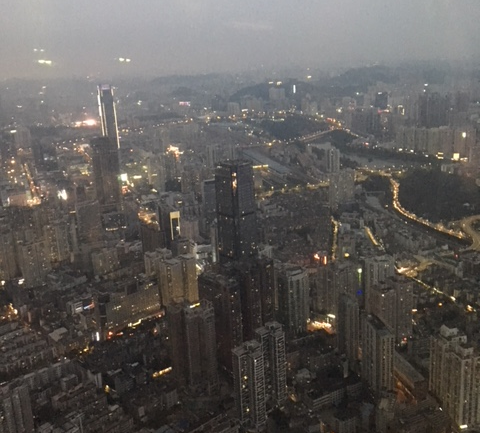 Xi's anti-extravagance clampdown brought a halt to much of this activity, causing the club scene – known as the Traditional On-Trade or TOT – to shrink. As pouring contracts were cut, suppliers prioritised their more profitable Cognac brands, and Scotch lost out.
Between 2012 and 2014, the value of bottled blends shipped to China more than halved, sending the market plummeting out of Scotch's top 20 export destinations. Chivas Regal lost roughly half its volumes in China between 2012 and 2016. But the market was already shifting again.
The huge losses on the club scene were disguising more positive changes as younger, middle-class consumers took an interest in Scotch, drinking it at home or in more modern, family-oriented bars alongside food. And rather than high-end Scotch, many of them plumped for standard-priced blends such as Ballantine's Finest.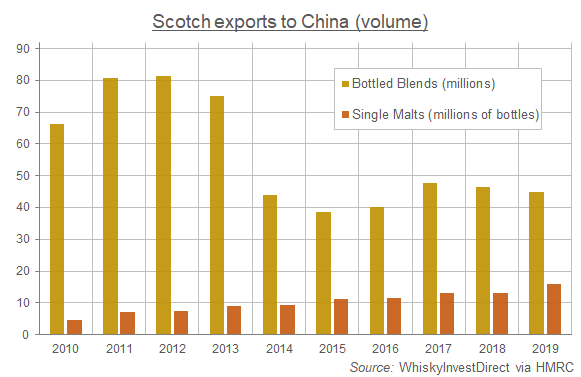 At the same time, a trend of genuine connoisseurship was also emerging. These were people interested not so much in a label's status or price-tag, but in getting to know the minutiae of the world of Scotch. Increasingly, they gravitated towards single malts because of their diversity and perceived rarity.
As a more traditional Scotch market began to replace the artificial luxury bubble of the 2000s and early 2010s, the likes of Diageo and Pernod Ricard began to invest in China once more. Chivas Regal finally returned to growth in 2017, but now retail sales, ecommerce and consumption in low-energy bars and clubs replaced the huge pouring contracts of the past.
The changes can be tracked in the HMRC shipment figures for China, plus Hong Kong, Singapore and Macao, key suppliers to the market. Between 2012 and 2019, those combined shipments of bottled blends slumped by 45% to the equivalent of just under 45 million bottles, and their value slipped by 29% to £254m. Over the same timescale, shipments of single malts more than doubled to over 15m bottles, with value surging by more than 140% to £145m.
And now? The signs for China are positive again – or at least they were until Covid-19 arrived. In the company's recent full-year results announcement, CEO of Diageo (LON: DGE) Ivan Menezes said he was "very encouraged" by trends for high-end Scotch in China, adding: "Even in this very challenging period, our Scotch whisky business in mainland China grew. And in fact, if you look at e-commerce, Scotch whisky outperforms other forms of international spirits."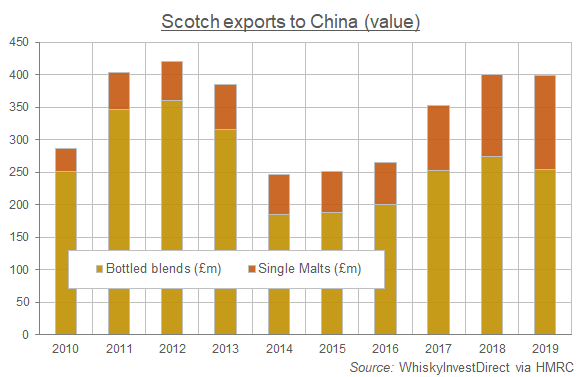 If the lockdowns brought by the pandemic have emphasised the fast-growing importance of e-commerce, this is doubly true in China, where the smartphone-wielding younger generation is obsessed with technology.
The country is already Pernod Ricard's biggest e-commerce market, and online sales of its brands grew by 46% in the year to June 2020. The company's tech-savvy CEO, Alex Ricard, has pledged to accelerate the "digital transformation" of sales at Pernod (EPA: RI) in the coming months and years.
Scotch whisky and China are at the forefront of this hi-tech revolution, suggesting that – after the dizzying rollercoaster ride of the past two decades – Scotch is perfectly positioned to reap the rewards offered by this most promising of markets for Western spirits.
Richard Woodard has been writing about spirits and wine for 20 years, editing and contributing to a number of magazines and websites, including Decanter, The Spirits Business, just-drinks.com and Club Oenologique. He was also one of the founding editors of Scotchwhisky.com.